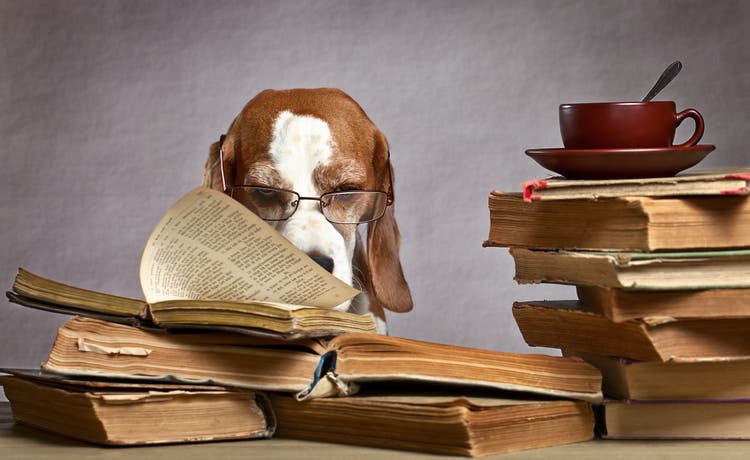 Literary Dog Names
A name is a very personal thing. Names define us. That's as true for dogs as it is for humans. Dog names are very important. Not only do they say a lot about your dog, they are also a reflection of you.
We like to give our readers lots of ideas for good dog names based on a variety of factors, like hair color and personality. Finding the right dog name is not always easy, but once you hit upon that perfect name you'll know that it was all worthwhile.
Let's take a look at literary dog names. If you love to read, maybe you should find your dog's name in the pages of your favorite book, or maybe you should name your dog after your favorite author. Literary dog names can be fun for everyone. We have a list of literary dog names that we think you'll like. See if something strikes your fancy!
Literary Dog Names for Girls
Alice
Amelie
Ariel
Belle
Cherry
Cinderella
Copelia
Cordelia
Cossette
Daisy
Desdemona
Elisa
Emily
Emma
Eponnean
Esmerelda
Gretel
Griet
Heidi
Hermonie
Jazmin
Joe
Juliet
Katniss
Liesel
Nellie
Pippy
Pollyanna
Prim
Rizzo
Rosaline
Rue
Scarlette
Stella
Sula
Tess
Tink
Veruca
Zelda
Literary Dog Names for Boys
Remus
Brutas
Curly
Marcelus
Ishmael
Dudley
Pony Boy
Troy
Gandalf
Homer
Legolas
King Arthur
Willy
Soda Pop
D'Artagnan
Dr. Who
Mr. Darcey
Rhett
Pollack
Holden
Loki
Romeo
Big Daddy
Igor
Huck
Atakis
Willie
Nick
Athos
Lenny
Hugo
Saywer
Heathcliff
Fitzgerald
Thor
Wilbur
Fitz
Literary Dog Names for Gender Neutral
Boo
Marley
Oz
Finn
Sandy
Shug
Sam
Piggy
Ruby
Casey
Argos
Pip
Gatsby
Rue
Scout
Wyatt
Jordan
Huckleberry
Bronte
Babe
Baily
Em
Finn
Puffy
Billie
Toto
Bang
Mycroft
Fez
Bullseye
Jesse
Are you looking for a name for your dog based on his hair coat color or type? Try our names for white, yellow, red or brown, silver or grey, black, black and white, spotted, wrinkled and fluffy dogs! We have the perfect name for your dog!
To learn more about hipster dog names, go to Be Unique with These Hipster Dog Names.