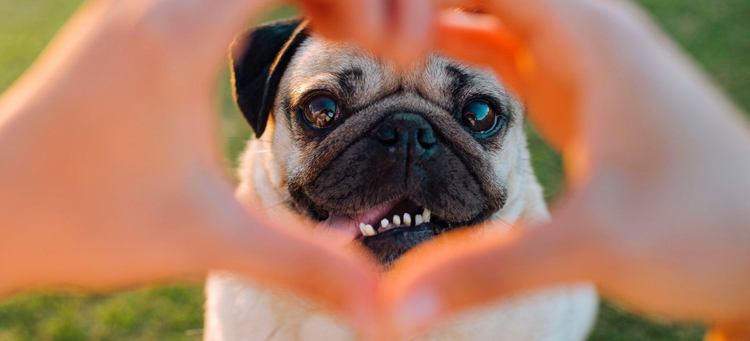 Meet Doug the Pug: A Famous Pet Who Gives Back
The world of pet influencers is a crowded and competitive one. Seemingly every day, new pet parents pick up their phones in an attempt to make celebrities out of their four-legged friends. Most quickly learn that becoming a top dog is no easy feat, but some pets manage to stand out from the pack and make a name for themselves. Doug the Pug (@itsdougthepug) is one of these special, social media-savvy pets.
Since 2012, this Nashville-based pup and his human Leslie have built a following of more than 18 million pet lovers, made a number of celebrity acquaintances, and even collected a pair of People's Choice Awards. However, Doug and Leslie have done far more than just make a name for themselves. They also use their platform and celebrity status for good, establishing the Doug the Pug Foundation in 2020. PetPlace spoke to Leslie (who translated for Doug) about the work their foundation does for the families of children with cancer and other life-threatening illnesses.
A Conversation with Doug the Pug
What Is the Doug the Pug Foundation?
The Doug the Pug Foundation brings joy and needed support outside of treatment to children and their families battling cancer and other life-threatening illnesses. Doug knows what it means to bring joy to children while they are in treatment for a life-threatening disease and wants to help children and their families during the fight for their life.
What Inspired You to Create the Doug the Pug Foundation?
When we started bringing Doug to children's hospitals to visit the kids, we immediately saw the impact it made on them and on us. I knew that it was a part of the bigger picture with Doug and now it's truly a primary purpose of our lives!
What Is It Like Being Able to Use Your Pet's Fame in Order to Spread Joy and Help Others?
I am incredibly grateful for the platform we have! It allows us to be able to reach a wide audience and make the most impact we can. Being able to share the stories of children in need and having our followers donate is truly surreal.
Are There Other Organizations That You Admire?
Absolutely! We have worked closely with St. Jude and Seacrest Studios.
How Would You Encourage Others to Get Involved?
Follow our foundation on Instagram (@dougthepugfoundation) to see individual stories that we are raising donations for! When it is safe, volunteering at a children's hospital is always an incredible thing to do as well.
Is There Anything You Want Us to Know About Your Foundation or the Charitable Work That You Do Through Your Pet?
Doug The Pug's main goal is to spread kindness and happiness, and Doug the Pug Foundation achieves that and more.