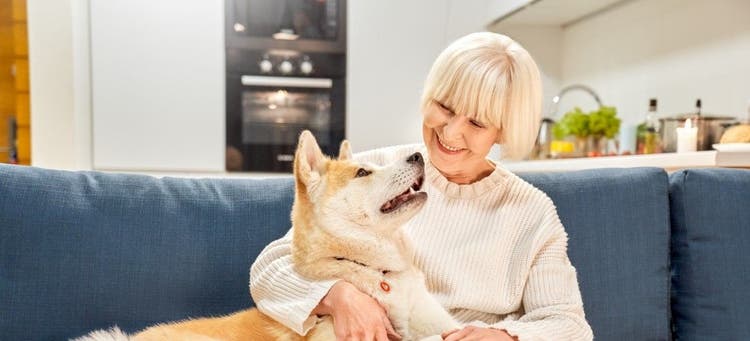 Celebrate National Dog Mom Day
Shortly after Mother's Day, there's another holiday that lets us celebrate a different kind of mom – National Dog Mom Day is on May 14th.
3 out of 4 female pet parents consider themselves "dog moms," and this holiday is the perfect opportunity to thank them for all of the love and care they give to their pups or foster pups.
If you're looking for the perfect gift, this guide will give you 10 great gift ideas for every dog mom in your life.
10 Gift Ideas for That Special Dog Mom in Your Life
1. Dog Mommy and Me Matching Sets
What better way to help a dog mom show their love for their fur baby than with a matching outfit? You can opt for matching t-shirts, or if you know their dog isn't a fan of clothes, you can even do a matching bandana/collar and scrunchie set.
No matter what mommy and me matching set you choose, you'll be creating the perfect photo op for your favorite dog mom to capture lasting memories – that's the real gift.
2. A Dog-Themed Tote Bag
Dog moms have so many things to carry when they take their dogs out. From their personal belongings to dog treats and poop bags, the list goes on and on.
All of that can be hard to fit in a traditional purse, and most belt bags and other dog walking pouches are just not as fashionable as they could be.
A tote bag is a perfect solution to your favorite dog mom's problem, and you can find them in so many great styles. You can even have them customized with their dog's face.
3. A Dog DNA Test Kit
Dog DNA kits do more than just give us insights into a dog's breed. They can give us insights into our dog's health and personality, as well as a glimpse into the future.
Any dog mom would love to learn more about her dog and how she can help them live the happiest, healthiest life possible!
4. A Framed Photo of Their Dog
What mom doesn't love getting a photo of their child as a gift? You can be as creative and inventive as you like, whether you make your own frame, buy a nice, dog-themed frame from the store, or even purchase a personalized frame.
No matter what frame you choose, make sure to choose a photo that captures a special moment between your favorite dog mom and her pup.
5. Custom Pet Portrait
Love the idea of a framed dog photo, but want to go the extra mile? A custom pet portrait can be the ultimate thoughtful gift.
As much as we wish our dogs could live forever, our time with them is short. A custom pet portrait is a way to help your favorite dog mom cherish the memories she has with her pup. Whether you choose a royal oil painting or a more whimsical watercolor, it's sure to be a gift she'll treasure forever.
6. A New Candle
Dogs, as cute and sweet as they may be, can be dirty and stinky sometimes, whether it's their sweaty paws or dog breath. Because of this, every dog mom is in a constant battle with pet odor in their home.
A candle can be the perfect remedy for the pervasive dog smell. You can even find cute, dog-mom-themed candles to make your gift extra special.
7. A Paw Print Keepsake
A paw print keepsake is another thoughtful gift idea to help capture the spirit of any dog mom's pup. Simply make a print of their dog's paw using non-toxic ink, and turn it into a one-of-a-kind piece of art.
There are a variety of cute paw print keepsakes to choose from, including pendants, plates, frames, and even Christmas ornaments. You can order paw print keepsakes from online marketplaces like Etsy, or make your own at home.
8. A Pet Subscription Box
Pet subscription services like Bullymake and BarkBox make the perfect gift for any dog mom. You can order one-off boxes to be delivered, and each box comes with a variety of fun toys and treats for their dog to try.
Subscription boxes can be pricey, and some dog moms may be hesitant to try them because of the cost, so receiving one as a gift is a perfect opportunity for them to try the box before they commit to a subscription themselves.
9. A Smart Pet Camera
If you know a dog mom that works away from home and has to leave her dog, a pet camera is a great gift. Not only can she check in on her dog throughout the day, but many smart pet cameras have options for you to talk directly to your pet and even give them treats.
It's a great substitute for being there in person and a handy gift that's sure to be used and loved. And with a wide range of pet cameras at various price points, you can find the perfect one to fit your budget.
10. A Day at Doggy Daycare
As much as the dog moms in your life love their dogs and love spending time with them, sometimes the best gift that you can give them is a break.
Prepaying or buying a gift card for their dog's favorite doggy daycare gives the dog mom a chance to get all their errands done without having to worry about their dog. They can even visit their favorite restaurant or attraction that isn't dog-friendly.
How Will You Celebrate National Dog Mom Day?
Dogs are a big commitment, and anyone who takes on that responsibility and provides their pup with a safe, happy home deserves to be celebrated.
From vet appointments to nutrition and making sure their dog gets the right amount of exercise every day, being a dog mom is hard work! So, this May 14th, why not show your appreciation for all the dog moms in your life with one of the thoughtful gifts from this list?