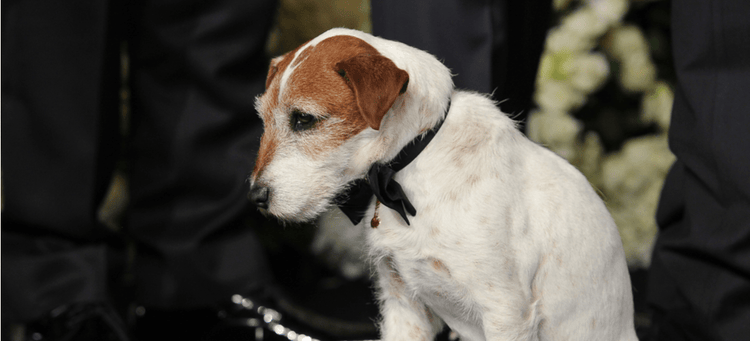 Oscar-Nominated Films for Dog Lovers
After delays, rules changes, and a cinematic year like none before it, the Academy of Motion Pictures Arts and Sciences (AMPAS) is finally ready to hand out Oscars at its annual awards ceremony this Sunday. Before tuning in, dog lovers can spend time with man's best friend with these favorites from past Oscars ceremonies.
The Artist
Despite the trifecta of being French, silent, and monochromatic, The Artist delighted audiences and AMPAS voters alike throughout the 2011-2012 awards season, winning five Oscars, including the award for Best Picture. That's due in no small part to Uggie (pictured above), a scene-stealing pup who became a kind of mascot for the film. Though the Jack Russell Terrier had two look-alike stunt doubles on set, the pup was such a capable performer that this support was barely necessary. Dogs are unfortunately ineligible for Oscars, but Uggie walked the red carpet and joined members of the cast on stage during the ceremony. His breakout performance is currently free to stream for Netflix subscribers and available to rent or purchase on other major platforms.
The Wizard of Oz
One of the most famous and acclaimed movies of Hollywood's Golden Age, The Wizard of Oz introduced audiences to iconic images, dialogue, and characters, none more popular than Toto. Dorothy (Judy Garland)'s Cairn Terrier followed her down the Yellow Brick Road and soon found a place in the annals of cinematic history. The role proved so immediately iconic that Toto's owner legally changed her name from Terry. Though it lost the Best Picture award at 1939's Oscars ceremony, it's safe to say it faced stiff competition in a year that's sometimes called Hollywood's single greatest. HBO Max and premium Hulu subscribers can stream the classic at no additional cost.
Up
One of just three animated films ever nominated for Best Picture at the Oscars, Up took Pixar Animation Studios to new heights of awards success by winning in two categories. Make it past the tear-jerking opening sequence (which has its own Wikipedia page) and you'll soon meet Dug, a dog who's been fitted with a very unique collar. Though he's third-billed in Up, Dug proved popular enough to inspire a spin-off short of his own. Like most Pixar films, Up offers something for viewers of all ages, but its appeals to dog people make it unique among the studio's catalog. Stream it for the whole family on Disney+.
More Oscar-Nominated Animal Flicks
Dogs aren't the only pets and animals who've starred in Academy-vetted films. Check out these acclaimed flicks featuring notable four-legged characters:
Babe: 48 live pigs and a single animatronic one helped bring the titular swine to life in this 1995 Oscars favorite. Why so many? Pigs grow fast! The film's lengthy production schedule meant that dozens of "Babes" outgrew their role.
Breakfast at Tiffany's: Orangey, who played Holly Golightly's unnamed cat in this 1961 classic, was among the most famous feline film stars of his time. His work earned him two Picture Animal Top Star of the Year (PATSY) awards from the American Humane Society, in 1951 and '61.
Seabiscuit: The true-life story of this underdog horse got an extra dose of verisimilitude thanks to its equine casting. Popcorn Deelites, a competitive thoroughbred who'd raced at Churchill Downs, galloped into the title role, and the film earned seven Oscar nominations in 2003.