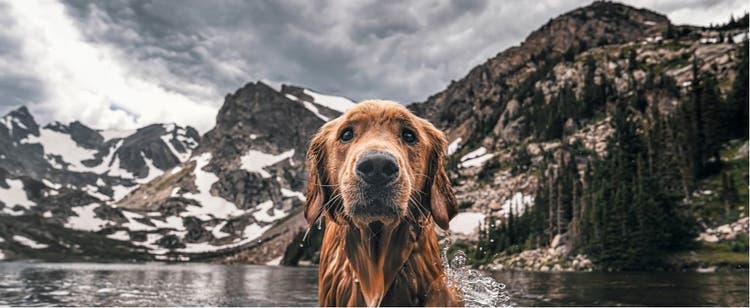 Pet-Friendly Travel Guide: Colorado
In a 2019 study, Colorado was ranked second in the list of dog-friendly states in the U.S. For anyone who's been there and witnessed the abundance of canine pals – large and small – occupying sidewalks, parks, restaurant patios, and even stores and offices, this should come as no surprise. Whether your Colorado vacation plans include hitting the ski slopes, hanging out in downtown Denver, or anything in between, there's no shortage of places that will welcome you and your pup with open paws! Keep reading to discover some of our favorites.
Northern Colorado
Just south of the Wyoming border lies a cluster of cozy mountain towns, including Fort Collins, which served as a military outpost for the U.S. Army in the 1800s. With its proximity to national parks and majestic scenery, northern Colorado is the perfect destination for an outdoor adventure with your furry friend.
Attractions
Restaurants
Hotels
The Armstrong Hotel (Fort Collins) – Located in the heart of downtown Fort Collins – a series of city blocks so blissfully utopian that they provided the inspiration for Disneyland's Main Street USA – the Armstrong is a historical northern Colorado gem. This newly-renovated hotel has been in business for just a few years shy of a century, and the accommodations are homey and creative, with that "just-right" fit. Your furry friend is welcome to accompany you in one of the Armstrong's dog-friendly rooms, where you'll find a Pendleton dog bed, local treats, and a dog bowl from one of Fort Collins' original breweries, New Belgium.
The Elizabeth Hotel (Fort Collins) – As one of northern Colorado's newest and swankiest accommodations, the Elizabeth takes a no-holds-barred approach to luxury and hospitality. The art and architecture is stunning, the service unparalleled, and the location perfect: you'll find yourself within walking distance of dozens of eateries, from casual to fine, as well as art galleries, breweries, shops, live music, and everything else downtown Fort Collins has to offer. Your pups will enjoy their stay too – the Elizabeth is proud to be pet-friendly, and your faithful companions are welcome under their roof.
YMCA of the Rockies (Estes Park) – Feelin' outdoorsy? Everyone knows it's fun to stay at the YMCA – for humans as well as their four-legged friends! Located in the rustic mountain town of Estes Park, just an hour and a half northwest of Denver, this complex sits on 860 acres bordering the world-famous Rocky Mountain National Park. Perfect for multi-generational trips and families looking to unplug and enjoy nature together, the property offers wonderful pet-friendly cabins at affordable prices. Amenities include three meals a day in the dining hall, a myriad of on-site activities such as roller skating, horseback riding, mini-golf, and swimming, and a new dog park and dog-friendly trail for hiking. The great outdoors has never looked so good.
Denver
As the capital of Colorado, Denver is a bustling city that houses an estimated 85% of the entire state's population. With a great mix of outdoor recreation and metropolitan restaurants and hotels, Denver has a lot to offer travelers and their four-legged friends.
Attractions
Cherry Creek State Park (Aurora) – Known among locals as the best in the greater Denver area, the off-leash dog zone at Cherry Creek State Park is nothing short of legendary. Your playful pup will enjoy over 100 acres of fenced-in land upon which to roam, including access to the creek, where they can splash to their heart's content. You'll need to purchase a day pass, but the fee is minimal, and it's well worth all the tail-wagging.
Washington Park – If you're looking for an idyllic urban park in which to stroll, Washington Park – or Wash Park, as the locals call it – is the place to be. With multiple lakes, beautiful flower gardens, lots of paths, and plenty of shady spots, you and your leashed dog can enjoy a perfect afternoon of walking, relaxing, and people-watching.
Platte River Greenway Trail – This 6.8 mile hike will take you and your canine companion through the heart of Denver alongside the Platte River for some excellent views of the city skyline. You'll pass through various local parks and commercial districts, where you can grab a cup of coffee and rest for a while, and as you go on, you'll even be treated to surprising views of the Rocky Mountains and little slices of nature.
Restaurants
Forest Room 5 (LoHi) – Eclectic and creative, this culinary experience is truly a feast for the senses. Your pup is welcome in the abundant outdoor seating area, lined with trees and boasting fabulous fire and water features. The menu is a tempting mix of global creations, offering fare such as pork and sweet potato taquitos, pan-roasted pheasant, and fettuccine with bison meatballs. And if you and your pup are night owls, you'll be glad to know they're open late.
The Watering Bowl (Glendale) – Denver and its surrounding cities are known for being dog-friendly, so perhaps it's no surprise that The Watering Bowl exists. Is it a tavern? Yes. Is it a dog park? Yes. Have a seat on the patio and enjoy some food and a drink while your precious pal can get some exercise and make some new friends. Equally as paw-fect is their selection of Rescue Brews: a percentage of the proceeds from each beer on the list is donated to dog rescue organizations across the country. This just might be doggy heaven.
Angelo's (Alamo Placita) – Self-identifying as "Denver's original pizza and oyster bar," Angelo's is the most intriguing Italian eatery in the Mile-High City. Their oysters are delivered daily from both coasts – order them on the half shell, or, if you're feeling adventurous, try one of the eclectic char-grilled varieties, such as Chipotle Bourbon Butter or Bacon Gorgonzola. Their pizza combos will melt your heart like gooey mozzarella too. Bring your four-legged friend to a patio table and prepare to be dazzled.
Hotels
The Brown Palace Hotel & Spa (Central Business District) – Best known to locals as Denver's "grand dame," The Brown Palace opened its doors in 1892, making it the longest continually-operated hotel in the city. Its storied history is as famous as its guest list, boasting everyone from culture icons to entertainers and presidents. This elegant cultural icon brings its signature luxury to canine guests as well, offering a complimentary memory foam dog bed, stainless steel water and food bowls, biodegradable waste collection bags, and readily available dog treats.
The Curtis (Central Business District) – Downtown Denver's exciting pop culture-infused hotel boasts 13 floors of hyper-themed rooms, such as a Marvel Suite on the "Superhero" floor and a Ghostbusters Suite on the "Dun, Dun, Dunnnnn" floor, bringing all of your childhood favorites to life. Bonus: the hotel's recently renovated lobby pays homage to Colorado's love for the great outdoors and features interactive elements, including a ski lift chair, an RV, and an indoor pool. The hotel welcomes furry four-legged friends and offers the Shaggy & Scooby-Doo Pet Package, which waives the pet fee and offers welcome snacks.
Colorado Springs
With its ideal location – west of the lower range of the Rocky Mountains and south of Denver – Colorado Springs has been known to get an abundance of sunshine, averaging about 243 sunny days each year. Colorado Springs also serves as one of the country's oldest resort towns, with plenty for tourists to see and experience while there.
Attractions
Garden of the Gods – Attracting visitors from all over the country, Garden of the Gods is a stunning natural landmark and a great place for you and your leashed pup to spend the day. Enjoy the leisurely trails, the surrounding forests and wildlife, and the incredible red rock formations that jut right out of the earth and tower overhead. After your walk, check out the cafe and gift shop at the park's entrance – your dog is welcome there too. Be sure to bring plenty of water, and have waste bags on hand.
Stratton Open Space – This 318-acre property offers miles of trails winding through five distinct ecosystems and is a perfect place for a walk with your faithful friend. Enjoy the scenic beauty and catch glimpses of local wildlife on the way to the two reservoirs in the open space, where you and your pup can splash around for a refreshing cool-down.
Bear Creek Dog Park – A must-visit for dogs and their humans, this park spans 25 acres of open prairie, hills, and woods, and includes a stretch of Bear Creek, where people and pups alike can wade in the shade. Featuring a wide open space for epic games of fetch, an agility course, and a separate fenced area for small and senior dogs, this park checks all the boxes.
Restaurants
Pub Dog – As Colorado's only restaurant at which it's legal to dine with your dog indoors, Pub Dog would be something special even if it didn't have a dog park attached. Your pup can run around and socialize in the fenced-in, off-leash area while you enjoy your meal on the patio. If you prefer your pal to stay close to you, sit indoors or out and order them a special dish from the canine menu and a non-alcoholic Bowser Beer to wash it all down. Dog-friendly never looked so good!
Rudy's Little Hideaway – For no-frills Mexican food and incredible mountain views, Rudy's is the place to be. Bring your pup to the patio to soak in the sights and enjoy a wide variety of Tex-Mex and Zacatecas-inspired cuisine, including huevos rancheros, chimichangas, fajitas, and enchiladas. Your dog will receive a bowl of water and a loving hello from the friendly waitstaff.
3.14 Sweet and Savory Pi Bar – Who likes pie? Everyone – that's who. This inventive eatery offers a wide variety of them, from the savory (like chicken and mushroom pot pie and cottage pie with Guinness gravy, to name a couple) to the sweet (think Nutella Italian Silk and Lemon Dreamsicle). Bring your dog to one of the patio tables; while you pig out on pie, your canine companion will be given a water bowl and maybe even a delicious treat of their own.
Hotels
Cheyenne Mountain, A Dulce Resort – Proud to be one of the area's most pet-friendly establishments, this hotel offers a Bed & Biscuit Club for humans and the dogs who love them. Upon checking in, you'll receive information about crucial pet services in the region, including vet clinics, pet shops, and groomers, as well as insider tips for local dog walking routes, dog parks, and dog-friendly cafes. But wait, there's more: the special welcome gift bag for your best pal will be sure to leave them wagging their tail.
The Broadmoor – This renowned and well-loved Colorado Springs standard has been operating for over a century and has earned both Forbes Five-Star and AAA Five-Diamond distinctions. Spencer Penrose, the founder of the hotel, had a deep love of animals. When he opened the hotel in 1918, his wildlife "pets" roamed the grounds for the guests' amusement, including seals, camels, giraffes, and bears! Fun fact: his exotic animals went on to become the first residents of Penrose's Cheyenne Mountain Zoo. Today, Broadmoor's love of animals lives on, however, instead of wild species roaming the property, the hotel is pet-friendly. Your four-legged friend will enjoy the height of luxury, including special gourmet menus for dogs and cats.
Denver-Area Ski Towns
We would be remiss to leave out the incredible ski towns that populate the mountains of Colorado, including Breckenridge, Beaver Creek, Aspen, and Vail. Serving up some of the best skiing in the country, these Colorado ski towns won't disappoint for pet parents.
Attractions
BreckConnect Gondola (Breckenridge) – People and pups alike ride for free on this incredible gondola, enjoying 360-degree views of the world-renowned Rocky Mountains. Operating from mid-June through mid-September and all of ski season, the gondola will carry you and your brave buddy over a wildlife preserve for awesome sightseeing.
Maroon/Snowmass Trail (Aspen) – The Maroon Bells are one of the most widely photographed mountain ranges in all of Colorado – and for the price of a day hike and a small park fee, you and your dog can see them up close. This 8.5-mile trail begins at Maroon Lake and winds through a forest of aspen trees, reaching Carter Lake and, eventually, a view from Buckskin Pass that is nothing short of breathtaking. Bring water and waste bags, and be sure to protect the environment by leaving nothing behind.
Bighorn Park Off-Leash Dog Park (Vail) – Nestled in the utopian splendor of the Vail Valley, Bighorn Park is every dog's dream. Your pup will be welcomed with a green, grassy expanse on which to run, play, and socialize, and there's even a pond for swimming. As if that wasn't enough, the entire place is surrounded by huge mountain slopes. Be advised, however: there's no fence, so if your dog is prone to wandering, you may want to keep them leashed up and take a walk on the trail around the pond instead.
Restaurants
Hops Culture (Aspen) – Featuring simple, yet delicious, food and artisanally-produced beers, wines, and spirits, this eatery in downtown Aspen promises hospitality without pretense. Your pup is welcome on the patio, where they'll be greeted with a water bowl. The menu is wide and varied, with offerings ranging from salads and sandwiches to chicken and waffles and bacon mac n' cheese.
Log Cabin Cafe (Frisco) – Classic diner food with a Colorado twist is the name of the game at the Log Cabin. This restaurant has been serving breakfast and lunch to hungry skiers and locals for 55 years, and it's loaded with mountain charm. Bring your well-behaved dog to the scenic seasonal patio and order something – anything, as long as it's smothered in the restaurant's signature green chile. You won't be sorry.
Bart & Yeti's (Vail) – Named after two famous dogs who've gone down in Vail's history, Bart & Yeti's has hosted many a classy character beneath its roof, including Gerald Ford and Clint Eastwood. Celebrity endorsements aside, you'll find a relaxing patio for you and your pup, classic comforts like burgers and sandwiches, a wide selection of local draft beers, and what the establishment describes as "Vail-Reasonable" prices.
Hotels
Park Hyatt Beaver Creek Resort & Spa (Beaver Creek) – Located at the base of one of Colorado's most celebrated mountain resorts, Park Hyatt Beaver Creek Resort provides guests with some of the best skiing in the west. This 190-room resort offers ski-in, ski-out access and is conveniently located near shops, restaurants, and cultural attractions to explore while off the slopes. Your furry friend will be welcomed with a bed placed in the room upon arrival, food and water dishes, and a custom toy and leash to take home. Perhaps best of all, the surrounding area offers abundant and beautiful outdoor recreation options, including hiking trails, bike paths, and dog-friendly parks.
Telluride
Located in the southern part of the state, this former Victorian mining town now serves as a popular ski and golf resort for travelers. With a mix of history, beautiful scenery, and plenty to do for tourists and their four-legged friends, Telluride is a must-see destination.
Attractions
San Miguel River Trail – Looking for an easy stroll with killer views? The San Miguel River Trail just might hit the spot. Easily accessible from a number of side streets in Telluride, the trail follows alongside the San Miguel River for the length of the town and offers swimming holes where your best pal can play in the water.
Telluride Gondola – If your pet is leashed, they're welcome to join you in one of the dog-friendly cabins on the Telluride Gondola. Enjoy gorgeous views and convenient transportation all in one. It's free to catch a lift, and since it's run entirely from wind and solar power, you can rest easy knowing your carbon footprint – at least for this ride – is next-to-nothing.
Telluride Town Park – The people of Telluride love their canine companions! While there's no dog park in town, your furry friend is welcome almost everywhere, including all open spaces. If there's snow on the ground, bring your best pal to Firecracker Hill for a free sledding experience. In the warmer months, there are lots of places to explore, or you can find a spot to sit down and watch the people at the playground, the horseshoe area, or the basketball courts.
Restaurants
The Butcher & Baker Cafe – Specializing in handcrafted cuisine and fresh, locally-sourced ingredients, the B&B is a charming establishment with a quaint, yet streamlined, farmhouse-contemporary vibe. Whether you're seeking out breakfast, lunch, dinner, a cocktail, or just a cup of chai and a snack, you'll be covered here – and you and your dog will be very comfortable at a cute patio table. It's homey, hearty, and sure to please.
Between the Covers – Okay, so it's technically a bookstore – but its cafe patio, offering regionally-roasted coffee blends and a variety of pastries and baked goods, is the perfect place to hang out with your pup and enjoy a leisurely hour of sipping, snacking, and reading. Plus, you get to feel good about supporting an independent bookseller, which is always a win in our book.
La Cocina de Luz – Serving Mexican and southwestern cuisine with whole foods and contemporary influences, La Cocina de Luz has a lovely patio that's just waiting to welcome you and your four-legged friend. Enjoy a meal of flautas or chile rellenos, plus some surprises like homemade ice cream or a creative and healthy concoction from the fresh-squeezed juice bar.
Hotels
Lumière with Inspirato (Mountain Village) – This stunning mountain resort features a variety of one- to five-bedroom luxury residences and welcomes all guests and their furry friends to the very dog-friendly town of Telluride. Your pup will be greeted with all-natural, locally-made dog treats, a bed, and a bowl for use during your stay. Enjoy the large network of walking and hiking trails with your four-legged friend, and if you plan on going skiing, dining, or shopping without them, daily dog-sitting services are available upon request.