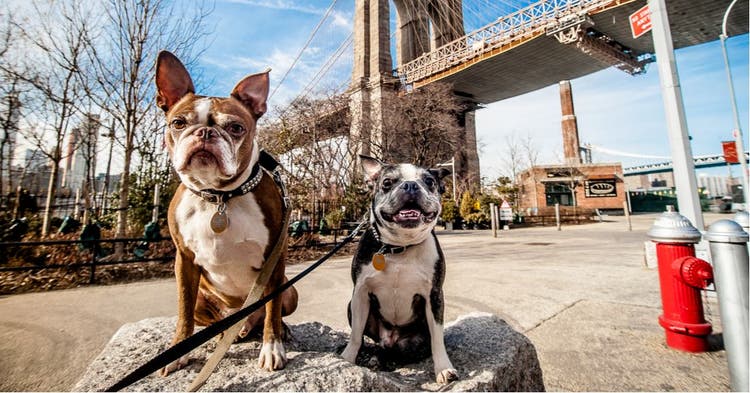 Pet-Friendly Travel Guide: New York
New York State is a big place. With so much to see, do, and experience, the Empire State is a popular destination for leisure as well as business. From the bustling energy of the Big Apple to the natural serenity of the Catskills, there's something for everyone in the great state of New York – four-legged friends included!
We've rounded up a list of restaurants, bars, hotels, and attractions in three different regions of New York that will be eager to welcome you and your jet-setting pet, whether you're traveling for work, pleasure, or a bit of both.
New York City
Pet-Friendly Attractions:
East Village Bark Tours – This is a great walking tour for dog parents, since your tour guide is a darling Shibapoo named Sasha who is very serious about her work (and who kindly lets her human tag along). The tour will take you and your furry friend through a variety of parks, with plenty of play and photo ops. The experience wraps up at Boris & Horton Dog Cafe, where each pup can enjoy a freshly-made treat while their humans sip coffee or tea.
Puppy Picasso – Give your pooch the gift of artistic exploration with this fun and unique activity. You and your dog will be led through the process of creating a one-of-a-kind masterpiece by dipping their paw in non-toxic, pet-safe paint and applying it to a canvas. Similar to a paint-and-sip experience, the two of you will be guided by a theme and specific instruction on how to create a beautiful piece of art that you can take home. Could your mutt be the next Monet? Now's your chance to find out.
New York City Dog Parks – There are over 65 dog parks across all five boroughs in the Big Apple, which means you get to take your pick! Whether you and your pup are looking for water to splash around in, rocks to climb on, or a specialty park for very small or large dogs, this canine-loving city has it all.
Pet-Friendly Restaurants and Bars:
Pet-Friendly Hotels:
Lower Hudson Valley & Long Island
Pet-Friendly Attractions:
Pet-Friendly Restaurants and Bars:
Poughkeepsie Ice House – Perched right on the shores of the Hudson, this establishment is ready to welcome you and your dog to their extensive patio. Enjoy the sweeping view of the water, the restaurant's intriguing history (the building was once used to store massive blocks of ice from the river in the days before refrigeration), the American classics on their menu, and a complimentary bowl of fresh water under the table for your pup.
American Beauty Bistro – This dining establishment in Massapequa offers a large menu, inventive cocktails, and a patio where you can dine with your dog – the water bowls are ready and waiting!
Billy Joe's Ribworks – Located in Newburgh, this no-frills eatery boasts "legendary BBQ and spectacular views." Bring your four-legged companion to the pet-friendly section on their patio and enjoy mouthwatering ribs, decadent burgers, or any of the other classic southern fare on their menu. Be sure to drop some table scraps – your dog will thank you.
Pet-Friendly Hotels:
Tarrytown House Estate – This upscale historic gem is situated on the Hudson River 45 minutes north of New York City and boasts stunning 19th-century construction and a wide array of luxuries and extras to suit every taste. Pet owners can take advantage of their Pet-Friendly Package, which includes a BarkBox welcome amenity upon arrival. Coming soon is the new "Yappy Hour," which will include delicious treats for furry guests, as well as light bites for humans courtesy of celebrity chef Dale Talde.
The Time Hotel – If you're looking for a boutique hotel with an urban-inspired sophistication and creative flair, look no further than the Time Hotel in Nyack, on the west bank of the Hudson. You and your pet can take up residence in one of the artfully decorated rooms, with a bed for each of you. The town of Nyack provides endless opportunities for shopping, hiking, biking, and yoga, as well as an array of restaurants and bars, many of which set out water bowls for thirsty pups on the go.
Southampton Inn – Classic, unassuming, and utterly charming, the Southampton Inn is an idyllic backdrop for your getaway. Located within the historic Village of Southampton and about a mile from the beach, there are plenty of nearby attractions and leisure activities, and the hotel itself boasts an impressive array of amenities. If you're traveling with a dog or cat, be sure to request one of their designated pet-friendly rooms.
Upstate New York
Pet-Friendly Attractions:
Pet-Friendly Restaurants and Bars:
Pet-Friendly Hotels: