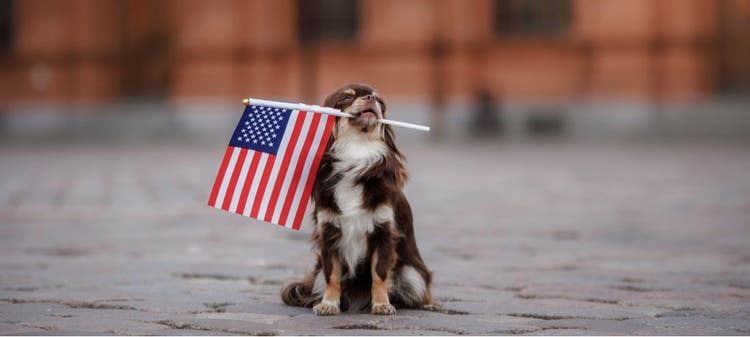 First Dogs: Presidents and their Pups
Donald Trump's presidency has certainly been unconventional. Since his successful primary campaign, the real estate mogul has shattered precedents and helped fundamentally change both the tone and content of political discourse. The Trumps are an unconventional First Family altogether — and not just because of their prominence behind the scenes and in front of cameras. President Trump, First Lady Melania Trump, and company are the first White House occupants in more than a century without a dog.
Since George Washington first took the oath of office, presidential pooches have been a tradition. Even Harry Truman (known to dislike dogs) accepted several as gifts throughout his presidency. Though they were all quickly donated to more welcoming homes, each dog briefly occupied the White House. Discounting Truman, William McKinley (1897-1901) was the last president without a dog and James K. Polk was the last to occupy a totally pet-free White House.
Yes, most Commanders in Chief have been dog lovers. Here are just a few of the most notable.
George Washington
In addition to his central role in our nation's founding, Washington was key in developing the American Foxhound. According to the American Kennel Club, Washington's journals list more than 30 dogs, all carefully bred and nurtured. Though they never occupied the White House — construction wasn't complete until 1800 — they were the ancestors of the modern American Foxhound and every presidential pet to follow.
John Adams
John and Abigail Adams were the first couple to occupy the White House and they brought Abigail's two mixed-breed dogs with them. Juno and Satan were pioneers, the first pups to wander the White House lawn and roam the building's halls. They not only made history, but probably witnessed many history-making discussions.
Abraham Lincoln
When Honest Abe moved into the White House, he brought a veritable menagerie with him. Though cats, horses, goats, and a dog named Jip would occupy the White House, the president left his beloved mutt Fido with a family friend in Springfield, Illinois. Before departing for Washington, Lincoln wrote detailed pet care instructions. He advised Fido's new owners to feed the dog from their table and never leave him locked outdoors.
Theodore Roosevelt
At one point or another, Theodore Roosevelt's White House included almost every pet imaginable. Rats, snakes, horses, and even a hyena joined the First Family during Roosevelt's presidency. Teddy was also a dog lover, counting Rollo (a St. Bernard), Sailor Boy (a Chesapeake Bay Retriever) Manchu (a Pekingese), and several others among his pets.
Franklin D. Roosevelt
F.D.R. owned many dogs during his four presidential terms, but the Scottish Terrier named Fala was easily the most famous. A celebrity in his own right, Fala was known to perform tricks and reportedly received fan mail. Roosevelt's memorial in Washington includes a small statue of the dog by his side.
John F. Kennedy
During the height of the Cold War, Soviet Premier Nikita Khrushchev gifted his American rival a mixed-breed dog named Pushinka (Russian for "fluffy"). Though their home countries were at odds, Pushinka soon made herself at home among the Kennedy family's other dogs. These included Shannon (an English Cocker Spaniel), Gaullie (a Standard Poodle), Wolf (an Irish Wolfhound), and many others.
Richard Nixon
Checkers, the Nixon family's Cocker Spaniel, is among the most famous dogs in American history. As a Vice Presidential candidate, Nixon referenced the dog in an impassioned primetime address, arguably saving running mate Dwight Eisenhower's campaign. Though Checkers passed away in 1964, Nixon's White House included a trio of beloved dogs. King Timahoe (an Irish Setter) was a gift from the White House staff, but Vicky (a Standard Poodle) and Pasha (a Yorkshire Terrier) moved in once Nixon took office.
George W. Bush
When the second President Bush took office, he brought his father's beloved dog Ranger with him. As a result, the English Springer Spaniel is probably the only First Dog to "serve" in multiple administrations. The Bush family also included a famous pair of Scottish Terriers: Barney and Miss Beazley.
Barack Obama
On the campaign trail, then-candidate Obama famously promised his daughters that they could have a dog if he made it to the White House. When the Illinois Senator proved victorious, his colleague Ted Kennedy offered congratulations in the form of a Portuguese Water Dog. The Obama family named him Bo and welcomed another (Sunny) to the family in 2012.
A New Presidential Pup?
With an election approaching, the country faces the prospect of both a new President and a new First Dog. While President Trump doesn't seem to be a pet lover, his opponent has two dogs of his own. In 2008, Vice President Joe Biden purchased a German Shepherd named Champ from a Pennsylvania breeder. A decade later he adopted another German Shepherd, Major.
If the country has learned anything over the last few years it's that anything can happen in politics. It's even possible that President Trump will embrace tradition and adopt a dog before November 3rd.