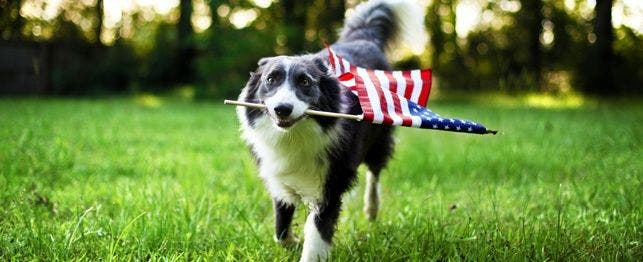 Presidential Pooches: Ten Famous Dogs of the White House
Regardless of your political affiliations, there are certain Oval Office residents that you can't help but love: the presidential pooches.
To date, thirty-two U.S. presidents have owned at least one dog while in office. Even the first American president, George Washington, was a dog owner, with three American Staghounds and four Black and Tan Coonhounds.
Here are 10 other "First Dogs" who captured the hearts of America.
1. Veto, the hero dog. A name with real meaning, this Newfoundland was owned by James Garfield, the 20th U.S. president. He named the dog Veto to let Congress know that he might not be signing all of the bills it passed. But Veto was more than a message — he was a hero. He once barked nonstop to alert people that a barn was on fire and, on another occasion, he held the reins of a rampaging horse until help came.
2. Laddie Boy, the first celebrity dog. Owned by Warren G. Harding, the 29th president, Laddie Boy was an Airedale terrier who accompanied the first family everywhere. He joined the president on golf outings and even attended cabinet meetings, sitting in his own special chair. Because of this, Laddie Boy received an enormous amount of media coverage. There was an official portrait painted of him, and a life-sized sculpture of this special pup is part of the Smithsonian National Museum of American History collection.
3. King Tut, the happiness dog. Herbert Hoover, the 31st president, had a less-than-optimal public image of being rather stiff, stern, and severe during his run for the presidency. That image was quickly softened when a photo was taken of him with his Belgian Shepherd, King Tut, who brought out a rare smile from the president. Hoover's campaign officials had thousands of copies made of that photo and circulated them throughout the country, hoping the image would make Hoover appear more personable. The strategy worked – Hoover was elected president, and the New York Times wrote that it was "one of the happiest pictures ever made" of Hoover.
4. Fala, movie star and constant companion. Always with his beloved owner, Franklin Delano Roosevelt (FDR), the 32nd president, Fala was a black Scottish terrier who slept in a special chair at the end of FDR's bed, accompanied him on trips of all kinds and by all modes of transportation, and met some very important people. His popularity was so huge that he actually received thousands of letters from people, and in 1942 a movie was made about his life. There were references made to Fala in some of the biggest media sources of the time, including the New York Times and Reader's Digest. He's also mentioned in several books about Roosevelt. A statue of Fala stands next to a statue of FDR in Washington, DC.
5. Yuki, the famous singing dog. A rescue dog who ended up living in the White House, Yuki was an abandoned terrier mix found by the daughter of Lyndon Baines Johnson (LBJ), the 36th president, at a gas station one Thanksgiving day. LBJ had several dogs, but Yuki was his favorite. The two were practically inseparable — LBJ even danced with Yuki at his daughter's wedding, took her to cabinet meetings, and swam with her — but Yuki was best known for her singing. LBJ and Yuki would raise their faces to the sky and "sing" together.
6. Checkers, the famous, never-lived-in-the-White-House pup. Belonging to Richard M. Nixon, the 37th president, Checkers, aCocker Spaniel, never actually lived in the White House. Yet Checkers was made famous by Nixon's speech in which he denied misuse of campaign contributions; he said the only campaign gift he would never return was Checkers, given to him by a supporter in Texas. His speech was given on September 23, which was designated as National Dogs in Politics Day as well as Checkers Day.
7. Millie, the literary cover dog. An English springer spaniel of 41st president George H. W. Bush, Millie gave birth to six puppies, which put her in the media spotlight. She and her pups appeared on the cover of Life Magazine, after which she "wrote" a book about her life in the White House. The book was a #1 nonfiction New York Times bestseller, earning royalties of almost $900,000, which were donated to the Barbara Bush Foundation for Family Literacy. Likenesses of Millie were used in several television shows of the period.
8. Buddy, true to his name. A chocolate Lab of 42nd president Bill Clinton's, Buddy came to the White House during Clinton's second term in office. Clinton said Buddy's arrival was what made the White House a home for him. Buddy's outgoing nature and playfulness made him a focus for media cameras, and the American public loved him so much that fan clubs and websites were established in his honor. Buddy received many letters from children, portions of which Hillary Clinton published in a book, the proceeds of which were donated to the National Park Foundation.
9. Barney, website superstar. A Scottish terrier that was a gift to George W. Bush, the 43rd president, Barney had his own website and wore a "Barney cam" — a small video camera attached to his collar that recorded his daily life in the White House from a dog's-eye perspective. He greeted dignitaries and leaders from around the world and gave the public a Christmas tour of the White House.
10. Bo, a promise kept. It was highly publicized by the media that Barack Obama, the 44th president, promised his daughters during his campaign that if he was elected president, he would get them a puppy. When he was elected, Senator Ted Kennedy gave the Obamas the gift of a Portuguese water dog. Bo's picture went viral immediately, he became a social media star and he was featured in several children's books.