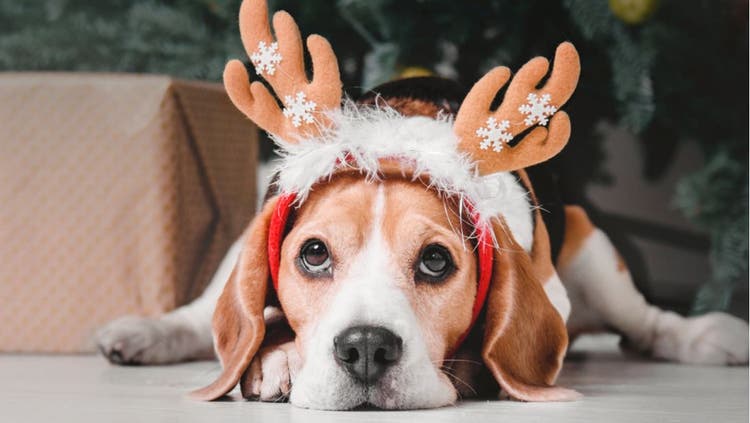 Sir Bentley, the Spirit of Christmas!
Humans aren't the only ones with holiday spirit. All of the wonderful moments of the holiday season make an impression on even our dogs. Some dogs though seem especially suited to the season. I just read a wonderful story about a Christmas dog whose spirit lives on in his family's home every winter.
Cathy Briody writes about Sir Bentley, a very special Bichon Frise. Cathy rescued Sir Bentley from a shelter when he was thought to be eight years-old. He had not had an easy life and had problems. He was blind and dog aggressive, but incredibly smart. Cathy had taken him in as a foster and fell in love with him in the summer of 2001.
Bentley was up to the challenge of integrating into his new home and it wasn't long before he was at ease with the other dogs in the house. More than that, he became an active participant in the daily fun. The other dogs would bring him toys when he was sleeping or would gently take his harness by the mouth and lead Bentley safely upstairs.
Soon Bentley's personality began to shine. It was obvious immediately that he loved music. His favorite music though, was Christmas music –even in July. A rendition of "Jingle Bells" would bring Bentley to a halt and it became his theme song.
Cathy says that last year she wasn't in the mood and wasn't going to "do" Christmas. When the season rolled around though, Bentley would not stop looking for the tree. In years past he had always slept beneath it while Christmas music played on the stereo. Bentley wanted his tree and Cathy finally put one up just for him.
Sir Bentley passed away in January, but Cathy keeps remembering her Christmas pup. This year Christmas will be done in high style and in Bentley's honor. Cathy will always think of him and his joy during the holidays!
Do you have a dog that brings you joy every holiday season? Be sure to share your story.