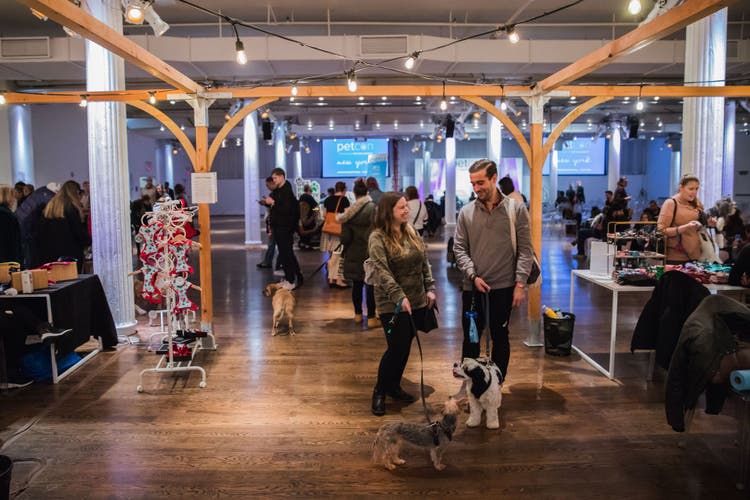 The Pets of PetCon: Jetsetting Pets
Traveling with pets isn't always easy, but it is possible. If you are new to pet parenting, or have never traveled with your pet, we have some tips to share with you, provided by some of our favorite Insta-famous dogs. The biggest takeaway? Know your pet, and never put them in situations that would make them, or you, uncomfortable.
PetPlace: You've had a successful YouTube channel for your huskies since 2009. When did you realize that Shelby and Kira could be internet celebrities?
Jessica: We've been doing this for about 10 years now, but our intention was never to get famous. We love to go on different adventures with our dogs–they're great travel dogs! We really didn't realize until a few years ago that we were having such a big impact on people, people started reaching out to us personally. We actually have a weekly show called Fan Friday, where we answer questions from our fans.
PP: What are their off-line hobbies?
J: They are always up for an adventure! We live in northern Michigan, so they love dog sledding, playing in the yard, and camping.
PP: You and Shelby and Kira all traveled here to PetCon in NYC. What's your favorite part of the event?
J: We love the Meet and Greet. Having a real personal connection to people is my favorite part.
PetPlace: Hi Maya! How old is she?
Anthony: Maya is 4-years-old.
PP: When did you realize that Maya was going to be Instagram famous?
Liz: October, 2016. She was about a year old, and I just randomly started the Instagram, we weren't expecting it to be a big deal. I wanted it to show how cute she was–people were always stopping us on the street to say how cute she was, so I figured why not share that with the world?
A: We travel everywhere with her. She's been on over 250 flights, so she travels and everybody loves her wherever we go.
PP: Any advice for pet parents who are first time travelers with their pet?
A: Make sure you're prepared and don't put your dog in a bad position. Especially when flying on airplanes.
L: Know your dog and be aware of what they're comfortable doing. And like Anthony said, just be overly prepared–know where the vets are in the area, bring wipes, bring extra food, don't pack food in your checked baggage–it's a lot like having a child.
PP: What's the most surprising thing that's happened since she's become Instagram famous?
A: We stayed at a boutique hotel brand called the Staypineapple last night and we didn't even realize it, but her photos are all over the marketing materials for the hotel.
L: We partnered with them for staying at the hotel, so it was all above board! But we didn't know that they would be using Maya's image. And they're using her for their chain of hotels across the country, so it's exciting to see her out there beyond Instagram. And when people recognize her offline, we have lots of people reaching out to tell us, which is nice.
PetPlace: How did Popeye become a foodie?
Ivy: Popeye was actually a stray, living on the streets before coming to live with us. He was scrawny and dirty and we knew we just had to adopt him. We owned a restaurant at the time and he just started coming out to restaurants with us because we ate out all the time. We quickly realized that he was really well-behaved around food and so the pics we took while out to dinner started to include him.
PP: Did you think he would become an Instagram star?
I: No! He's just really photogenic and it worked out that way. But we didn't expect it to blow up the way that it did.
PP: What are Popeye's non-culinary habits?
I: He likes to travel and dress up. He loves putting on different outfits and generally looking cute.
PP: Does Popeye actually like Spinach?
I: No!
PP: What are your tips for aspiring Instagram stars?
I: Do what's fun and make it authentic. If it's forced, it won't work out.
PetPlace: When did you realize that Ella would be an Instagram star?
Kaylin: From the moment I met her, I knew that she had a star quality.
PP: What does Ella like to do for fun?
K: She loves to travel. She's been all over the world. Otherwise, she likes to lay by the pool on a chaise lounge, drinking from a glass. Also, raising awareness for rescue pets.
PP: We've heard that you and Ella are big advocates for animal acupuncture. What's the biggest benefit you've seen?
K: We've been into acupuncture for a few years. The benefits are similar to human treatment. Ella dislocated her hip a few months ago and we've been using it for anti-inflammatory and pain management purposes. It's great for de-stressing and all kinds of ailments.