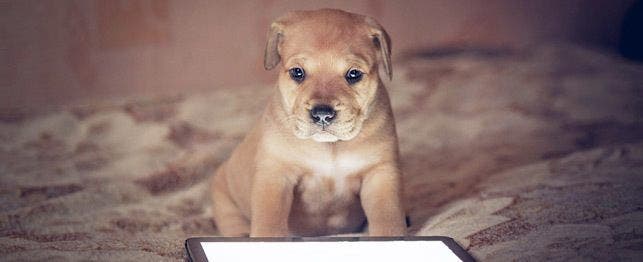 The Top 4 Apps for Dogs
Do you have a dog that likes to steal your phone or tablet? If you've ever wondered what use your dog could possibly have for your device besides slobbering on it, look no further than these apps for dogs.
In this day and age, if you want to do something, there's probably an app for it. From checking medical records to ordering dinner to playing games, and everything in between, our devices can do it all — even help us care for our canine companions.
Sometimes, your veterinarian isn't available to answer all of your questions, or maybe you keep showing up to an empty dog park. Having apps for dogs on your device can help take the difficulty out of these problems and give you an easy, and sometimes fun, solution. What can you do with apps for dogs? Your dog has needs too, and believe it or not, there's an app for most of them.
Having certain apps on your phone can also help you be more responsible, and some apps for dogs can help you be a better dog parent. Here are our favorite apps for dogs that will improve the quality of life for you and your dog.
Our Four Favorite Apps for Dogs
1. Pet First Aid — Free
It's too late to call your veterinarian, and the internet is proving unreliable at offering a definitive answer. What do you do? Take the guesswork out of canine first aid by having a trusted source right at your fingertips. Pet First Aid by the American Red Cross helps you prepare for any situation with veterinary advice and quizzes to help you hone your learning.
2. PupTox — $0.99
You just walked into the living room to find that your dog is munching on the remaining shreds of your daughter's A+ spelling test, shiny sticker and all. He looks fine, but is he really? PupTox can tell you. With information on over 250 things that are harmful to dogs, you'll be able to quickly know whether or not you need a speedy trip to your veterinarian's office. PupTox can also determine how bad the situation is with the ability to enter your dogs' weight and the amount of what was eaten. PupTox uses a sliding scale to tell you whether your facing a mild irriation or something more serious.
3. Cutesy — Free
Love cute pets? This app is for you. If you're feeling down and need a pick me up, open Cutesy to brighten your day. The social media app for dogs, Cutesy lets you swipe right or left on an endless amount of cute pet pictures. You can create an account for your pup and try to gain likes to make the global leaderboard. Use their map to find friends near you, or even jump into groups of common breeds to find your dog a new playmate. Check the app each week to see what photo challenges they have featured on the home screen. If you've got a dog, Cutesy has it all. Join in on the friendly competition to find out if your dog really is the cutest of them all.
4. Dogly — Free
Do something with the hundreds of photos of your dog on your camera roll, and make a difference while doing it. Dogly is like Instagram for your dog, but when you set up an account, you can pledge your support to a shelter. They become who you're playing for in your quest to get the most love for your pup's adorable photos. Each month, the shelter that receives the most love on the app will receive a $1,000 grant. The app also gives out grants for creativity and the most loved overall each year, and it's all about promoting the importance of dog adoption. Dogly also allows you to up your game with the ability to edit photos and add stickers to let you unleash your creativity.
(?)