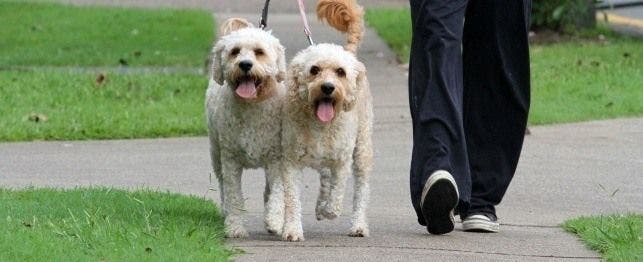 Walk the Dog – In Style!
Chances are you've been putting a sweater on your chilly dog this winter for his walks out in the cold. Have you been taking care not to clash? Today there are so many great fashions available there is no reason not to match. After all, your dog is a reflection of you and vice versa. Why not go it together in style.
It's a proven fact that you are more likely to be approached by new friends when you have a dog in tow. Why not? Dogs make eye contact quicker than people and if they are friendly are also quick to offer a doggie grin. Who could resist meeting a sweet pooch with a friendly face? If you are going to be meeting new acquaintances or even a potential date, you better make sure that you and your dog look great together.
Knowing that everyone is looking for the very best fashions, some high rollers are getting involved in pooch fashion. Barry Kieselstein-Cord, based in New York and known for his diamond-studded jewelry, sterling silver buckles and leather handbags with sterling silver clasps in getting involved. Kieselstein-Cord has a deal with the American Kennel Club to fashion matching clothes and accessories for their owners. "The strong bond that exists between dogs and their owners will be reflected in my designs," said Kieselstein-Cord, who has created accessories for Oprah Winfrey, Tom Hanks, and Steven Spielberg. "This opportunity was a chance for me to bring couture to the canine community." He is starting with fashions for the top dozen breeds including Labrador retrievers, golden retrievers, Chihuahuas and poodles.
Kieselstein-Cord's styles include cashmere, wool, leather and waterproof canvas with dog profiles to match your breed of choice. He also promises matching jackets and sweaters for both dog and dog lover. Dog sculptures are transformed into charms which can be attached to collars and worn by humans or dogs. Prices range up to $10,000 so you can bet the charms are stunning.
Once you've found some nice matching jewelry, sweaters and jackets, don't forget the shoes. If you live somewhere like Chicago where de-icing agents can burn sensitive paws, you'll definitely want to find some good footwear. Maybe try out the Canadian-made Muttluks, said to be the Mercedes-Benz of canine footwear. With leather soles, fleece lining and six different colors to choose from, you will definitely find a pair to match everyone's wardrobe. (or maybe several pairs.)
For the smaller dog that may be more comfortable off the ground in the winter, why not get a fashionable dog sling. Just like a baby sling, the dog sling gives you a comfortable way to carry your pooch. For about $300 you get a "My Dog is Cuter than Your Dog," sling from Juicy Couture. After all, if it's raining, what better way to keep your little princess underneath the umbrella and away from the puddles? Or if you just need to go for an extra long walk and the little legs of your best friend give out, you can scoop her up and into the sling.
With so many great ways to synch up your fashion sense with you canine friend, you better dress up and get walking!