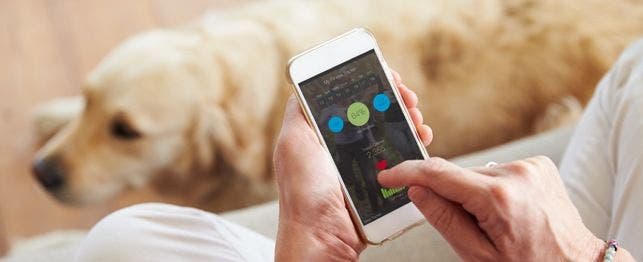 Wearable Technology for Animals? Our 4 Favorite Tech Products for Pets
Wearable technologies like smart watches, activity trackers, and wearable cameras have been taking the tech world by storm. What about using the technology for our pets?
This might sound offbeat, yet it's already helping pets in many ways. It's especially useful for pet parents who want to keep track of their pet while they're not home. Or, those interesting in monitoring their pet's activity level.
In other cases, wearables provide better visibility for pets, particularly at night. However, the best use of a pet wearable is having a device monitoring your pet's health, just like you would monitor your own.
Here are four of our favorite tech products for pets. You'll be amazed at what they can do.
INUPATHY
You know what your dog is trying to say to you by reading his body language, but do you know how he really feels? Billed as the "the world's first empathy device," the INUPATHY wearable monitor features color and light patterns that will show you whether your dog is happy, excited, or relaxed. INUPATHY will give you deeper understanding of your dog by showing his feeling in real-time, enriching your bond.
Squeaker Buddy LED, GPS + Fitness
Some dogs are just born to run. And a dog that runs away is a major problem. Although the reasons for running away are varied, there are a couple of common themes. Dogs run away either to get to a better place where something rewarding may happen, or to escape from a real or perceived danger. The Buddy LED, GPS + Fitness by Squeaker is the next generation in smart wearable for your pet and the first smart collar to incorporate illuminating LED lighting with cellular GPS tracking and activity monitoring for your pet.
PetPace Collar
While some wearables track how your pet feels and where they are, the PetPace Collar directly tracks the health of your pet. The device fits both cats and dogs, and it monitors their heart rates, temperatures, and general activity level. It is the most thorough health-monitoring tool on the market for pets. Most conveniently, it provides universal connectivity, meaning your veterinarian can access the data from a mobile device and alert you on health issues.
GoPro Fetch Dog Harness
Wondering what the world looks like from your dog's vantage point? GoPro reinvented how we use cameras, and they've done it again with the GoPro Fetch Dog Harness, which allows you to mount your GoPro to your dog to capture the world from his point of view. This harness features two mounting locations for a variety of perspectives: the chest, for bone-chewing, digging and front-paw action, and the back, for over-the-head shots of running, jumping, fetch, and more. It's made of washable, water-friendly material, so your dog can swim, play, and get dirty without a worry. Soft, padded construction keeps your pet comfortable, and it's fully adjustable to fit dogs from 15 to 120 lbs.