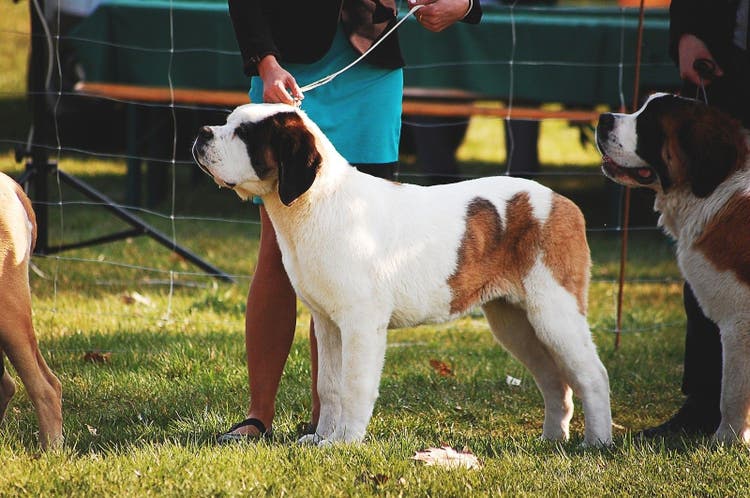 Who's Entering the Westminster Dog Show 2007 – Top Breeds & States
What are the top dog breeds entered and who are the states most frequently entering dogs in the show? This year the Famous Westminster Dog Show begins February 12 and 13th at Madison Square Garden in New York. Westminster officials report a total entry of 2,632 for its 131st annual event. California (283 entries), New York (253) once again lead the way; Rhodesian Ridgebacks (50) and Cavaliers (43) top breed entries!
There's only one Westminster, and the annual entry process for the Westminster Kennel Club's Annual All Breed Dog Show has once again shown why. City once again filled quickly. That entry comes from 48 different states, the District of Columbia, Puerto Rico, and five foreign countries (It should be noted that because of certain requirements in the entry process, many foreign bred dogs are entered from U.S. addresses, and in the final compilation there will be a number of additional foreign countries represented).
Leading the way with the most entries are California (283) and New York (253). The top seven states in entries are the same as last year, with Pennsylvania (198), New Jersey (179), Florida (135), Texas (132), Connecticut (120), Massachusetts (102), Virginia (84) and Ohio (78) rounding out the top ten.
As in recent years, the entry limit of 2,500 dogs was reached quickly after the general entry process began on December 8. The final total entry of 2,632 includes 132 dogs entered in Junior Showmanship.
Rhodesian Ridgebacks have the highest entry with 50, while Cavalier King Charles Spaniels have 43 entries. Havanese, French Bulldogs and Labrador Retrievers each have 38 entries, Golden Retrievers and Chinese Cresteds 37. There are 81 total Dachshunds entered in the three Varieties, which compete separately.
All 165 breeds and varieties recognized by the American Kennel Club will be represented at the show, to be held at Madison Square Garden. There are no new breeds recognized by the American Kennel Club for competition in 2007. There are also 132 entries in Junior Showmanship, where young handlers age 9-18 compete based only on their handling abilities.
Dr. Robert Indeglia of Providence, RI will judge Best In Show, heading a judging panel of 34 judges from 14 states, Canada and England.
The breed judging schedule will be posted on www.westminsterkennelclub.org when finalized. Breeds and Varieties in the Working, Terrier, Toy, and Non-Sporting Groups will be benched and judged during the day on Monday, with Group competition that evening. On Tuesday, breeds and varieties in the Sporting, Hound and Herding Groups will be benched and judged, with judging of those Groups and Best In Show to be held Tuesday evening.
The evening competition will be televised live each night at 8 PM (ET) on USA Network. Westminster, televised since 1948, is and always has been America's most widely-watched live telecast of a dog show.
The Westminster Kennel Club is America's oldest organization dedicated to the sport of purebred dogs. Established in 1877, Westminster's influence has been felt for more than a century through its famous all breed, benched dog show held every year at New York's Madison Square Garden. The show is America's second longest continuously held sporting event, behind only the Kentucky Derby. Westminster will stage its 130th consecutive show on February 12-13, 2007, nationally televised on USA Network. For additional information, log on to www.westminsterkennelclub.org.
Entries for 2007 (subject to final audit):
Sporting breeds (460): Brittanys 16, Pointers 23, Pointers (German Shorthaired) 27, Pointers (German Wirehaired) 9, Retrievers (Chesapeake Bay) 25, Retrievers (Curly-Coated) 11, Retrievers (Flat-Coated) 22, Retrievers (Golden) 37, Retrievers (Labrador) 38, Retrievers (Nova Scotia Duck Tolling) 10, Setters (English) 20, Setters (Gordon) 12, Setters (Irish) 22, Spaniels (American Water) 3, Spaniels (Clumber) 12, Spaniels (Cocker) Black 12, Spaniels (Cocker) ASCOB 12, Spaniels (Cocker) Parti-Color 9, Spaniels (English Cocker) 12, Spaniels (English Springer) 19, Spaniels (Field) 9, Spaniels (Irish Water) 7, Spaniels (Sussex) 10, Spaniels (Welsh Springer) 13, Spinone Italiano 16, Vizslas 33, Weimaraners 15, Wirehaired Pointing Griffons 6.
Hound breeds (401): Afghan Hounds 29, Basenjis 12, Basset Hounds 13, Beagles (13″) 15, Beagles (15″) 21, Black and Tan Coonhounds 7, Bloodhounds 16, Borzoi 27, Dachshunds (Longhaired) 21, Dachshunds (Smooth) 32, Dachshunds (Wirehaired) 28, Foxhounds (American) 5, Foxhounds (English) 6, Greyhounds 12, Harriers 9, Ibizan Hounds 6, Irish Wolfhounds 14, Norwegian Elkhounds 10, Otterhounds 5, Petit Basset Griffon Vendeen 15, Pharaoh Hounds 13, Rhodesian Ridgebacks 50, Salukis 14, Scottish Deerhounds 4, Whippets 17.
Working breeds (413): Akitas 11, Alaskan Malamutes 13, Anatolian Shepherd Dogs 6, Bernese Mountain Dogs 20, Black Russian Terriers 12, Boxers 19, Bullmastiffs 30, Doberman Pinschers 20, German Pinschers 11, Giant Schnauzers 23, Great Danes 21, Great Pyrenees 11, Greater Swiss Mountain Dogs 18, Komondorok 5, Kuvaszok 8, Mastiffs 21, Neapolitan Mastiffs 5, Newfoundlands 11, Portuguese Water Dogs 30, Rottweilers 24, St. Bernards 10, Samoyeds 36, Siberian Huskies 28, Standard Schnauzers 20.
Terriers breeds (323): Airedale Terriers 14, American Staffordshire Terriers 23, Australian Terriers 15, Bedlington Terriers 18, Border Terriers 22, Bull Terriers (Colored) 6, Bull Terriers (White) 5, Cairn Terriers 17, Dandie Dinmont Terriers 1, Fox Terriers (Smooth) 15, Fox Terriers (Wire) 12, Glen of Imaal Terriers 10, Irish Terriers 5, Kerry Blue Terriers 8, Lakeland Terriers 6, Manchester Terriers (Standard) 12, Miniature Bull Terriers 10, Miniature Schnauzers 7, Norfolk Terriers 9, Norwich Terriers 19, Parson Russell Terriers 24, Scottish Terriers 11, Sealyham Terriers 4, Skye Terriers 4, Soft Coated Wheaten Terriers 11, Staffordshire Bull Terriers 12, Welsh Terriers 7, West Highland White Terriers 16.
Toy breeds (404): Affenpinschers 8, Brussels Griffons 12, Cavalier King Charles Spaniels 43, Chihuahuas (Long Coat) 16, Chihuahuas (Smooth Coat) 10, Chinese Cresteds 37, English Toy Spaniels (Blenheim & Prince Charles) 5, English Toy Spaniels (King Charles & Ruby) 6, Havanese 38, Italian Greyhounds 25, Japanese Chins 13, Maltese 6, Manchester Terriers (Toy) 16, Miniature Pinschers 15, Papillons 31, Pekingese 15, Pomeranians 21, Poodles (Toy) 6 , Pugs 22, Shih Tzu 26, Silky Terriers 12, Toy Fox Terriers 9, Yorkshire Terriers 12.
Non-Sporting breeds (279): American Eskimo Dogs 8, Bichon Frises 16, Boston Terriers 18, Bulldogs 15, Chinese Shar-Pei 18, Chow Chows 13, Dalmatians 18, Finnish Spitz 6, French Bulldogs 38, Keeshonden 19, Lhasa Apsos 8, Lowchen 9, Poodles (Miniature) 10, Poodles (Standard) 16, Schipperkes 19, Shiba Inu 10, Tibetan Spaniels 17, Tibetan Terriers 21.
Herding breeds (220): Australian Cattle Dogs 8, Australian Shepherds 20, Bearded Collies 15, Belgian Malinois 13, Belgian Sheepdogs 10, Belgian Tervurens 10, Border Collies 13, Bouviers des Flandres 19, Briards 11, Canaan Dogs 4, Collies (Rough) 11, Collies (Smooth) 4, German Shepherd Dogs 9, Old English Sheepdogs 19, Polish Lowland Sheepdogs 11, Pulik 7, Shetland Sheepdogs 11, Welsh Corgis (Cardigan) 12, Welsh Corgis (Pembroke) 13.