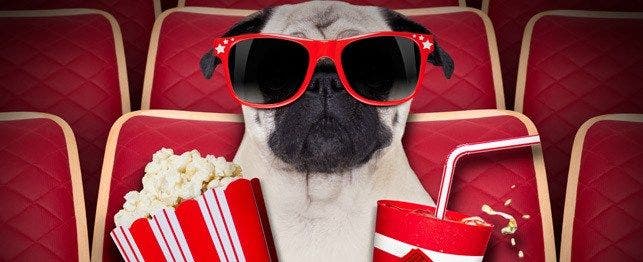 You Ought to Be in Pictures: Our Ten Favorite Dogs From the Silver Screen
"Never work with children or animals."
That famous quote, attributed to W.C. Fields and echoed by many other actors over the years, came about because of the unpredictable nature of children and animals and the way they often upstage their on-screen counterparts.
Dog lovers can certainly relate to and appreciate those unpredictable canine antics — anyone who's ever had a dog probably has plenty of funny stories to share, and surely the actors who have worked with some of the most famous dogs in movie history would have plenty of anecdotes too!
Here are our 10 favorite dogs from the silver screen.
1. Marley. The lead dog in the film Marley & Me was played by a three-year-old yellow Labrador retriever whose real name was Clyde. Like most dogs, Clyde's number one love was treats, and according to his trainer, Mark Forbes, his favorite star in the film was anyone who was holding a treat. In the movie, Clyde had to "kiss" his human co-stars from time to time, so the lucky recipient of Clyde's kisses had to put a small smear of ham-flavored baby food on their cheek to get the kiss. Why ham? Because it was closest to the color of the actors' skin.
2. Toto. Who could forget the spunky little Cairn terrier from the classic movie The Wizard of Oz? The cute female terrier was appropriately named Terry and starred in sixteen other movies (including one with Shirley Temple), though The Wizard of Oz was her most famous. Terry, who did her own stunts, made a whopping salary of $125 per week playing Toto, which was more than most of the actors in the film and more than most people earned when the film was made in 1939.
3. Benji. This mixed-breed male shelter dog starred in several Benji movies and was named Higgins. In later Benji movies, Higgins' daughter, Benjean, took over for her dad as the star. Before he made it to the big screen, Higgins played in the 1960s television series Petticoat Junction in the simply-titled role of "dog." He appeared in a few other TV shows as well, and after winning a Patsy Award in 1967, he was featured on the cover of TV Guide.
4. Buddy. Buddy, the canine star of the movie Air Bud, was a male golden retriever found as a stray by Kevin di Cicco, who took him home and trained him in various sports from basketball to soccer, earning him the nickname "Buddy the Wonder Dog." He was first seen on America's Funniest Home Videos, and he also starred as Comet in the TV series Full House.
5. Hooch. Hooch was played by a 10-year-old French mastiff (or Dogue de Bordeaux) named Beasley in the movie Turner and Hooch starring Tom Hanks. Recently, the American Humane Association added Turner and Hooch to its list of favorite animal buddy movies.
6. Old Yeller. Speaking of the American Humane Association, just this year the 1957 Walt Disney movie Old Yeller was given the Pawscar Award as the best family film of all time. The Labrador-Mastiff mixed breed dog (sometimes called a Mastador) who played the title role had the proud real-life name of Spike. This talented pup played in a variety of television shows and movies, but almost didn't get the Old Yeller role because they felt he was too sweet.
7. Skip. Adapted from a memoir, the movie My Dog Skip required two different Jack Russell terriers to play the lead role of Skip, who was actually a fox terrier. One was a dog named Moose, who played Eddie on the TV show Frasier, and the other was actually Moose's son, Enzo, who took over the role of Eddie after Moose retired. Enzo was said to be so smart that there wasn't a trick he couldn't do, or command he couldn't follow.
8. Winn-Dixie. Imagine playing in a movie alongside two dogs who, as actor Jeff Daniels said, "couldn't speak a word of English." Well, that's what happened during the filming of the movie Because of Winn-Dixie — two Berger Picards were brought in from France to share the title role of Winn-Dixie. Each had their own special acting strength: Lyco took the action scenes while Scott played in the mushy, more intimate scenes.
9. Bingo. The name of the movie is the same as the name of its star character, played by a border collie mix named Lacey. Lacey was chosen out of 5,000 potential lead dogs, from Hollywood canine celebs to dozens of shelter dogs. In the end, the rescue dog Lacey (who only needed six months of training) won the role and had both a stand-in named Maui and a stunt double named Max.
10. Milo. Played by a Jack Russell terrier named Max, Milo was the sidekick of Jim Carrey in the movie The Mask. This was Max's first-ever movie role, and sometimes he didn't follow the script. But that led Carrey to ad-lib those scenes, some of which actually made it into the finished film.