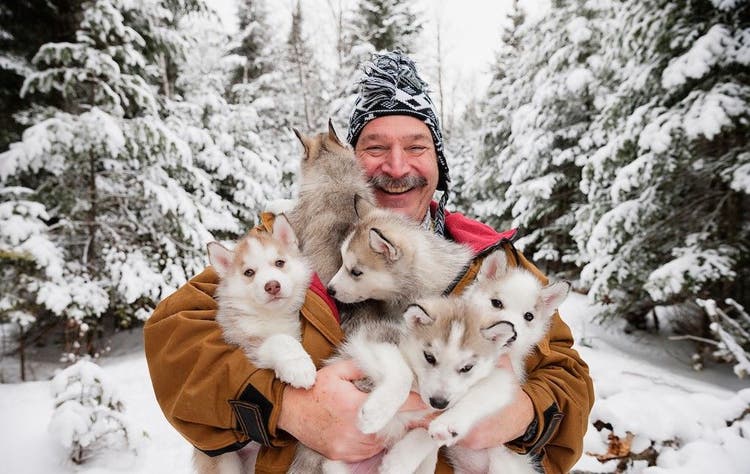 Alaska's Iditarod: The Last Great Race
Alaska's Iditarod Trail Sled Dog Race isn't your average sporting event. The race — which starts on March 7th, sees human and canine competitors travel across a grueling 1,150-mile stretch of the Alaskan wilderness. While it's not quite as long as the Tour de France (around 2,200 miles), spectators shouldn't expect anyone to cross the finish line for over a week. In fact, the Iditarod's fastest winner finished the 2017 race after 8 days and four hours.
History of the Iditarod
Though the first Iditarod took place in 1973, the event traces its roots back several more decades to the winter of 1925. At the time, Nome was threatened by an outbreak of Diphtheria. A train managed to rush life-saving medication from Anchorage to the village of Nenana, but the tracks ended there.
The only reliable method to transport the medication the rest of the way was by dog sled. Dog teams along the route traveled the additional 700 miles over six days. Weathering temperatures in the negative 40s, they arrived just in time to avert a crisis.
Today's race celebrates the memory of those dogs and mushers while commemorating the Iditarod National Historic Trail, once Alaska's primary mail route. The Iditarod Trail Committee's mission statement acknowledges the race's effort to "reflect the human wonder and challenge of Alaska's wilderness" while preserving "the historic contribution and contemporary practice of dog mushing."
Sled Dogs and Mushers
Mushing has a long history in Alaska and considerable cultural significance. Before roads, mushing was the only way to deliver mail and other goods over long distances. The region's native Inuit tribes bred some of the strongest dog breeds on earth for the task. Adapted to extremely cold weather, sled dog teams can also maintain speeds of 8-12 miles per hour while carrying as much as a half ton.
Iditarod teams consist of between 12 to 16 dogs harnessed to a sled carrying the musher and a bundle of survival gear. This gear includes axes, a stove, snowshoes, parkas, fabric slippers for each dog, veterinary handbooks, and food for both man and beast. Much of this gear is mandatory per the Iditarod Trail Committee's official rules.
The combined strength, speed, and determination of these teams is remarkable. Stretching longer than an 18-wheeler, a dog sled team is capable of dragging a pickup truck with its brakes set across a field of packed snow.
Most sled dogs fall into the unofficial category of "Alaskan husky." Despite their splendid breeding, these are technically mutts. They are not registered with the American Kennel Club, since they do not have an appearance standard. That doesn't mean they come cheap. Your average sled dog costs between $3,000 and $4,000, and lead dogs can cost as much as $10,000. Race officials estimate that a musher will spend around $50,000 to $60,000 to take care of their dogs around the year.
While the dogs run as a team, mushers are on their own. They issue commands to the lead dog and, since the animals work together, the others follow along. Immediately behind the lead dog are the swing dogs, followed by the wheel dogs, which run just in front of the sled. Wheel dogs are responsible for turning the sled without tipping it and for steering around obstacles. As such, they're typically larger and more muscular than their teammates.
Training and Competing
Most sled dog teams train year-round, participating in several races and gradually building up speed, strength, and endurance. By race day, every dog has undergone between 1,500 to 4,000 miles of training. Mushers use these trial runs to correct behavior and ensure they can control their teams. They employ commands including "gee" (turn right), "haw (turn left), and "on by" (go straight). Interestingly enough, you will not hear a real-life musher use the word "mush."
First-time Iditarod competitors must complete two approved races totaling at least 500 miles in the two years prior to their first race. Returning teams are automatically eligible once they're approved by the race's Qualifying Review Board.
The name "Iditarod" is an Inuit word meaning "a distant place." It also refers to a now-uninhabited town halfway between Anchorage and Nome. Though the race originally began in Anchorage, it now starts 40 miles north, to avoid the congestion of the city and fully accommodate upwards of 60 sled dog teams.
A musher and his team of brave pups.
From the starting point, teams encounter just about every natural obstacle imaginable: hazards like subzero temperatures, whiteout conditions, and precarious ice. Mushers must also contend with hours of darkness and solitude that can leave them sleep-deprived and vulnerable to frostbite. It's no wonder that around 15% of the 50 to 60 teams that start the race each year never finish.
Mushers sign in at 20 checkpoints throughout the race. These mandatory stops include one full-day respite (taken at any checkpoint) and two eight-hour rest periods (in Yukon and White Mountain). Otherwise, most mushers only average around two hours of sleep each night. During these stops, the dogs take priority. They are fed first and carefully checked for signs of fatigue and injury. Foot care is particularly crucial, as the dogs' pads are prone to injury.
Veterinarians monitor the dogs at every checkpoint and intervene to remove injured, sick, and over-fatigued dogs from competition. They also test animals for performance-enhancing drugs and disqualify any musher they suspect is abusing their team.
The Future of the Iditarod
The Iditarod's demanding conditions have long made the event a source of controversy. Animal advocacy groups including People for the Ethical Treatment of Animals (PETA) have repeatedly called for its discontinuation. They suggest that at least 150 dogs have died throughout four and half decades of competition and question the validity of the reported death toll.
In 2018, the Iditarod Trail Committee updated its rules to disqualify mushers who lose a dog as a result of anything other than "unforeseeable forces." Four-time champion Jeff King expressed his support of the new rule. "For 10 days you've got to keep your dogs alive," he said, "if not the musher, who the hell is responsible?" Other veteran mushers were less enthusiastic. Wade Marrs commented, "I just see this rule as being very controversial."
The Committee proposed the change after the 2017 race resulted in five dog deaths. Last year, more than 235 dogs were removed from competition as a result of illness or injury and one died shortly after completing the race.
Iditarod enthusiasts are consistent in their arguments that sled dogs are taken care of and that the time-honored tradition should continue. Speaking to the New York Times, King remarked, "This is a local event, [a] regional event that gets worldwide exposure. It's just not for everybody in a worldwide audience." Others have suggested that any controversial aspects of the annual Iditarod proceedings are merely the result of ineffective marketing. Mitch Seavey, another race veteran, told the Times, "As the race organization learns how to present itself and package itself better . . . that to me is a healthy defense against naysayers."
Changes to Alaska's climate also complicate the Iditarod's future and have already brought about changes to several sled dog races throughout the state. In the last five years, officials have twice moved the Iditarod's starting point 350 miles north to Fairbanks. Changes to the race — meant to commemorate a very specific trail — are inherently controversial. Officials may not have a choice much longer.
Alaska is heating up faster than any other U.S. state and even Iditarod purists acknowledge fundamental changes could soon become necessary. Longtime musher Brent Sass is optimistic for now, but decidedly less hopeful about the race's future. "If we've got to change some things in the beginning of the race," he says, "so be it." He continues, "Now, ask me again in ten years and maybe we've had Iditarods canceled . . . and we'll worry about it."