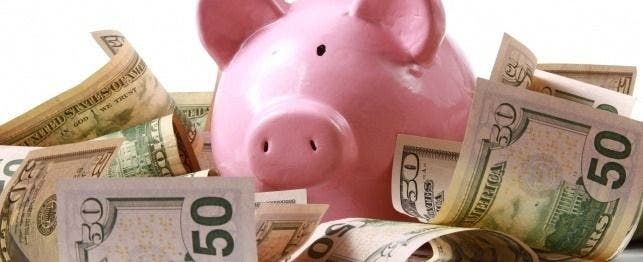 7 Tips for Saving Money on Dog Care
Can you spoil your dog AND save money? Yes you can. If you're like most people, you're working hard to make your money work as hard as you do, but you'd still like to enjoy the fruits of your labor. When it comes to dog care, you really can do both – but only if you know what corners to cut and how to get the most for your money. Problem is, many people don't.
While we've long recognized in human medicine that preventive care works better – it's less expensive, and less painful – than dealing with preventable illness or injury, too few dog parents pursue wellness care for their dogs. But educating yourself about wellness care and working with your veterinarian to provide your dog with it really will save in the long run. It's the best place to start saving, in fact, even if it costs you on the front end.
What is Wellness Care?
First, let's stress what it's not: yearly shots. Vaccinations are no longer recommended annually for most dogs, but that's not a good reason to skip your dog's yearly vet check (twice-yearly for older dogs). These "well-pet" examinations can spot little problems before they become expensive ones. You also want to be sure not to neglect dental care. You can and should ask your veterinarian about short-term promotions (such as for Dental Health Month every February) and dental care discounts such as for multi-dog families or senior citizens. Lastly, while it used to be a highly contentious issue within the veterinary community, you can and should ask for your veterinarian to write a prescription for generic medication to be filled elsewhere – but do give your veterinarian the chance to match prices.
Don't price shop for veterinary care, however. You'll get the best care for your dog by working in partnership with your veterinarian, and once you have found a good one, building a relationship of trust and respect. In terms of human medicine, again, can you imagine searching for the cheapest pediatrician or cardiac surgeon? Of course not!
Despite your best intentions, accidents and illnesses can happen. That's why it's important to be sure you can cover your dog's care by having pet health insurance. The advances in veterinary specialty care are amazing, but they are often expensive. Pet health insurance will allow you to make the best decision based on your dog's medical needs, not your bank account or credit line.
Aside from veterinary care, there are some fairly easy ways to save significant money on dog care.
Here are a few ways to save money on dog care:
Keep your dog fit and trim.
A majority of dogs are overweight and those extra pounds increase the likelihood of serious health problems such as arthritis, diabetes, and cancer. If your dog is overweight, get your veterinarian's help to reduce weight.
Learn to do things yourself.
Most people can learn to handle basic dog grooming at home, from bathing to nail trims. If nothing else, you can probably stretch out time between professional grooming for high-maintenance dogs with some at-home care. Check your library for grooming guides.
Brush your dog's teeth.
This tip is more about health than grooming but it'll lengthen the time between necessary but expensive cleanings at your veterinarian.
Minimize risk from accidents.
Saving the life of a dog who has been hit by a car or poisoned can cost hundreds or even thousands of dollars – and these tragedies can often be prevented. Keeping dogs on a leash or contained in a sturdy fence can minimize the risks of accidents. Another great tip is to go through your home with an eye toward possible hazards, especially foods, plants and drugs that can be ingested, as well as cleaning supplies, pesticides and herbicides.
Consider purchases carefully and buy in bulk.
Shopping for dogs can be great fun, but that new designer collar may be something you want to postpone if there's wear left on what your dog's wearing now. When it comes to toys, though, cut them back, but not out — good chew toys have saved many an expensive pair of shoes.
You can save money buying the largest bags of food or treats, or get case discounts on canned goods. Split your dry food purchases with family or a friend, and store your portion in an airtight container. (Do keep product info from the bag, though, in case there are questions or problems. You can cut out the information and save it or just snap a picture with a smartphone.) Buying in bulk is usually better than dropping in quality. And ask your veterinarian for recommendations in the price range you can afford.
Is Pet Insurance Right For You?
The best pet insurance offers coverage that's broad enough for whatever care your pet needs and with enough options to get the perfect coverage for you and your pet.
Are you pet crazy? Sign up for our email newsletter and get the latest health and wellness info, useful tips, product recalls, fun stuff, and so much more!