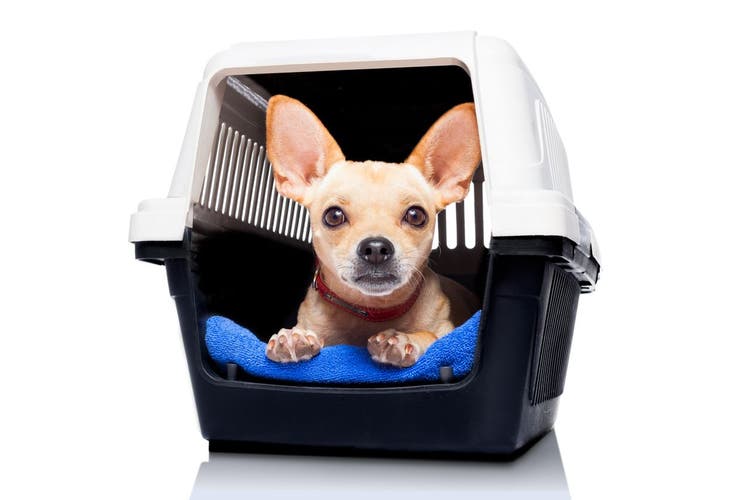 Road Tripping with Dogs: How to Keep Them Safe and Healthy
Road tripping with dogs can be a lot of fun – if you plan ahead. You can't just get into a car with a dog and drive cross country. You've got to plan ahead and take along all the things you'll need to have with you. There are also safety concerns to consider when road tripping with dogs so that you and your pet will be safe along the way.
When road tripping with dogs, think about where you will stay when you stop driving for the day. Many hotels do not accept pets or they may have size, breed or weight restrictions. Some hotels also limit the number of pets you may have in your room. Plan ahead and find a hotel that accepts dogs. Check out websites like Bring Fido or Dog-Friendly. Both of these websites are great resources for finding pet-friendly hotels, shops, and restaurants. If your dog is alerted by noises at night, you may find that you're asked to leave the hotel. So again, plan ahead. Have a good app on your smartphone for white noise. It will limit the amount of noise your dog hears.
Don't feed your dog beforehand. Try to feed your dog a light meal 3 to 4 hours before you hit the road.
Make sure that your dog is microchipped before leaving town. Microchipping provides an extra layer of protection should your dog happen to escape, or in case his collar slips off.
Before taking a long road trip with your dog, practice with some short trips first. See how your dog does with the ride and whether he becomes anxious. If your dog becomes anxious when riding in the car, see your vet before going on your trip. Your vet may prescribe some medications to help ease your dog's anxiety.
Safety Precautions When Road Tripping with Dogs
When road tripping with dogs, always put safety first. Never allow your dog to stick his head out an open window. You will risk him jumping out of the car or getting something in his eyes or ears. Never put the car window down unless your dog is restrained in a crate or by a doggy seat belt. Your dog should not be in the car unrestrained. It is a safety hazard. If you don't have room for a crate or a kennel, get a doggy seat belt or restraint. Practice using the seat belt before leaving for your trip so that your dog can get used to the feeling of being restrained.
To learn more about car safety, read our article Buckle Up: The Best Safety Car Harness for Your Dog.
Before you go, download the American Red Cross Pet First Aid App to your smartphone. It is free in the app store and can be very helpful. Find out where emergency vet clinics are located along your route so you will be prepared for any emergencies that might arise.
While you're on the road, stop every 3 hours or so to give your dog a bathroom break. Find a nice grassy area to walk your dog and never stop along the side of the road. A 10-minute leash walk is also a good idea every time you stop. Young potty training dogs and senior dogs may need to stop more often than other dogs, so keep this in mind.
Never leave your dog alone in a hot car, even for a short time. This is very important. Temperatures can climb quickly inside a closed car and your dog can suffer from heat-related problems. If you are traveling with another person in the car, only one of you at a time should run inside to pick up food or use the restroom while the other person stays in the car with the dog.
Necessities to Bring With You When Road Tripping with Dogs
When road tripping with dogs, don't forget to bring along the essentials.
Water bowl
Food
Medications
Poop bags
Grooming supplies and a towel
Updated tags
A collar and leash
Medical records
Vaccination certificates, especially for rabies
A kennel
Your dog's bed or blankets
Your dog's favorite toys
A doggy first aid kit
Bring a recent photo of your dog (it will be helpful if your dog goes missing)
Convert a hanging toiletry bag into an over-the-seat car organizer to keep all of your dog's stuff at your fingertips. Use it to store your dog's leash, his food, and some treats. It will make life a lot easier when you stop to take a rest along the way.
Also, give your dog something to do during the ride. Bring along a good chew toy, a stuffed Kong or a treat toy to help keep him occupied.
Your dog may get car sick so be prepared. See your vet before the trip to advise you on what prescription or over-the-counter medications you should take along on your trip.
Benefits of Having a Portable Crate, Cage or Kennel
Road tripping with dogs is a lot easier when you have a crate, cage or kennel. Vets agree that this is the safest place for your dog to ride. Allowing your dog to ride in the car without being restrained could cause an accident, so always put safety first.
A metal crate or cage offers the best protection for your dog in case of an accident.
If you have properly conditioned your dog to enjoy the crate and to identify it as their den, then traveling in the crate will be preferred by your dog. The homey feeling of their crate will comfort your dog during a road trip. Just make sure to practice with shorter trips before hitting the road for a long trip. This will help to train your dog to get used to riding in the crate.
To learn more about moving with dogs, read our article Moving with Dogs: The Importance of Preparation.
Also, check out our article Moving with Your Dog.