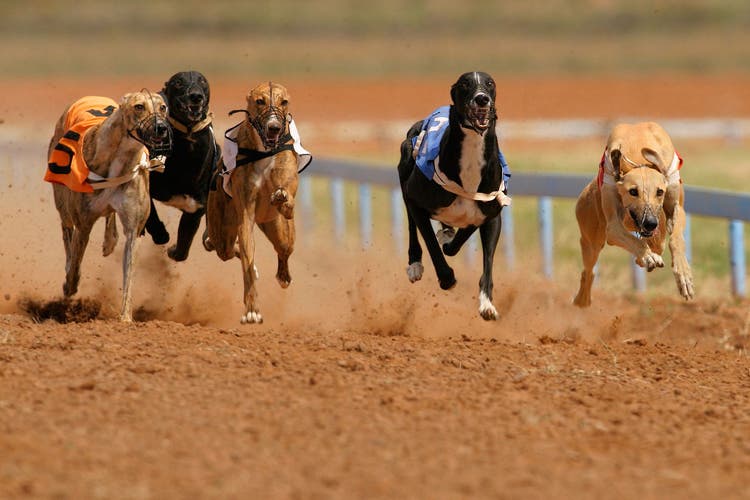 Florida Votes to End Dog Racing — What Now?
The Change Will Affect Thousands of Dogs in Florida
Voters in Florida have passed an amendment that will end dog racing in the state by 2020. Amendment 13 to the Florida Constitution was put on the ballot for November to phase out greyhound racing tracks around the state.
The amendment needed 60 percent approval to pass, and it received 69 percent, which came as a surprise to both sides of the ballot. The group that pushed for the amendment cited mistreatment of animals as a key reason to support the approval.
There are a total of 17 dog racing tracks in the United States, and 11 of them are in Florida. Before the amendment passed, the state was one of six states that still allowed dog racing in the United States. Now that 11 of the tracks will be closing, that means that thousands of greyhounds around the state will soon be in need of homes.
There are around five to seven thousand greyhounds currently in Florida's dog racing industry, and as the tracks close over the next two years, they'll all need to find a place to go. Adopting retired racing greyhounds isn't a new thing, either. The National Greyhound Association says that around 98 percent of retired racing greyhounds find forever homes and the remaining two percent work on farms as breeders. But with so many more greyhounds on their way, people are concerned that they'll end up overflowing shelters.
What Can You Do to Help?
Since the amendment was just passed, pet owners who are interested in some of these dogs should be patient. The tracks are going to close over a period of time, and most haven't announced their intentions yet. Since they have a little over two years to shut down operations, the retired greyhounds will likely be released over a period of time.
Keep an eye on your local greyhound rescue organization. More information about the fate of the dogs will likely be available later in 2019. Chances are these greyhounds will be headed to groups all around the country, and there are plenty of groups that you can find one near you! You can look through agencies in your state here.
People who want to adopt greyhounds also need to be aware of what it's like to bring a retired racing dog into their home. They're not for everyone, but the homes and families that they do fit with, they make wonderful, loving, lifelong companions.
Here are some quick facts on adopting retired racing greyhounds:
Racing Greyhounds are frequently handled and trained, so they're familiar with people. This makes them very sociable dogs. They often have experience with children as well, which makes them suitable for families.
Racing Greyhounds are often shy and gentle dogs. They're highly intelligent and independent.
Greyhounds retire from racing anywhere from 2 to 5 years old, and they can live for 12 years.
Racing Greyhounds are bred to be highly-trained athletes, so physical and temperamental problems have been avoided.
Racing Greyhounds only know other Greyhounds. They've never been around other breeds, and they've never encountered a cat. Some retired racers can do well in a cat household, but many cannot. If you have a cat, your organization can help you find a dog that can handle felines.
Some racing Greyhounds love to run after they retire, some don't. Greyhounds can reach speeds up to 45 mph for a short period of time.
Although racing Greyhounds are trained, it's not in the way you think. Most retired Greyhounds don't know how to sit, play games, or climb stairs because they've never had a reason to learn. With patience and time, they can learn.
Racing Greyhounds have a strict schedule, and once they retire it helps to keep a steady routine with feeding and walking.
When you first bring a retired racer home, it might be a little strange for your new dog, because he's never been in a house before! He might be scared, stressed, or confused but will adjust over time.
While retired racers need a little more effort at first than other rescues, they can still make a great companion. Often referred to as couch potatoes, Greyhounds like to sleep for up to 18 hours a day! Retired racers seem to truly embody the definition of "retirement," but they'll still enjoy a run or a walk every day. You can learn more about the Greyhound breed here.