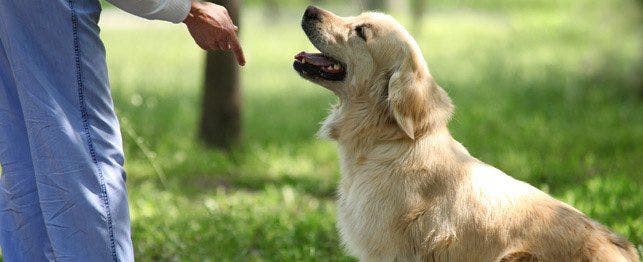 5 Dog Training Products You Need in Your Home
Training your dog is an imperative part of their early development, and while it might seem like a daunting task to tackle on your own, our top choices for dog training products will make life easier on you and your dog.
Dog training products play a big role in helping your furry friend better understand what you're trying to teach him. Using sounds, like the one a clicker makes, to associate with good behavior is an excellent and efficient way to teach your dog what you want him to know.
It is possible to train your dog with no dog training products whatsoever, however, it might be more difficult than you expect. Your dog can take longer to learn good behavior, and it could end up being mentally exhausting for you. Training your dog doesn't have to be a chore. Good dog training products guide your dog on the path to success no matter what style of training you use.
When used correctly, dog training products can help your dog learn good behavior much easier. Training your dog is a great way to bond, and will help your pooch be a great canine citizen. Using dog training products to assist you in your efforts makes the process of training your dog much easier, and will quickly have your pup on the road to obedience.
A well trained dog can ultimately be ensured a better life because they'll be able to be involved in your daily activities more. A dog who's able to interact socially with other dogs and people is an easy thing to gain with the right training — and the right dog training products.
Want to start training your dog but unsure where to begin? Check out our list of awesome dog training products to help you get started.
5 Dog Training Products That Make Learning Simple and Fun
1. Clik-R
The new wave of pet animal training focuses on positive or reward-based training only, and clicks made by small plastic clickers ("frogs") are probably the best and most consistent way of marking the successful accomplishment of a behavior. Designed by the world famous clicker trainer Terry Ryan, the Clik-R makes sure you won't have to worry about missing a chance to reward your pup. The ergonomic design makes it easy to quickly respond so your dog can learn.
2. Head Halter
Does your dog have problems walking on a leash? This head halter is the perfect solution for dogs that pull too much or lunge on their leashes. The halter comes in six different sizes so no matter what breed of dog you have, there's a size that will fit. The comfortable straps also won't cause a problem for your dog, making it incredibly easy to train him while you're walking.
Forget about the traditional way of training your dog to scratch at the door when he has to go out. This bell makes housetraining easier for your dog to understand, so it'll speed up the time it takes for your dog to be housetrained. Not to mention how impressive and smart your dog will look to friends when he rings the bell on his own! This bell is made of brass so the sound can clearly be heard from a few rooms away.
If you're looking for a collar to aid you while you train your dog, this one is the perfect choice. This collar has three settings, a warning beep, a vibration, and a static shock. The collar is intended to only be used for beeps and vibrations, and users have said they have never used the shock setting because their dog was able to learn quickly without it.
Have a puppy that loves to chew? This spray will help keep your puppy from chomping on the furniture, door frames, or anything else in his sight. It can even keep your dog from chewing his fur. The spray has no scent and isn't visible, but it leaves a bitter taste that will keep little teethers from coming back for more so you can continue to focus on training.