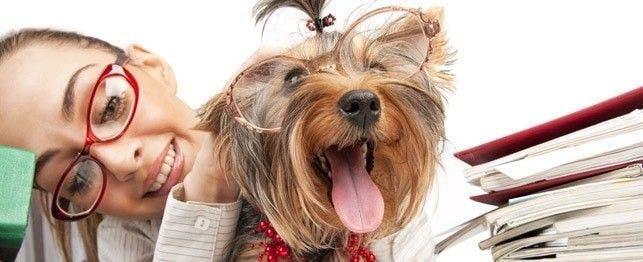 5 Reasons Your Office Should Become Pet-Friendly
Every weekday, millions of Americans are forced to leave a special friend behind.
Sporting business attire and armed with laptop bags, they hurriedly head out the door each morning – much to the chagrin of the sorrowful eyes watching them go. These members of the workforce bid adieu to their beloved pets, sacrificing 40+ weekly hours of quality bonding time for the sake of earning a living.
The human-pet relationship has been forced to adapt to an ever-changing workplace climate. Dual-career couples are more common now than ever before, and a recent study found that adults employed full-time in the U.S. work an average of 47 hours per week – almost a full workday longer than the traditional standard.
Yet despite these heightened work demands, pet ownership remains at an all-time high, meaning something has to give. Oftentimes pet owners must decide between leaving their dog or cat alone for hours on end or coughing up big bucks for pet daycare services.
But rather than witnessing that pained expression on your pet's face whenever you leave home for a long workday, today's pet-owning professionals have another option increasingly at their disposal – that of having their four-legged friend accompany them to the office.
It's a trend that's gaining steam, and for good reason. Here are five reasons your office should convert to being pet-friendly:
1. Reduce Stress Levels
Let's face it: Work induces stress. As you encounter various challenges throughout your workday, it can be difficult to keep your anxiety level in check. Thankfully, your dog or cat serves as a living stress ball. Proven to reduce stress and lower blood pressure, pets have a calming presence that can prove advantageous within any office environment. When your dog or cat provides comedy and affection within your workplace, it affords you perspective that can assist with better controlling your stress.
2. Enhance Work-Life Balance
As an overworked employee, it's not easy to cope with the increasing demands associated with a modern-day workplace. Today's workforce struggles with the challenge of maintaining work-life balance. Yet when your dog or cat is present at work, there's a reduced risk of being stuck in your cubicle for hours on end, as you'll need to take regular breaks to attend to your pet's needs – sanity timeouts that will benefit you as well. And when you're stuck working late, you'll no longer have to experience guilt from leaving your pet unattended at home, since he'll already be by your side within the office.
3. Optimize Talent Recruitment
Today's employers are constantly battling to secure top talent within the workforce. Want to establish a competitive advantage for your recruitment process? Then offer a work environment that's for the dogs (and cats). Since estimates indicate that less than one-fifth of U.S. companies qualify as pet-friendly, this offering will make your business stand out from the crowd. Prospective employees are bound to be impressed by the staff-centric culture your pet-friendly company emanates.
4. Improve Employee Productivity
It's been said that a happy employee is a productive employee. While various avenues exist for attempting to bolster your staff's collective happiness, few prove as effective as the presence of a tail-wagging dog or purring cat. The establishment of a pet-friendly office environment will beckon a surge in employee happiness and engagement that's palpable and contagious. And when you succeed at maximizing employee productivity, your company's bottom line will reap the benefits.
5. Boost Employee Morale
Everyone needs a pick-me-up sometimes, especially when confronting the rigors associated with a demanding job. Whether it's a fun-loving bulldog or an adorable kitten, your pet-friendly workplace will provide the perfect remedy whenever your staff's collective morale needs a lift. Think of it as a perk equivalent to treating your staff to lunch – yet feasible daily. The mere presence of pets makes coming to work each day more exciting and enjoyable.