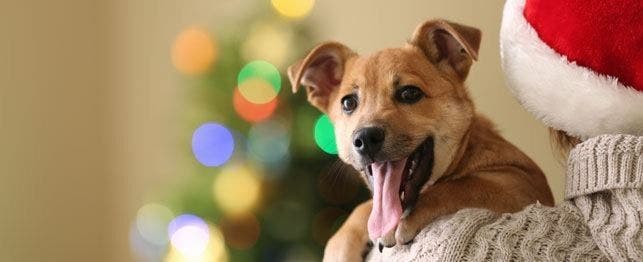 5 Ways Your Pet Can Reduce Your Holiday Stress
It's the most stressful time of the year. But it doesn't have to be. Read on to see how your pet can reduce your holiday stress!
Once you've experienced enough Decembers, you know the drill. This holiday season, you'll attend fabulous parties sporting your trademark ugly sweater, be reunited with that group of relatives you're fine with only seeing annually, and endure enough stress to last all year long.
Yes, holiday stress is inevitable. Like overspending and overeating, it comes with the territory. As you proceed with coordinating gatherings, hanging decorations, and attempting to remain within your spending budget this holiday season, your stress level is bound to grow.
But thankfully, you have a secret (and non-alcoholic) weapon to combat stress. Enter your pet – your ever-loyal friend, confidant, and sanity-keeper. Since your dog or cat's holiday stress level is comparatively minimal, you can balance each other out.
Here are five ways your pet can help you remain as happy and carefree as a gift-awaiting child this holiday season.
How Your Pet Can Reduce Your Holiday Stress
1. Constant Companionship
As you scramble around the house completing holiday preparations, your pet will be right there with you, operating as your secondary shadow. Your dog or cat will keep you company whether you're wrapping gifts in the living room or baking up a holiday storm in the kitchen. Always aiming to please, your pet is by your side, adapting to your hectic schedule. You can confide in your pet regarding the true source of your stress, or simply talk to him in order to relieve loneliness.
2. Warm Bedmate
Achieving ample sleep is key to controlling holiday stress. When it comes to your dog or cat, you have a furry, snuggly sleeping aid. Those cold holiday nights will be much cozier when you have your pet's warm body producing heat nearby. And your dog or cat's mere presence – and gentle snoring – will help soothe you to sleep. Why let the stressful obligations of the upcoming day race through your head when you should be enjoying pet-aided rest?
3. Exercise Partner
When you worry about holiday weight gain, you get stressed. And when you cope with stress by eating, you gain weight. It's a vicious cycle that your dog can help you avoid. Twice-daily walks in the morning and evening can bolster both your sanity level and your pooch's well-being. The stress-relieving powers of adequate exercise are well-documented. Escape your holiday anxiety by stepping outside into the crisp air for 15 minutes. Your dog will be thrilled to partake, even if it's snowy and cold.
4. Comic Relief
Sometimes you just need a good laugh to stave off holiday stress. When your fully-decorated Christmas tree topples over or you accidentally regift that malfunctioning blender to Aunt Jackie, there's not much else you can do. As luck would have it, your pet is a king of unintentional comedy. Whether he's creating mischief by carrying a stocking around the room or wearing a gift bow as a hat, your dog or cat's antics are sure to induce a chuckle or two. Hearty laughter will vanquish your stress, whether it's attributable to your pet's natural hilariousness or to National Lampoon's Christmas Vacation.
5. Therapeutic Presence
The cost for an hour of private counseling to treat your anxiety can exceed $200. Save that money to find the perfect holiday gift for your spouse, and instead rely on your dog or cat to be your living stress ball. Your pet is blessed with a naturally therapeutic presence. Oodles of research indicate that simply petting your dog or communicating with your cat can relax you and lower your blood pressure. With your dog or cat serving as your loving therapist (and only charging mealtime + attention), your holiday stress doesn't stand a chance.