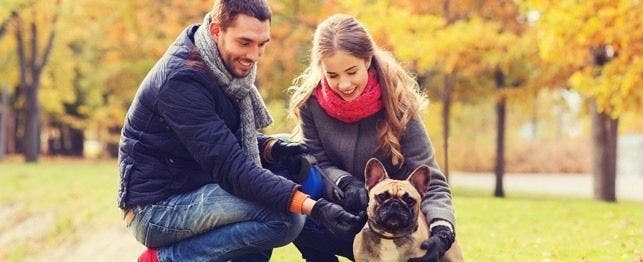 6 Ways Your Dog Can Boost Your Dating Life
Chances are you've already got this under control.
When it comes to your dating life, you're probably a regular Romeo (or the female equivalent), serving as a magnet for attracting the opposite sex. You secure dates with ease and enjoy playing the dating game as you bide your time until Ms./Mr. Right comes along.
But just in case you need a little boost in the dating department, your canine companion is there for you. Yes, believe it or not, that furry friend of yours who reacts as if he just won the lottery every time you return home can prove more useful to altering your relationship status than any dating website or singles cruise ever could.
It's been said that every single person should have a dog. Need proof? A recent survey of more than 1,200 pet owners found that not only do dogs make people more attractive to the opposite sex (no surprise there), but also that women were less likely to date someone who indicated they didn't like pets.
If you're ready to enter the dating scene, bring your canine along for the journey. In all likelihood puppy love soon awaits. Like a hound steadfastly tracking a scent, your determination will ultimately result in finding a significant other who considers you top dog in his or her world. Here are six ways your pooch can benefit your dating life:
1. More Chance Public Encounters
One of the best ways to succeed with dating is to put yourself out there in public more often, and your dog represents the perfect partner-in-crime for this initiative. It's a simple numbers game – the more people you interact with, the better your odds of finding "the one." Whether it's a walk around the neighborhood, a visit to your local dog park, or an afternoon on a pet-friendly restaurant patio, your canine will be with you every step of the outing, charming prospective partners on your behalf.
2. Evaluation of Dating Candidates
You can learn a lot by bringing your date home to meet your ever-loyal pooch. Does your dog take kindly to your date? How does your date interact with your furry family member? Does your canine's reaction to your visitor elicit any red flags? Your dog's intuition can help with evaluating the situation. When you're on the fence regarding whether a fellow member of the dating pool warrants a second or third date, let your trusty canine help you decide.
3. Better Physical Fitness
Let's face it – being physically fit affords you a certain appeal with the opposite sex. Moreover, when you're fit and healthy, you're bound to be brimming with dating confidence. Yet you don't need to hire a personal trainer to enjoy that feeling. By taking your dog on twice-daily walks and enjoying his company for various other forms of regular exercise, you'll have a leg up on garnering attention from fellow singletons.
4. Dog Owner-Specific Dating Sites
Nowadays online dating has truly gone to the dogs. The emergence of niche dating sites like DateMyPet.com enables pet lovers to seek fellow dog enthusiasts for relationships ranging from simple friendships to potentially romantic endeavors. Since your date boasts a canine companion, you already know he or she has good taste. You can even attend pet-friendly mixer events whereby you and your pup have the opportunity to rub shoulders with fellow dog-loving people.
5. Enhanced Online Dating Profiles
Even if you opt to pursue romantic interests through more general dating sites or through social media interaction, your mutt or pure-bred can provide assistance. Various studies has demonstrated that inclusion of your dog in your profile picture for a dating or social media site can improve your appeal among the opposite sex. Find your favorite photo and flaunt the special role your pup plays within your life.
6. Recovery from Heartbreak
When you have a four-legged family member, there's no need to wallow in loneliness simply because the object of your affection shunned you. No need to hit up your local tavern or listen to sad songs when your love interest indicates he or she prefers the company of others. That's because your dog serves as your eternal pick-me-up, lifting your spirits and putting a smile back on your face. With your dog fulfilling the role of mood-booster and offering his unconditional love, no failed love experiment can keep you down for long.