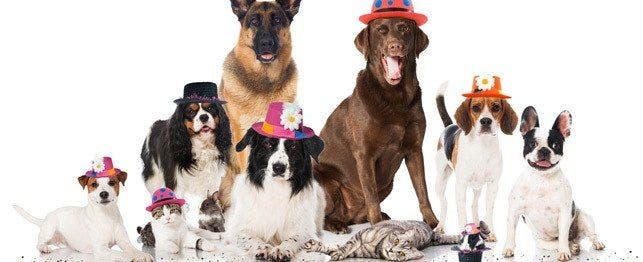 Do Dog and Non-Dog Owners Get Along?
A survey commissioned by the American Kennel Club in observance of AKC® Responsible Dog Ownership Day (AKC RDO Day) revealed that some dog owners need more control over their pets, especially when out and about in the community. Top issues bothering non-dog owners about their canine-loving counterparts include jumping, barking and owners not obeying pooper-scooper laws. The survey also revealed some quirky human characteristics defining those with pooches and those without.
Forty-seven percent of non dog owners cited "a lack of picking up after their dogs" as their number one complaint with dog owners. Twenty five percent noted, "not controlling their dog" or "letting the dog jump on you" and 13 percent said "allowing a dog to bark incessantly" was their number one grievance. Only 4 percent said "the way dog owners fawn over their pooches or use baby talk to address their dogs" was the most annoying trait of dog owners.
The survey of 500 dog owners and 500 non-dog aimed to gain a better understanding of the concerns of the two groups in order to mark the third annual AKC RDO Day. Each year, AKC invites dog-related organizations nationwide to hold a local event during the month of September to educate first-time dog owners about the responsibilities of dog ownership and help current owners enhance their relationships with their pets. More than 360 events taking place around the country are posted on www.akc.org.
"Responsible dog ownership not only involves taking top-notch care of your pet but also being considerate of those around you," said Lisa Peterson, AKC's Director of Club Communications. "While you may find Fido's jumping and howling endearing, others may not. We invite dog owners around the country to attend an AKC Responsible Dog Ownership Day event in their area to learn how their dog can become a Canine Good Citizen and earn an A plus in manners from even the toughest critics.
"So why doesn't everyone have a dog? Recognizing the time and effort it takes to properly care for a canine companion, 22 percent of non-dog owners said "too much responsibility" was the reason they didn't own a dog, followed by a "lack of time" at 16 percent. Only a small percent cited reasons such as messiness (5 percent), cost ( 4 percent) or allergies (3 percent).
Other survey findings revealed that owners of one dog were more likely to describe themselves as "happy" as opposed to non-dog owners (43 percent vs. 38 percent), yet those "sans pooch" say they are more organized (19 percent vs. 14 percent of dog owners). Dog owners were more likely to call themselves "laid back" than those without pups (26 percent vs. 17 percent).
"I'm not surprised to hear that non-dog owners place a high premium on order," added Peterson. "Owning a dog requires flexibility and a sense of humor when Fido chews on your shoes. The responsibility of pet ownership is well worth the rewards, but anyone considering bringing a dog home should realize that it's a 10- to 15-year commitment of time, money, and love that should not be taken lightly."
Each AKC Responsible Dog Ownership Day event is unique but many include AKC Canine Good Citizen® testing, obedience/agility demonstrations, microchipping clinics, breed rescue information, therapy dog/service dog demonstrations, safety around dogs for kids presentations and many more entertaining and educational activities. Many organizations are also incorporating fundraising efforts on behalf of the AKC CAR Canine Support & Relief Fund to help animals affected by Hurricane Katrina. Event listings can be found and searched by state at http://www.akc.org/clubs/rdod/events/.
On Saturday, September 17th, AKC will hold a flagship event in New York City's Madison Square Park, where local dog experts will host information tables and conduct demonstrations. The AKC's Raleigh, NC office will also hold a comprehensive AKC Responsible Dog Ownership Day celebration on Saturday, September 10th.
Methodological Notes
The American Kennel Club Dog Ownership Study was conducted by Kelton Research between August 12 and August 22, 2005 using Random Digit Dialing of both listed and unlisted numbers. Quotas are set on completed interviews by three variables: age, sex, and geographic region, to ensure reliable and accurate representation of the total U.S. population, 18 years of age and older. A total of 1,000 respondents (500 dog owners and 500 non-dog owners) were interviewed.
Results of any sample are subject to sampling variation. The magnitude of the variation is measurable and is affected by the number of interviews and the level of the percentages expressing the results.
In this particular study, the chances are 95 in 100 that a survey result does not vary, plus or minus, by more than 3.2 percentage points from the result that would be obtained if interviews had been conducted with all persons in the universe represented by the sample.