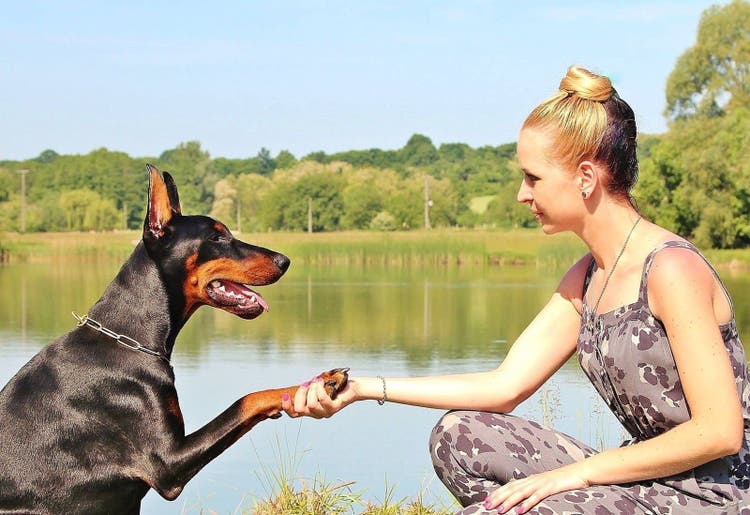 How to Catch a "Feral" Dog
How to Catch a "Feral" Dog
As an owner of a dog that ran away requiring four long excruciating days trying to catch, I'd like to tell you my story and offer some tips that might help you if the same situation presents itself.
My Story About Catching My Feral Dog
I adopted an adult 14-month-old Wheaten Terrier with a puppy mill background and a history of "Fears". I named him Finnegan. I'd had him about a month during which time I tried really hard to work with him to not be so afraid of everything and everyone.
I was going to a family reunion that was to be a very long day trip. So….. in trying to do the "right thing", I decided to leave him with my parents for "day care" and would pick him up late that night. I didn't want Finnegan to be alone too long.
So…my mom had just finished a walk when he "put on the breaks". He often has this fear reaction before crossing the threshold of a house. He proceeded to back up right out of his slip collar and this was the start of our long 4 day search.
When I got the call that he got loose, we jumped in the car and it was a loooonnnng three hour drive home.
The Hunt For a Feral Dog
He immediately ran from the house and was chased onto the nearby golf course. He avoided the golfers trying to get him at all costs including swimming across several ponds. We didn't even know he could swim. Everyone eventually lost site of him.
We immediately proceeded to put up hundreds of fliers around the golf course and surrounding neighborhoods.
For the following 4 days, he proceeded to be spotted off and on as dozens of people called who saw the flyers. We would go to "catch" him and he would see us but would not come. He would be interested and get within 30 – 40 feet and run from us. Every time I saw him…as I slowly approached …he would start to run. Before I knew it I had chased him through several yards and down a long street. He crossed busy highways went though multiple neighborhoods, woods, heavy bush, a golf course, nature preserve, and through a power plant!
Things We Tried to Catch the Dog
Flyers. We put up hundreds of flyers with my phone number and his photograph! This was very helpful. You might add something about his personality in the flyer. Such as "he is very afraid, approach quietly".
Searched. We searched and searched – personally I spent approximately 60 hours in 4 days without counting my friends and family! We even organized groups to help search for him.
Called his name. Over and over. He would not come.
Sat quietly. I sat quietly calling him. I sat quietly where he was last seen hoping he would come back.
Tried to hand feed him. When I did see him, I tried to hand feed him. I held out a hunk of roast beef and talked softly to him, but he was startled by someone else and ran off.
Tried his favorite toy. I softly called his name and squeaked his favorite toy. He was curious but in no way came very close.
Put out his crate. We put his crate and favorite toy in the area in hopes that he'd find it and decide to take a rest. At one point, he appeared to be eying his crate. But as soon as we moved toward him/the crate, he ran.
We tried feeding him in the crate. We put a hamburger in the back of the crate and tied a string to the door. We hid. This went on for hours. He'd stretch his body to the back of the crate to get the food that we left but would never get all the way into the crate. After he'd eat it he would run away for a while. We'd put more food in hoping the next time he'd get all the way into his crate. By the end of the first night he'd eaten two burgers, a hotdog and about ½ pound of roast beef but we still hadn't been able to catch him.
We borrowed dogs. Because Finn has always responded well to other dogs, one couple let me use their friendly black Lab to search the area. That didn't work. Then I borrowed a friend's Cocker Spaniel that Finn had gotten friendly with and we went walking through the preserve in hopes that Finn would want to come see his friend Sherman. But, there was no luck.
We called animal control. We called animal control who attempted to capture him with a dog neck loop. Finnegan barked at him twice and then got by him and ran through the heavy brush where he was lost again.
Fishing net. I purchased a large fishing net thinking that if I got close enough to Finnegan again I might be able to throw the net over him and tangle him up since he won't come to me and is too quick to catch or laso a leash around. This didn't pan out.
A trap. We setup a homemade cage trap next to his crate. He smelled the food in the trap and after much hesitation entered. He triggered the door but it bumped on his back and he backed right out of the trap as I lunged toward it to keep him in. He was too quick and slid out of my hands and proceeded to run about 30 feet away, stop, and then turn around and let out 4 loud barks. He then slowly walked out of sight.
Finally, we persuaded the animal control person to come out and set a live trap for us. They wouldn't do this for us earlier because he kept being spotted in different areas which were miles apart. However, I believe that our persistence paid off. At about 10:30 am the same person that came out with the dog catching "loop" brought out a large wire cage that was about 5 feet long and had a pad that would trigger the door to close when Finn stepped on it. We put some really good roast beef in the back of the trap, took our homemade trap away thinking that Finnegan would never again enter it after what happened the previous night, and we left the area and heard nothing until about 1 pm when we got a truly amazing call. He was in the trap!
We actually recovered him after 4 lucky days of running, swimming, hiding, major street crossing and dodging people trying to help him. We took him straight to the groomers where he was looked at by a vet, bathed and de-burred. The vet stated that he must have some cat in him for surviving this ordeal. He is now safe and sound again at my home. We are so lucky!
All of these methods were reasonable but the only thing that worked for our dog was the large cage/trap. If this ever happens to you and you have a dog that is afraid of people, I would recommend considering all the above but maybe really trying to get this sort of trap laid out early in the search.
Also, Finnegan was recently neutered but it can take a while for all their "hormones" to leave their system. The place that Finn kept going back to and where we eventually set up the live trap had a dog in heat. We really felt like that was the reason that he hung out in that area so much. So, I would recommend to anyone trying catching an intact or recently neutered dog to consider using a dog in heat if possible!
Here are some more tips… (See next page)
What to Do Immediately When Dog is Feral
Put up fliers with your phone numbers (including your cell) and his photo!
Start searching. The sooner you start the better.
Call your friends for help. Guide them on the best approach by considering what your pet likes. Speak and talk softly if he is scared. If he or she is afraid of men, recruit your women friends. If he is driven by food – have lots of smelly treats.
Call animal control and see if they will help or have suggestions!
Who to Call About Feral Dogs
Animal Control (sometimes called the "dog catcher" or dog warden) – they may be willing to come out and help you catch your pet, loan you their "tools" such as nets, cages, etc or give you advice.
Call your vet's office and local emergency clinic and any local vets. Fax them the photo and lost form and ask them to place it on their bulletin board.
Call and fax the local humane society, animal shelter, and animal control societies. Fax them the photo and your number as well.
Call your microchip company and let them know your pet is lost. Confirm they have all your most current phone numbers including your cell phone number incase he is found.
Important Tips to Prevent a Dog from Getting Away
I don't recommend any type of slip or choke collar for rescue dogs that have any type of fear. Carefully check the collar to determine if it is too loose. It it can slip over the head, then it is too loose! Fit your dog with a secure collar such as a halter or a gentle leader, not a collar that can slip off the neck.
Do not use the collar with tags to attach the lead. That way a dog can't slip out of it easily if going for a walk and it will still have his tags/ID on it
Make sure all pets have both tags and microchips! Tags are helpful so people can find you or call you immediately if they find your pet. However, if he loses his collar – it is important that he have a microchip. If he does not have a collar and is caught or injured and taken to the hospital, the microchip data can help the hospital or dog pound find you!
Make sure you register your microchip ID so they have your accurate phone numbers (including cell phone).
Keep current photos of your dog!
I hope this helps you catch a feral dog.