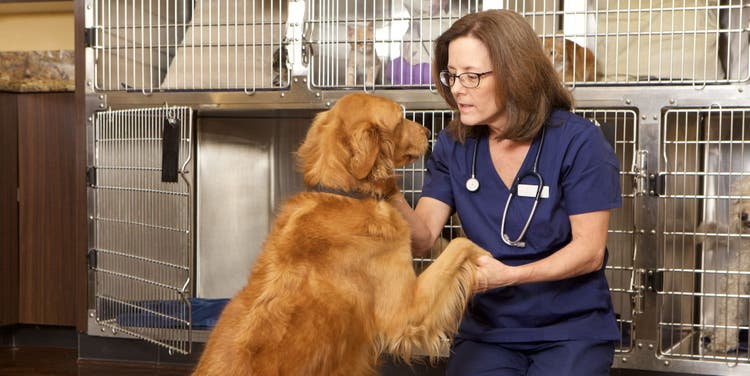 How to Become an Animal Behaviorist
Have you ever wondered how to become an animal behaviorist? If this is a career that interests you, it is important to understand the skills that are involved. What skills would make you a good animal behaviorist?
Skills Needed to Become an Animal Behaviorist
Are you a critical thinker with the ability to solve problems and determine diagnoses? Do you have strong observational skills, compassion, and personable character? Do you have the ability to work with a team? These are all important skill sets for an animal behaviorist.
As an animal behaviorist, you'll need to assess the unique situations with each pet, understanding the issues that are causing the bad behavior. It's important to analyze the animal to determine the reasons for their behavior, which may be attributed to evolutionary traits or physical environment. You will need to be able to diagnose each condition and work as a team with the animal's owner and sometimes the veterinarian. You'll also need to have compassion and a love for animals to work as an animal behaviorist.
An animal behaviorist has to do field work as well as work in laboratories and offices. You should be ready to work long hours when needed and to work in close proximity to the animals.
If you've wondered how to become an animal behaviorist, it's important to note that you will have to familiarize yourself with veterinary medicine databases and analytical and medical software. You'll have to be able to use stunners, laboratory centrifuges, and other animal testing equipment.
If this sounds like a field that you would enjoy, read on to learn about the educational and licensure requirements for an animal behaviorist.
Education Needed to Become an Animal Behaviorist
So, how do you become an animal behaviorist? Here are the steps as outlined by Study.com.
There are different levels of education required for different kinds of animal behaviorists. At a minimum, it would require a bachelor's degree, with study in the fields of biology, zoology, psychology, animal behavior or a related field. But most jobs in animal behavior require a graduate degree. You would need to earn a Doctor of Philosophy (Ph.D.) or a Doctor of Veterinary Medicine (DVM) degree.
If you are wondering how to become an animal behaviorist, start by getting your bachelor's degree. Some schools offer undergraduate programs specifically in animal behavior. Or, you may want to focus on zoology, biology, science or animal biology.
While you are getting your undergraduate degree, you may want to volunteer at a local animal shelter or veterinary clinic for more hands-on experience with animals. You may also want to think about working as an assistant to a professional animal behaviorist to help you to stand out on graduate school applications.
Next, you must complete your graduate study in animal behavior. Most employers require a doctorate degree, so you must complete a master's and Ph.D. program in animal behavior. The graduate curriculum involves more in-depth study on animal behavior and graduate students have the opportunity to focus on specific areas of interest.
Another way to become an animal behaviorist is to earn a Doctor of Veterinary Medicine (DVM) degree and complete a residency program. The DVM program is a four-year program and a residency program lasts for three years. As a resident, you'll learn to diagnose and treat behavioral problems in dogs and cats. You will also study behavior in lab animals, exotic pets, birds, horses, and livestock.
The Next Step Toward Becoming an Animal Behaviorist
Once you've completed all of the educational requirements to become an animal behaviorist, it will be time to choose a career path. Animal behavioral specialists may find jobs at all degree levels. With a bachelor's or master's degree, you are most likely to find employment as an educator with a museum, zoo or aquarium. You may also work as a research assistant. If you have a Ph.D., you may work at private research institutes or government laboratories, or as curators or researchers at zoos, museums, and aquariums.
There are levels of expertise in the field, from trainers who work with dogs with behavioral issues to behavior consultants, certified applied animal behaviorists and board-certified veterinary behaviorists.
After completing your degree, you should consider becoming board certified.
Professionals with the official title of "animal behaviorist" are certified by the Animal Behavior Society (ABS). The ABS offers two different levels of certification. An Associate Certified Applied Animal Behaviorist will have a master's degree in a biological or behavioral science and at least two years of professional experience in the field. A Certified Applied Animal Behaviorist has a doctorate in biological or behavioral science and five years of professional field experience. To become certified on either level, you are required to perform supervised hands-on work with animals. You must also research those animals and become published in scientific journals.
To become a Veterinary Behaviorist, veterinarians must become certified through the American College of Veterinary Behaviorists (ACVB). To qualify for the certification exam, you must first complete an internship and an ACVB approved residency. You must also publish a scientific paper in a peer-reviewed journal and write three case studies. To become certified, you must successfully complete the two-day exam. For a veterinary behaviorist to also qualify for the Certified Applied Animal Behaviorist designation, they must then complete three more years of field work. Because he is medically trained, a veterinary behaviorist can use all the skills of behaviorists and they can also prescribe medication as needed to help resolve these problems. To learn more about veterinary behaviorists, go to What Can a Veterinary Behaviorist Do for My Dog?
Two professional organizations that certify behavioral consultants who specialize in dogs are the Certification Council for Professional Dog Trainers (CCPDT) and the International Association of Animal Behavior Consultants (IAABC). Certification with these boards shows that you possess the key skills and knowledge to do the job. Both the CCPDT and the IAABC require their behavior consultants to recertify every three years so that they remain up to date on all the latest research and methodologies.
As an animal behaviorist, it is important to continue your education throughout your career by attending continuing education events hosted by professional organizations.
To learn more about dog behavior, go to our article Understanding Bad Dog Behavior.