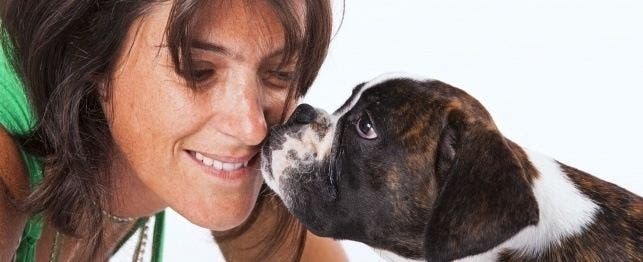 Dog Love – Do Dogs Love Us? Can You Love Your Dog Too Much?
Dog Love – Do Dogs Love Us? Can You Love Your Dog Too Much?
You love your dog, and we hope dogs love us. They might even love each other. But do you think you can love dogs too much? Today I want to talk about a few different aspects of loving a dog and a vet's opinion on them.
First, do you kiss to show your dog love? Some people do (including me)!
I know we can love our dogs but do you think dogs love us in return? We had a behaviorist research this and give us their opinion. I think you'll find this interesting. Go to: Do Dogs Love Us?
Do you love your dog too much? Believe it or not, too much of something good CAN be a bad thing. Could your "puppy love" be overboard? Go to Do You Love Your Pet Too Much?
Maybe you've wondered about love between pets, and whether dogs can love each other. Read this article for a behaviorist's opinion on the subject: Can Dogs Fall for Each Other?
Another question: when a dog licks you, do you think of it as them "kissing"? Find out what a vet has to say! Go to: Is Your Dog Kissing Or Licking You?
We often talk about how our dogs "feel" and you might have wondered whether dogs can have emotions like ours. We asked a behaviorist to research this topic and give us their opinion. To read it, go to: Do Dogs Have Feelings? I think you will find this article interesting. (On a related note, do you think dogs grieve? Go to: Do Dogs Mourn?I hope you find these articles on loving dogs and how dogs love us interesting and useful.