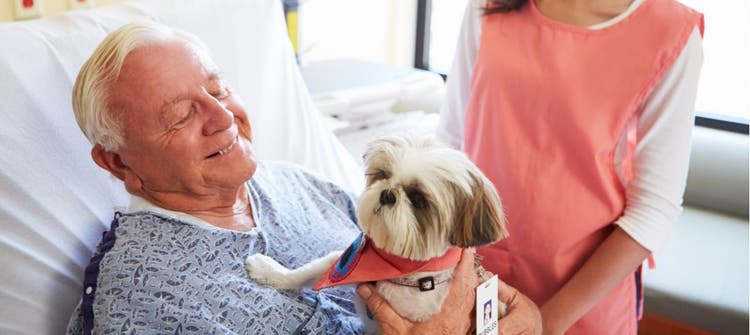 Happy Dog Therapy Appreciation Day
April 11th is a big day for animal lovers. In addition to celebrating National Pet Day, we're saying thanks to therapy dogs everywhere. Dog Therapy Appreciation Day provides an annual opportunity to recognize the health-boosting work of therapy dogs and their handlers.
Therapy Dogs vs. Service Dogs
Are therapy dogs and service dogs the same thing? Not exactly. Service dogs are trained to support the needs of a specific individual with a disability. For example, they might act as a guide for a blind person or alert their diabetic owner to dangerous changes in their blood glucose. They also have special access privileges to certain public places that are normally closed to animals.
Therapy dogs provide a more generalized form of support. They are trained to provide comfort and help alleviate anxiety. You're likely to see them in clinical institutions like hospitals, retirement homes, and schools. The American Kennel Club (AKC) partners with therapy dog organizations to offer five certifications from Novice to Distinguished. The AKC notes, however, that it does not offer training and certification itself. "The certification organizations," its site reads, "are the experts in this area and their efforts should be acknowledged and appreciated." Despite their training, therapy dogs are not classified under the Americans with Disabilities Act and they are not typically afforded the same public privileges as service dogs.
Benefits of Dog Therapy
The physical and mental benefits of animal companionship are well known. That's why animal therapy programs have become popular in nursing homes, hospitals, and other potentially stressful or isolated institutional settings. For patients on the mend, dog therapy can help improve the recovery process. It can also provide end-of-life comfort for patients receiving palliative care.
UCLA Health examines some of the most notable positive effects:
Physical Health Benefits of Dog Therapy
Reduces blood pressure and improves cardiovascular health
Releases stress-fighting hormones
Improves engagement in physical therapy
Encourages language use among autistic children
Mental Health Benefits of Dog Therapy
Produces an automatic relaxation response that can elevate mood
Lowers anxiety and promotes relaxation
Reduces loneliness and depression
Increases mental stimulation
You don't have to spend time in the hospital to enjoy the benefits of dog therapy. Many community centers regularly welcome therapy dogs for public programs.
Becoming a Therapy Dog
Think your dog would make a good therapy dog? You may be right. Organizations like The Alliance of Therapy Dogs accept every breed and type of dog. If your pup is confident and personable, consider reading up on the application process. Once you've completed paperwork and a background check, you'll be put in contact with an observer in your area. They'll examine your relationship and assess how your dog interacts with other dogs and humans.
Saying Thanks
Dog therapy programs all over the country count on donations from pet lovers like you. Check out the AKC's list of recognized organizations. If you're feeling the holiday spirit, consider sending some support to a few local ones.