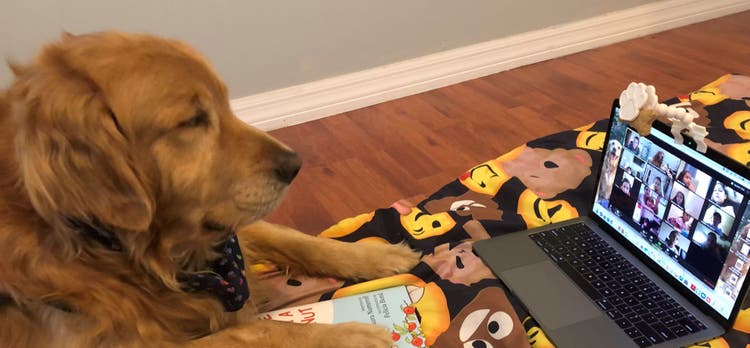 Reinventing Therapy Dog Visitation for a Global Pandemic
One of the most heart-wrenching consequences of the COVID-19 shutdown is the discontinuation of certified therapy dog visits to nursing homes, children's hospitals, and disaster relief locations.
The therapy dog movement in the United States has grown dramatically over the past decade with ever-increasing interest from handlers and the emergence of positive scientific research. As a result, a growing number of healthcare institutions have been opening their doors to visitation from certified therapy dogs and their humans. Unfortunately, the practice was abruptly halted by COVID-19.
Transitioning to Virtual Therapy
Despite the challenges that arose because of the pandemic, one special organization found a way to continue its therapy dog operations. Heel 2 Heal Therapy Dogs, of Miami, FL, co-founded by Kelly Rounds and Debbie Snyder, has come up with unique programming for therapy dog visitation. Launched in 2017, Heel 2 Heal was in full force throughout the winter months, partnering with like-minded organizations in the South Florida region. Since the end of in-person visitation, Rounds and Snyder developed a 12-step program to have successful virtual therapy dog visitations through Zoom and FaceTime. "We are all learning to navigate this new world, and everyone is trying to lend a hand that way," said Snyder, a well-known South Florida therapy dog handler.
"We've come up with a lot of unique programming for therapy dog visitation," added Rounds, a former publicist with the Westminster Kennel Club Dog Show. Pup Zen, a new program by Heel 2 Heal, taps into creativity to harness the benefits of therapy dog visitation, combined with mini meditation for students. Among the other new programs established since COVID-19, Pup Zen occurs virtually once a month, educating students and children on the benefits of therapy dogs.
Kelly Rounds and Teddy from the NDS Therapy Dog Ambassador Team.
Heel 2 Heal has found a silver lining amidst the challenges of COVID-19. As therapy dog visitation has shifted to a virtual platform, the organization has been able to branch into different locations and facilities, as well as accept therapy dogs and their owners from other parts of the United States. Right before the shutdown, Alice Hoersch, professor emerita at La Salle University, had just gotten her dog, Dyson, certified for therapy dog visitation. Like many other therapy dog owners, Hoersch didn't know how to get Dyson involved because of COVID-related health facility and school closures. Rounds, who serves with Hoersch on the National Dog Show Therapy Dog Symposium committee, asked Hoersch to join their team. Since then, she and Dyson have done several visits with a Miami-based senior care facility from her home in Pennsylvania. Onboarding new teams from outside their locality has grown Heel 2 Heal to over 150 members.
While there are positives to virtual therapy dog visitation, there have also been some challenges to the virtual work. The most difficult task is getting teams comfortable with the different platforms and learning how to conduct the session without in-person interaction. Positioning dogs in front of the camera and learning this new strategy is challenging. "Similar to during in-person visitation, you have to be your dog's best advocate," Snyder said.
National Dog Show Therapy Dog Symposium
As the therapy dog movement continues to cope with COVID-19, Rounds and Snyder are planning to share their creative programming platform at the 2020 National Dog Show Therapy Dog Symposium in November. In addition, Rounds serves as a member on the symposium's organizing committee. "I have been contacting therapy dog groups all over the country to promote the symposium, which is now national because of its virtual platform," Rounds said.
"What motivates us is the meaningfulness and goodness of the work," Rounds continued. "We know what therapy dogs can do for humans. We see it all the time. The dogs help to lower blood pressure and release stress-reducing hormones. They do so much for emotional and physical well-being. These benefits outweigh any of the obstacles we encounter."
Therapy dogs doing their part to flatten the curve.
"We hope that a lot of the handlers will be participating in the National Dog Show Therapy Dog Symposium," Rounds said. "We believe that the symposium will really inspire other therapy dog teams on how to get through this pandemic. There are things to do that are more fun than a Zoom meeting."
Many therapy dog visitors and organizations have found themselves at a crossroads, but Rounds and Snyder want to brainstorm with these people to find creative solutions to the problems that COVID-19 presents.
"The therapy dog movement has built great momentum this past decade and the global pandemic has been an impediment," Rounds added. "We're proud to be continuing the work of these great canines and, like everyone, we look forward to the powerful impact of in-person visitation in 2021."
Here's everything you need to know about The National Dog Show Therapy Dog Symposium:
The event will take place on Tuesday, November 17 from 11:00 a.m. to 3:30 p.m. ET with a 30-minute break at 1 p.m.
Participants can purchase tickets for $20 per person at https://go.rowan.edu/NDSTherapyDogSymposium2020
A link will be provided to registrants in advance of the conference.
The symposium is a not-for-profit endeavor organized by National Dog Show Charities and Rowan University