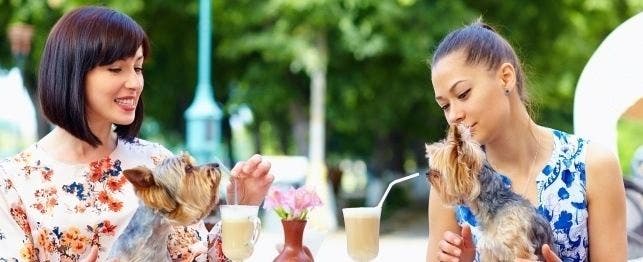 Doggie Dining Etiquette: Tips for Dining Out With Your Dog
Watch out, doggie bags! Fido is skipping the leftovers and getting a fresh bite of dinner by dining out with his owner! Dogs in increasingly pet-friendly cities all over the world are enjoying more quality time with their owners by accompanying them out to eat. With the display of proper doggie etiquette from participating pooches, this trend will hopefully continue to grow.
Dogs are being welcomed in bars celebrating "yappy hour" ,on select outdoor dining patios, and inside a few restaurants designed for pet-lovers. Some of these locations are even catering to the dogs with their own canine connoisseur menu! As a result, these locations are getting booming business from ecstatic pet lovers, dogs and owners are spending more time together, and pet enthusiasts and their dogs are getting the opportunity to socialize with one another and make new friends.
To find a pet-friendly dining location near you, visit dogfriendly.com or petsonthego.com.
If these websites lead you and your dog to a place to dine, follow these steps before heading out:
Call ahead to confirm that your dog is welcome. Some pet-friendly establishments have certain times set aside when dogs are welcome. Also ask about any rules or restrictions they may have regarding your dog.
Be sure your dog is clean and well-groomed. Other guests do not want to eat near a smelly, dirty dog.
Leave any poorly socialized, nervous, or untrained pets at home.
Pack a poop bag or two in case Fido has an accident.
Bring water and food bowls if your dog will be eating with you.
Be sure your dog is wearing a well-fitted collar and is attached to a leash.
It is a good idea to walk, run, or otherwise wear out a highly energetic dog before taking him out to eat.
Once you are at your dining location, be very aware of your dog's behavior and follow the etiquette steps listed below:
Walk your dog around in the grass before being seated to give him appropriate opportunity to eliminate. Remember to pick up after him!
Get your dog's attention and let him know that you are in control before you are in the middle of the dining situation. Do not allow your dog to be bouncing everywhere, ready to lick and pounce on his fellow diners.
Put your dog in a sit or down – stay either beside your chair or under the table. Do not allow him to be on the table or chairs or in the way of the restaurant staff.
At all times, either hang onto your dog's leash or have it tethered to something solid. The table leg is not ideal, as a tug at the leash could cause spilled drinks or a moving table.
Only allow him to socialize with other people and dogs if it is welcomed.
Do not allow begging or barking.
If your dog is going to have a snack or refreshment, do not allow him to eat or drink it from your plate, cup, or silverware. Either use the bowls you brought or ask for disposable dinnerware.
Do your best to clean up after your dog if he is a messy eater.
If your dog gets rowdy, take him away from the situation until he relaxes. Sometimes a short walk will help.
Tip your pet-loving waiter or waitress well, and thank him or her for giving your dog the opportunity to dine out.
Using appropriate etiquette while eating out with your pooch will help encourage more public locations to welcome our furry friends. Show your gratitude to the current pet-friendly businesses and give pooches in public a good name by practicing ideal dog and owner behavior. Above all, have fun and enjoy the extra time you get to spend out with your canine companion.