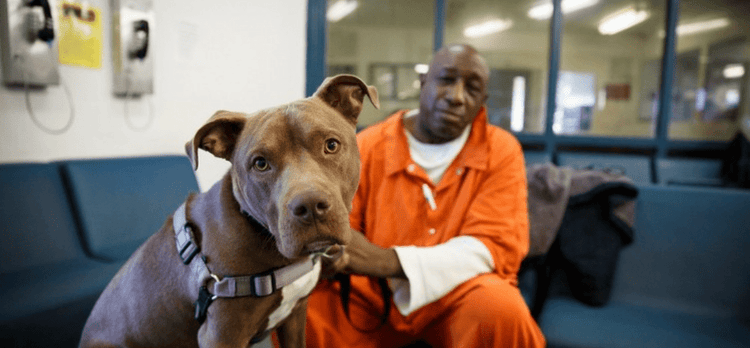 A New Leash on Life: How Training Programs Help Prisoners and Pups
It gives the PetPlace team great pleasure to introduce special guest contributor David Frei. David is America's foremost authority on all things canine and the co-host of the National Dog Show (Thanksgiving Day on NBC) since its inception in 2002. A member of the Kennel Club of Philadelphia, he developed and is also co-host of the Beverly Hills Dog Show on NBC, and before that, the longtime (27 years) co-host of the Westminster Kennel Club Dog Show on USA Network.
Over the past decade, the number of prison-based dog training programs designed to benefit both incarcerated individuals and homeless canines has grown considerably. Socialization training and self-esteem building is at the top of the list for both humans and dogs, but working together to develop service, working, and companion animals is just as important. According to Kevin Earl, Doctoral Research fellow at University of New Haven, around 300 programs exist nationwide.
One of the most notable, New Leash on Life USA, works with the Philadelphia Department of Prisons (PDP) to provide a unique experience for participants and canines alike. New Leash on Life is a non-profit organization that rescues at-risk shelter dogs and assigns them to people experiencing incarceration at the PDP. These participants then care for and train the dogs, making the animals more desirable for adoption, while building skills and confidence as they approach their return to society.
Two participants in the New Leash on Life program take a brisk walk.
The PDP lists its recidivism rate as 34% within one year of release, and 65% within three years, which is on par with national rates. Through the implementation of New Leash's programs, the city has seen an astounding decline in those numbers. Graduates of the New Leash program have a 9.27% recidivism rate after one year of release, and 33% after three years. The ultimate goal of this program is for participants to acquire a sense of responsibility, build skills, and gain confidence. The program also pays all successful graduates for 60 days of internship, then helps them acquire permanent employment.
These drastically-improved recidivism rates are testament to what a program like New Leash can accomplish. The canine rescue component of this non-profit is aimed specifically towards what they call "at-risk" dogs. Marian Marchese, CEO and Founder of New Leash on Life USA, started the organization after she volunteered at a Philadelphia animal shelter and felt compelled to improve the lives of the animals she met there. One reason for dog shelter overpopulation is returned adoptions. Because funding is tight in most shelters, and staffing is limited in many, it is difficult to determine what issues a dog might have post-adoption, thus making it harder to determine why the dogs were initially returned. The team at New Leash have developed a specific selection process, based on the behavior, needs, and reactions of the dogs they encounter. They are dedicated to saving the lives of dogs that might not otherwise have a shot in a traditional shelter situation.
One of the many exciting new developments at New Leash is a pilot program involving incarcerated young adults. By expanding the New Leash on Life initiative, the organization plans to implement a six-month program targeted at younger individuals with the same goals of rehabilitation and individual success. The program's participants are incentivized by the opportunity for an early release date, in return for completing a six-month program that involves a dog training component, as well as a paid internship with Animal Care and Control Team (ACCT) or Philly Auto and Parole.
This dog loves to work hard and play hard!
Marchese is bullish on the potential of the new program. "The opportunity to reach a younger demographic is something we are thrilled about. We can now instill the positive traits that emanate from our program into a younger group of participants." The age range that will now be able to benefit from the program is between 18 – 24 years, opening opportunities to numerous new candidates. A new addition to the six-month program includes a financial literacy course, and the program is expected to start before summer.
For engaging photos, videos, blogs, and information about adopting, volunteering, and more, visit www.NewLeashOnLife-USA.org.