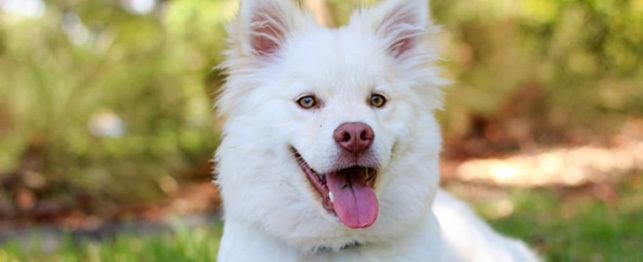 Is Your Dog Licking or Kissing?
Do Dogs Lick to Show Love?
It's a question many have wondered — do dogs lick to show love? Is your dog kissing you when he slurps your face like a lollipop? Although we may never know, there are several possible explanations for this behavior, not all of which are mutually exclusive. The motivation for face licking appears to vary for different dogs and different circumstances.
Background on Dog Licking
Dogs lick for a number of reasons, some of which are purely biological.
Bitches lick their newborn pups to arouse them from their postpartum daze. In this situation, licking serves to remove clingy membranes from the pup, freeing him up to move and stimulating him to breathe.
Once the birthing and clean-up processes are over, the mom dog's licking her pups stimulates them to eliminate both urine and feces. It is a couple of weeks before pups will eliminate spontaneously.
Licking also serves another more romantic role in the sense that it is a comfort behavior that assists with pups' bonding to their mom and spurs on their mental development. Do dogs lick to show love? In this case, maybe.
From about six weeks of age, some pups lick their mom's lips when they want her to regurgitate food for them. They lick; she vomits; they eat it. This behavior is a vestige of their wild ancestry and was designed to ensure that they profited from the spoils of the hunt.
Licking can also be a signal of submission and so is part of dog's body language communication system.
Pups and adults lick and groom themselves. It is part of normal survival-oriented behavior. Licking their own lips, limbs, and trunk removes traces of the last meal that would otherwise begin to decompose and smell. Quite apart from the hygienic aspects of this behavior, it also serves to keep dogs relatively odor-free and thus invisible to their prey. Domestic dogs retain these instincts even though they are not vital today.
Psychology of Dog Licking
Dogs, like people, engage in a number of "displacement behaviors" when nervous or stressed, and many of these behaviors involve self-grooming. You only have to glance to the side the next time you are stuck at a red light to see what I mean. The driver next to you will likely be stroking his hair, looking in the mirror, or trying to pick something out from between his teeth.
Dogs do not experience the stop-go conflict of the traffic lights but they do have their own share of dilemmas. Take going to the vet's office, for example. We vets expect our more anxious patients to begin nervously licking their own lips as they enter the clinic. They may even lick or nibble their feet or flank. There is no doubt that some dogs lick as a gesture of appeasement and goodwill. They may lick their own lips or may lick a person to whom they wish to signal deference. If the recipient of the licking interprets this behavior as "make-up kisses," that's just fine.
Perhaps the behavior is analogous to some forms of human kissing and thus their interpretation may be close to the truth. However, not all dogs seem penitent when they slurp the faces of people they meet. For some dogs, it seems that they engage in face licking because they can get away with it and because it gets a rise out of the person. When licking is performed for such a reason, it may be component of the "center stage," attention-demanding behavior of dominant dogs. No lick! is a good command to have working for these guys.
Psychopathology of Dog Licking
Some sensitive dogs in stressful environments compulsively groom themselves to the point of self-injury. Licking of this type leads to acral lick dermatitis (a.k.a. lick granuloma). Compulsive licking by dogs is not always self-directed. Some dogs take to licking floors, walls, or furniture. Whatever the outward expression of compulsive licking, the mechanics underlying the disorder are the same. In treatment of this condition, first the underlying anxiety must be addressed though, in some cases, it is also necessary to employ anti-compulsive medication to help break the cycle.
Do Dogs Lick to Show Love?
I don't believe dogs express their sometimes quite profound feelings for their owners by licking or "kissing." In fact, I don't believe dogs really "kiss" at all. Do dogs lick to show love? Perhaps some dogs are so awed by their owners that they feel the need to signal their ongoing deference by face licking. Call it love, if you will.
One other thing we should always bear in mind is that any behavior can be enhanced learning. Psychologist BF Skinner immortalized the concept that reward increases the likelihood of a response. So it is with licking. If a dog licks his owner's face — perhaps as a vestige of maternal lip licking, perhaps out of anxiety, or just because his owner's face tastes salty — and his behavior is greeted with attention, hugs and (human) kisses, he will likely repeat the behavior in future. In such cases the dog learns just how to push he owners buttons and the owner becomes analogous to a vending machine.
Do dogs lick to show love? While face licking may not represent true romantic love, it nevertheless can sometimes be interpreted as some token of a dog's affection or respect … and that's nothing to sniff at.