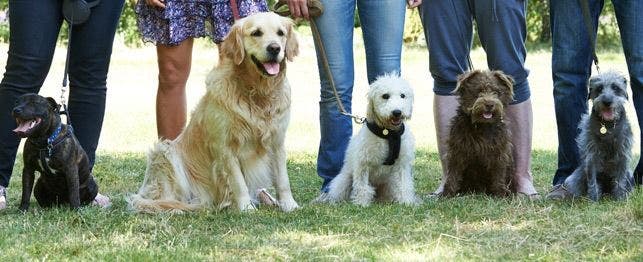 National Train Your Dog Month
January is all about training dogs because it's National Train Your Dog Month!
National Train Your Dog month was started by the Association of Professional Dog Trainers (APDT), who in 2010, felt it was crucial that the benefits of dog training were recognized. All month long, APDT is holding community events across the country so people can get involved and learn more about what it takes to train a dog. The events are designed to show dog owners that training needn't be a long and arduous process. They also provide other important information on choosing a groomer and finding the right kennel for your dog.
So whether you're welcoming a new puppy into your home, or have an old dog that needs to learn some new tricks, it's always a good time to practice and reinforce proper training and obedience. National Train Your Dog Month is a great reminder of how important it is for your dog to have some form of training.
The Importance of Training, Obedience, and Socialization
When you train your dog, you help strengthen your bond with him, but you're also giving him the tools he needs to get through day-to-day life. Well-trained dogs have better lives simply because they can still be themselves without causing problems. And when dogs aren't stealing food, jumping on visitors, or barking incessantly at other dogs and people, they're easier to live with, too.
Just like we should teach our children how to act and behave in public, we need to show our fur babies what's right and wrong. Good obedience training can help change the way people view your dog — especially if you have a breed that is surrounded by a negative stereotype — and you'll be proud of how well he gets along with everyone.
Socialization and training in dogs is a huge step to making sure your dog lives his best life, and APDT wanted people to be more aware of not only how important it is to a dog's development, but also that it's relatively easy. Many people have an incorrect opinion of obedience training, but if done correctly, dogs learn quickly and basic training doesn't take a lot of time. That's why APDT shares information for dog owners so they can see how fast they can teach their dogs good behavior.
Many dogs are put in shelters simply because they have behavior problems that their owners can't handle, but ones that could be easily solved with good training. In an effort to see this number decline, APDT promotes their training resources on their website, offering dog owners an easy way to have access to tips and instructions for training in a fun and simple way.
National Train Your Dog Month Emphasizes Good Training Practices All Year Long
In terms of a timeline for training your dog, starting younger equals better results. How well your dog is trained will set the stage for the rest of his life, and if you put the time in when he is a puppy, it will only benefit him in the long run. National Train Your Dog Month stresses the importance of dog training so that more dogs can live better lives.
Training and socialization help your dog be a great canine citizen. Consider this situation: you're taking your dog for a walk and you come across one of your neighbors. How do you expect your dog to react? If your dog is barking and jumping, it's going to make for an uncomfortable situation. Your dog might be sweet and lovable when he's with you at home, but if he doesn't know how to act around new people and animals, it can reflect negatively on him and on you.
A well-trained dog is a friendly dog, and you won't have to worry about how your dog is going to act in public or have to consider leaving him at home. Obedient dogs can experience so much more with their owners, because they're able to come to public events and be more involved with the family. No one wants to have to shut their dog away when company comes over. If your dog is knows and understands good behavior, it won't be a problem.
The most important thing to remember is that all dogs can learn and be better. Getting rid of your dog because of their behavior should never be an option, and National Train Your Dog Month is helping owners realize that there's always a better way.