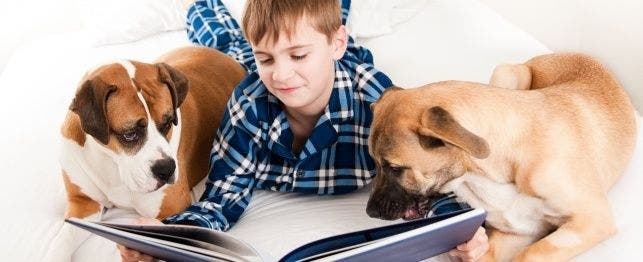 Reading to a Dog – How Children and Dogs Read Together
Dogs and kids are the perfect duo. Together they work comfortably and effectively as a fun-loving team. So when a child is struggling with an important life skill such as reading, why not send in their four-legged sidekicks to help? Believe it or not, special therapy dogs are doing just that – lending a paw to help students gain reading skills and confidence!
Programs such as Intermountain Therapy Animals' R.E.A.D. (Reading Education Assistance Dogs) and Therapy Dogs International's Tail Waggin' Tutors bring dogs and children together to make reading fun. The dogs are certified therapy dogs, having met rigorous temperament, obedience, health, and hygiene requirements. After the therapy dog testing is completed, additional training prepares the dog and handler for the reading programs.
These dogs work in schools, libraries, and other institutions. One specially trained handler and one dog begin a session with one child by allowing him to interact with and get to know the dog. Book in hand, the child settles in with the dog for a reading session. Small dogs may sit or lay in the student's lap. Larger dogs often snuggle beside the student or lay at his feet.
The dogs patiently stay with the students as they read. Some dogs are even trained to turn pages with a nose or paw. The students pet and communicate with the dog and sometimes offer the dog treats. The dogs' handlers encourage the students to "teach" the dogs. Such as, "Rover isn't sure what that word means. Can you explain it to him?" Children are eager to help the dog understand, and doing so boosts confidence.
The dogs' presence helps children's inhibitions disappear and encourages trust between the student and the dog's handler making it is easier for the handler to help the child read. Because dogs do not pass judgment and they naturally decrease blood pressure and heart rate, reading to a dog is never intimidating or frightening.
The children leave the reading session feeling proud of their achievements and often embracing a souvenir such as a dog autograph paw print or a book. Best of all they have gained confidence and are excited to read another book to a canine friend.