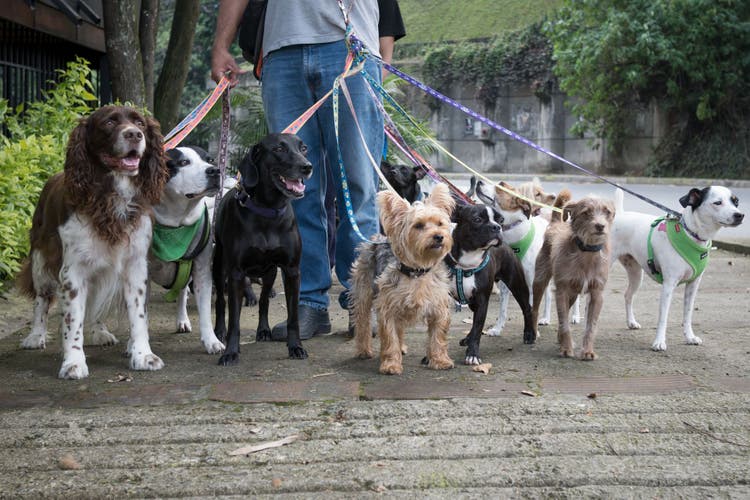 What Are Dog Walking Services?
When you own a dog and you work outside the home, taking care of your dog's daily needs is an ongoing concern. While you are gone for 10 to 12 hours at a time, who will be there to walk your dog? That's why so many dog owners take advantage of local dog walking services.
Experts recommend hiring a dog walker if you're going to be away from home more than eight or ten hours a day. Dogs who are left alone for long periods of time may begin to act destructively because they have no mental or physical stimulation.
While you're gone, dog walking services can treat your dog to a nice walk. In addition to allowing him to go to the bathroom, it will give him a chance to get outdoors in the fresh air and take in the sights, and it will provide some much-needed exercise. It is a great solution for busy dog owners who just can't be there to do it themselves.
Dog walking services can include private or semi-private on-leash walks, or it can include group outings where your dog is picked up along with several other dogs and driven to a local park for an off-leash adventure. Some dog walking services even offer training services. It all depends on the dog walking service and what it is that you want to provide for your dog.
To learn more, go to Keep Rover Moving: What to Look For in a Dog-Walking Service.
How Much Does It Cost?
The cost of dog walking services depends on a variety of factors. Most dog walkers charge by the walk. It also depends on whether you want a short 15-minute walk or a longer 30-minute walk. Each walk will cost a different amount.
Sometimes, dog walkers will give discounts to regular customers. For instance, if you hire a dog walker for 5 days a week instead of just one or two days a week, you may get a discount on their rate. However, the dog walker must pay for travel costs to and from your home and be compensated for time spent walking your dog, so don't expect any big discounts.
The cost for dog walking services will also vary by region. Depending on where you live, dog walkers will price their services to be competitive with other dog walkers in the area. If you live in a city where dog walking is in high demand, you should expect to pay a little more for dog walking services.
In general, you should expect to pay a dog walker about $15 to $20 for a 20-minute walk and $20 to $30 for a 30-minute walk. For two walks a day, expect to pay between $30 and $45. If you own more than one dog, the dog walker will walk them at the same time. For a second dog, you can usually add $5 to $10 per walk.
How Do You Choose a Dog Walker?
When you hire a dog walker, you are entrusting your dog's well-being to an unknown person. That can be dangerous. So it's important to know as much as you can about the dog walker and to take precautions. On the plus side, you can hire a professional dog walker who knows how to handle animals and the situations that inevitably arise. On the other hand, your dog could end up being mistreated by the dog walker.
There are many experienced and caring professional dog walkers, so it is important to find the right one. Here are some tips for choosing a dog walker.
Perform a background check.
Get a referral from a friend, neighbor or veterinarian.
Find a dog walker who is trained in pet first aid and CPR so they will be trained for any emergencies that might come up.
Find a dog walker who is bonded and insured.
If your state requires dog walkers to obtain a license, make sure that your dog walking service is licensed with the state.
Don't just hire a service. Meet with the actual dog walker who will be walking your dog and ask a lot of questions. Here are some questions you should ask.
Where will you walk my dog and at what time of day?
How many dogs do you care for at one time?
If there will be other dogs with your dog, find out if the dog walker evaluates them for temperament, energy level, and size.
What is your policy about illness or injury to dogs in your care? What emergency vet service do you use and are you certified in pet first aid?
Will you notify me of anything unusual, like loose stool or altercations?
Ask for references and personally speak to them.
Also be mindful of what questions the dog walker asks you. Professional dog walkers will want to know all about your dog – vaccinations, behavior triggers, training and how your dog behaves around other dogs.
Once you've chosen the dog walker, watch your dog for any signs of behavior change. Arrange to be at home sometimes when your dog walker comes by and pay attention to how your dog reacts to the dog walker. Your dog should be very happy and excited to see the dog walker. If your dog is too excited, the dog walker should be able to control that excitement.
A dog walker will get a key to your home and come by when you're not there, and take out your beloved dog. There have been instances of jewelry theft to animal abuse, so it's best to take precautions. Do your research and interview the potential dog walker before entrusting them with your dog.
To learn more about walking a dog, go to The Pet Owner's Guide to Walking a Dog.