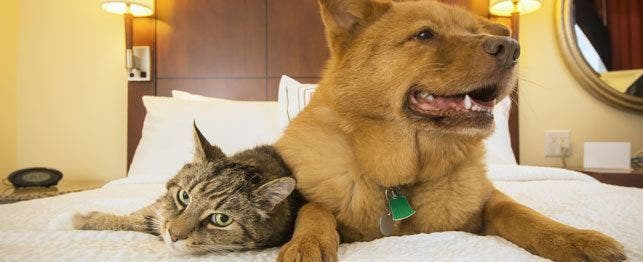 Accommodating Hosts: The Best Pet-Friendly Hotels in the Country
We all need to get away, but sometimes it's hard to go when you have to leave your furry friend behind.
And whether your companion stays at a kennel or with a trusted friend, it's hard not to worry. Your pet is a member of your family and no one wants to leave family behind. But you can't take your pet with you, can you?
Thanks to a number of progressive hoteliers, you can! These wonderful pet-friendly hotels have everything on hand to accommodate your pets, from the basics to lavish luxuries. In an age when people will spare no expense to make sure their pets are comfortable and cared for, it is no surprise that hotels across the country have taken note and offered pet accommodations to their guests.
Not all pet-friendly hotels are created equal, however. Sometimes, "pet-friendly" simply means the hotel will just tolerate pets' presence. When staying at these locations, you'll want to follow these etiquette tips for dogs and/or these etiquette tips for cats. On the other hand, sometimes "pet-friendly" means more — a whole lot more.
Here are a few of our favorite pet-friendly hotels from across the United States. But there are many more out there, so hit the road with your favorite companion and enjoy a true family vacation!
A private beach and wonderful views are combined with culinary treats such as homemade dog biscuits at turn down and a pet food menu that's available via room service or at any of the dining locations on the premises. The welcoming staff provides pet owners with a detailed list of all the best local hiking spots and pet-friendly activities to enjoy in scenic Cape Elizabeth, and if you arrive near the end of the summer season, they even close the pool to humans for two weeks and leave it to the dogs!
Loews is quite possibly the most pet-friendly hotel chain in the country. Every single hotel in the Loews chain is completely pet-friendly, providing supplies, beds, treats, walkers, and more to accommodate all of your furry friend's needs. We're highlighting the Santa Monica Loews in particular because they even offer surfing lessons for your dog!
When you stay at this luxury resort on the slopes of the beautiful Beaver Creek Mountain, you'll be welcomed by Bachelor the St. Bernard, the hotel's canine ambassador. Your pets can get pampered with spa treatments, massages, and guided hikes.
This spa and resort in the middle of the Arizona desert offers amenities such as beds, toys, and treats. And with 65 acres of land, there's plenty for you and your pet to explore, including scenic paths and trails (with a complimentary walking map) and a pet-friendly pool area. Now you and your furry friend can lounge by the water together!
While all Kimpton boutique hotels welcome pets of all sizes, weights, and breeds — at no extra charge — it all started at the Monaco, where a Jack Russell Terrier named Lily Sopris became the hotel chain's first Director of Pet Relations. Several other locations now have their own Director of Pet Relations, and all include pet-friendly perks such as plush beds, a concierge list of nearby parks, groomers, and pet boutiques, and a nightly wine reception where pets are welcome to join the party!