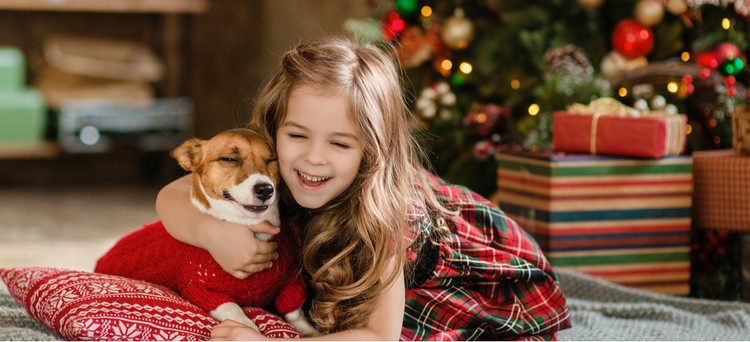 Best Christmas Themed Dog Names
Christmas is just around the corner, and that means celebrating the holidays with friends and family. And for most, that includes furry family members as well. It may not surprise you to hear that Christmas is one of the busiest adoption times of the year for shelters and breeders. But sadly, after the holidays end, some shelters enter into their most active intake season, taking in pets after the holiday cheer has faded.
This Christmas season, we're dedicated to helping more dogs find their forever homes than ever before. We agree that the holidays can be an excellent time to bring home a new furry family member, when one is fully prepared. Those who are taking a few days off from work can give their new puppy the time and attention they need to feel happy in their new home. With the right preparation, you can make this holiday season merry for both the humans and pets in your life.
Are You Ready for A Christmas Puppy?
We are in no way discouraging people from bringing home a new puppy for Christmas, and fully support adopting or bringing home a puppy from a breeder around the holidays. We just want to make sure that our readers are fully aware of the realities that go along with bringing home a puppy for Christmas.
Three of the most prominent hurdles that we're trying to help new puppy owners overcome this holiday season are puppy-proofing, basic puppy needs, and holiday safety. Each hurdle can present a serious obstacle and, if not taken care of, can result in a not-very-Merry Christmas. From Christmas trees to your Christmas feast, there are many inherent dangers that go along with the holiday season. As far as puppy needs go, we're educating our readers with thorough breed profiles and comprehensive lists that will help you prepare for everything from vaccinations to selecting the right puppy food.
Once your research has concluded, and you've decked the halls with all the supplies you'll need to care of your new puppy, you can begin thinking about one of the most exciting responsibilities of bringing home a new puppy; giving your new best friend a name! And what better way to honor the holiday season than to give your new puppy the gift of a Christmas-themed name?
Our Favorite Christmas Themed Dog Names
We've compiled a list of some of our favorite Christmas-themed dog names. From traditional Christmas figures to pop culture holiday trends, you're sure to find the holiday-themed name that's right for your new puppy. Enjoy!
Aaron (The Little Drummer Boy)
Alpine
Angel
Antler
Aspen
Baby
Balthasar
Bell
Bert (From It's a Wonderful Life)
Beth
Bethlehem
Blessing
Blitzen
Blizzard
Boots
Brandy
Candle
Candy
Carol
Caspar
Charity
Charlie Brown
Cheer
Cinnamon
Clarence (From It's a Wonderful Life)
Claus
Coal
Comet
Cratchit
Crimson
Cupid
Dancer
David
Donner
Drummer (Boy)
Ebenezer
Elf
Emmanuel
Ernie (From It's a Wonderful Life)
Fir
Forest
Frostine
Frosty
Fudge
Gabriel
Garland
George (From It's a Wonderful Life)
Gift
Glitter
Gloria
Gold
Goldie
Grinch
Harry (From It's a Wonderful Life)
Holly
Hope
Icelynn
Icicle
Igloo
Ivory
Ivy
Jack Frost
Jingle
Joseph
Joy
King
Kringle
Kris
Love
Lucy
Malachi
Mary (From It's a Wonderful Life)
Melchior
Midnight
Mistle
Mittens
Mr. Jingles
Myrrh
Naz
Nazareth
Nicholas
Noel
North
Nutcracker
Nutmeg
Nutty
Pecan
Prancer
Ribbon
Robin
Rosemary
Rudolph
Rudolf
Rudy
Santa
Scrooge
Shepherd
Sleigh
Snowball
Snowy
Solstice
Sparkle
Spirit
Star
Starlight
Stocking
Stormy
Sugar Plum
Susan (from Miracle on 34th Street)
Tannen
Tinsel
Tiny Tim
Twinkle
Vixen
Vortex
Wenceslas
Winter
Wish
Yule
Zuzu (From It's a Wonderful Life)
Celebrate the Holidays with PetPlace
The holidays are just around the corner. Know that with PetPlace, you can be prepared for anything your new pup throws at you. We know that most people will likely need to meet their new puppy before deciding on a name, but by using the above-listed names to create a short-list, you can narrow down your choices ahead of time. Be prepared for all things Christmas and puppy related with PetPlace this year. Merry Christmas!