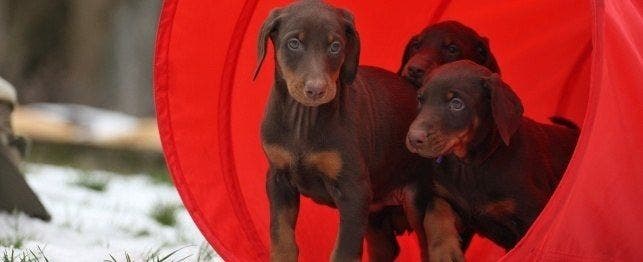 Doberman Pinscher Dog Names: Cool Names for Doberman Pinscher Breed Dogs
Are you looking for that perfect dog name that just fits your Dobie? Naming a dog can be difficult.
We have gotten several emails from wonderful and dedicated Doberman Pinscher owners over the years asking for their own article on Doberman Pinscher name suggestions! Here are some suggestions from them!
We hope this list of Doberman Pinscher names gives you an idea on naming your pup.
Do you have a good Doberman Pinscher name suggestion? Email us your dog name ideas and we will try to add them to our Doberman Pinscher name list!
      Clifford The Big Red Dog
      D'Lo after pitcher Derek Lowe
      Elkie (as in Sommers)
      Ike – registered name was Dwight David — get it?
      Jett
      Kane
      Maximus
      Nautica
      Obi Wan von Dobie! – We called him Obi.
      Oscar
      Royal
      Schatten (shadow in German)
      Sig (after a handgun)
      Spock (for his pointed ears)
      Wyatt

Do you have a cool dog name? Or better yet, a cool Doberman Pinscher dog name? Tell us the dog name and how you came up with it! Email us!