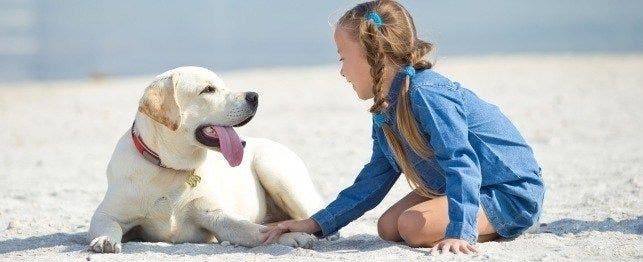 Dog Breeds Good with Children
Pets are part of the family, and the best dog breeds that are good with children are ones that are patient, gentle, easily trained, and affectionate. When looking for the best dog for families with kids, you'll want to look for certain canine traits. The following list includes dogs that are able to handle the excitement, stress, and love of growing up around young humans. With the right preparation, you can pick a great dog to add to your family and life.
On the other hand, some dogs are not well-suited to be around kids at all. These include dogs who are known to show behaviors including nipping and herding, such as Australian Cattle Dogs and Dalmatians. See our list of dog breeds NOT good with children and steer clear of these pooches in general to avoid a potentially distressing situation.
I hope this list of the best dog breeds for families with children is helpful to you.
Dog Breeds Good with Children
Afghan Hounds
Airedale Terrier
American Bulldog
American Eskimo Dog
Australian Shepherds
Basset Hound
Beagle
Bearded Collies
Belgian Sheepdogs
Bernese Mountain Dog
Bichon Frise
Bloodhound
Border Collie
Border Terriers
Boston Terriers
Boxer
Brittany
Bullmastiffs
Cardigan Welsh Corgis
Cavalier King Charles Spaniel
Chesapeake Bay Retrievers
Chinese Crested
Chinese Shar-Pei
Cocker Spaniels
Dachshund
Doberman Pinschers
Dogue de Bordeaux
English Bulldog
English Mastiff
English Setter
English Springer Spaniel
Flat-Coated Retrievers
French Bulldog
German Shepherd Dog
German Shorthaired Pointers
German Wirehaired Pointers
Giant Schnauzers
Golden Retriever
Great Dane
Great Pyrenees
Greater Swiss Mountain Dogs
Greyhound
Havanese
Irish Setters
Irish Wolfhound
Italian Greyhounds
Labrador Retriever
Leonbergers
Miniature Dachshund
Miniature Pinschers
Miniature Schnauzer
Neapolitan Mastiffs
Newfoundlands
Old English Sheepdogs
Parson Russell Terrier
Pembroke Welsh Corgis
Portuguese Water Dog
Pugs
Rottweilers
Saint Bernard
Samoyed
Siberian Huskies
Silky Terrier
Soft Coated Wheaten Terriers
Staffordshire Bull Terriers
Standard Poodle
Toy Fox Terrier
Toy Poodle
Vizslas
Weimaraners
Welsh Springer Spaniel
West Highland White Terrier
Whippets
Wirehaired Pointing Griffons
Yorkshire Terrier
Choosing the right dog can be really difficult. We hope this list helps you pick the best dog breed for your home and your family.