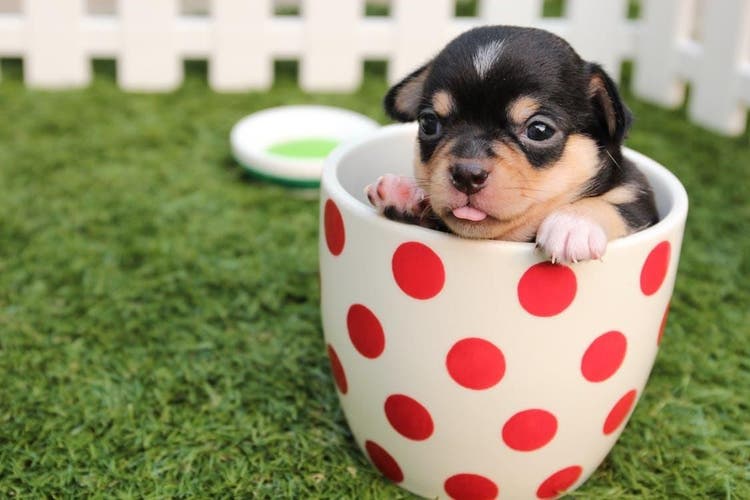 Valentine's Day Inspired Puppy Names
Did you know that Americans will spend $815 million on pets this Valentine's Day? From kitties to birds, and everything in between. This money will be split between gifts for the pets that are already a part of the family, and purchases for new pets that couples and singles adopt over the holiday. We've talked before about how the winter holidays might not be the best time to adopt a puppy, but Valentine's Day can be a whole other conversation.
Assuming of course that you and your partner have talked through this decision together extensively, then Valentine's Day or Valentine's Day weekend can be a great time to adopt a new puppy. Now that the craziness of the holidays is gone, your home will be a safer and happier place for a young puppy to call home.
Just a reminder, we do not recommend giving a puppy as a surprise present. It can be tempting to surprise your significant other with an adorable puppy for the holiday, but that cute bundle of joy can quickly become an unmanageable ball of fluff if you're not prepared. A surprise might be fun for the first few hours, but when your new puppy needs to go potty at 2 am, and 5 am that first night your partner had better be fully onboard for full-time puppy parenting.
Ok, so you've decided to adopt a new puppy for Valentine's Day, woohoo! Now, what are you going to name it? Below we've listed out some of our favorite single and paired names for dogs. Give our list of names a read to find your new puppy the perfect Valentine's Day inspired name!
Literature Couples
From classical works of fiction to modern hits, these couples may not get their happily ever after, but while they're together, they cherish every moment. Pick your favorite character for a single puppy's name or use both for matching names.
Romeo and Juliet
Buttercup and Westley
Estella and Pip
Ron and Hermione
Cathy and Heathcliff
Elizabeth and Mr. Darcy
Jane and Mr. Rochester
Peeta & Katniss
Hazel and Augustus
Gatsby and Daisy
Lancelot and Guinevere
Odysseus and Penelope
Emma and Knightley
Allie and Noah
Paris and Helen
Henry and Clare
James and Claire
Antony and Cleopatra
Famous Couples
Their stories might not end in happily ever after, but for the sometimes brief time that they have together, their love stories are pretty epic. From scientific breakthroughs to the silver screen, these famous couples are household names. Take your pick from the loving couples listed below! Choose one of these names or both if you're adopting a pair of puppies.
Napoleon and Josephine
Victoria and Albert
Marie and Pierre
Bonnie and Clyde
Ellen and Portia
John and Yoko
Neil and David
David and Victoria
Johnny and June
Tom and Rita
Disney Couples
From animated hits to live-action features, these Disney couples make for the perfect puppy pair names. And just a reminder, Disney is bigger than you think. Since they now own Marvel and Lucasfilm, you might see some names on this list that you weren't expecting.
Beauty and Beast
Belle and Adam
Ariel and Eric
Mickey and Minnie
Daisy and Donald
Max and Roxanne
WALL-E and Eve
Carl and Ellie
Jessie and Buzz
Bernard and Bianca
Tiana and Naveen
Tarzan and Jane
Meg and Hercules
Anna and Kristoff
Giselle and Robert
Nita and Kenai
Kita and Milo
Jack and Sally
Harry and Sally
Pepper and Tony
Anita and Roger
Aladdin and Jasmine
Flik and Atta
Pongo and Perdita
Aurora and Philip
Jyn and Cassian
Han and Leia
Anakin and Padme
Simba and Nala
Scamp and Angel
Lady and Tramp
Cinderella and Charming
Rapunzel and Eugene
Peter and Wendy
Kovu and Kiara
Howl and Sophie
Names the mean love
Whether their literal translation is "Love" or they translate into a phrase about love, these sublet love-inspired names will keep the love alive in your household all year.
Aziz
Gerwyn
Connelly
Lennan
Darrel
Davis
Prem
Sajan
Agapius
Amator
Caerwyn
Dawood
Kama
Carys
Kalila
Vida
Priya
Aphrodite
Amanda
Milada
Esme
Ettie
Femi
Freya
Grainne
Imogen
Maitea
Amara
Milena
Mina
Nayely
Lalasa
Maite
Amo
Armastus
Amare
Lyuben
Anwil
Amor
Aiko
Amorette
Darlene
Movie Character Names
From Valentine's Day hits to everyone's favorite romances, these names are sure to keep you feeling the love all year long.
Valentine's Day
Morley
Susan
Kara
Holden
Harrison
Copeland
Edgar
Kelvin
Julia
Jason
Liz
Estelle
Grace
I Hate Valentine's Day
Genevieve
Cal
Rose
Edie
Bill
Bob
Tammy
John
Brian
Dan
Kathy
Tim
Valentine
Paige
Adam
Kate
Dorothy
Lily
Shelley
Ruthie
Leon
Campbell
Max
Brain
Gary
Evan
Bride Wars
Liv
Emma
Nate
Fletcher
Daniel
Marion
Deb
Kevin
Colson
Kathy
John
Amanda
The Notebook
Allie
Esther
Duke
Harry
Fin
Noah
Sara
Matthew
Love Actually
Billy
Joe
Jamie
Daniel
Karen
Colin
Mia
John
Peter
Mark
Juliet
10 Things I Hate About You
Patrick
Katarina
Cameron
Bianca
Michael
Joey
Mandella
Chastity
Walter
Pretty Woman
Edward
Vivian
James
Philip
Kit
David
Elizabeth
Bridget
Barney
Susan
Carlos
Choosing The Right Puppy Name With PetPlace
Whether you decide to go with a movie character, famous literary heroine, or historical figure, choosing a Valentine's Day themed name for your new puppy can be a fun way to pay tribute to the special day on which you brought home your new family member. But we know that once the naming is done, there's still a lot of hard work left to be done when it comes to raising a new puppy. If you need any help, with anything from training to diet, we're here to help. Check out our puppy section for thousands of articles dedicated to the art of puppy raising. We hope that you and your new furry family member have a great Valentine's Day.