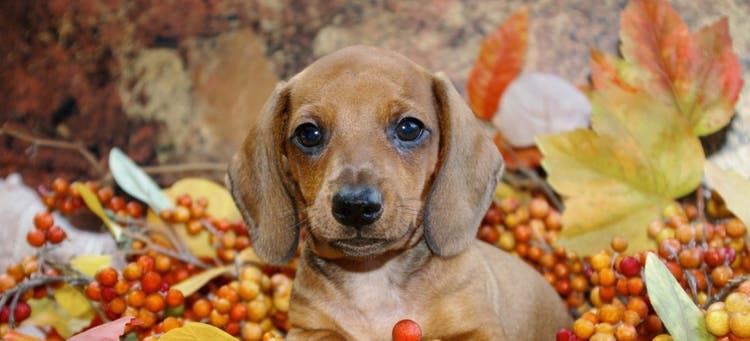 Tips for Bringing Your Dog to Thanksgiving
How to Make Your Holiday Stress-Free and Safe for Your Pup
Thanksgiving is a time for everyone to come together and celebrate the things that they're thankful for — so your dog should definitely be involved! However, with the holiday season comes a lot of commotion and chaos that can easily overwhelm you and your dog.
There are a number of things that can harm a dog during the holidays, from food on the counter to decorations. You'll also want to make sure they're on their best behavior — especially if you're taking them to someone else's home.
Having your dog at Thanksgiving can make your holiday a fun time for your entire family. Here are tips to help ensure everything goes as planned.
1. Make Sure Your Dog Is Allowed to Attend
If you are heading to a family or friend's house for Thanksgiving, make sure they're okay with your dog coming first. The host might not be prepared to have a dog in their home, or they might have concerns that their own pets and yours might not get along. It's better to check in and make sure your dog will be welcomed beforehand to make thing easier.
2. Have Some Fun Before Dinner Is Served
Take your dog for a long walk or spend some time playing together to tire your dog out before you head in for dinner. Many people in one place can create a lot of hectic energy, which can cause your dog stress. The last thing you want is for your dog to be over-stimulated, so wearing them out before dinner is served can help them stay relaxed.
3. Make Sure Your Dog Looks Their Best
You want to look your best for Thanksgiving, so don't leave your dog out! Take a fresh trip to the groomers or make time for a bath to make sure your dog is looking (and smelling) their best.
4. Keep Your Dog Away from the Food
Don't recreate a scene from the movies. Keep your dog out of food by making sure dishes are placed well out of reach, or even use a gate to ensure that they stay out of harm's way. With things coming in and out of ovens and off of stoves, the kitchen can be a dangerous place. There are also foods that can be dangerous to your pet, so be sure not to hand them anything under the table.
5. Bring Along Something Familiar
Bring a toy or a bone, or even a blanket, that your dog uses frequently to give them a comforting item in a new place. Your dog might even be able to find a comfortable space in their crate if you travel with it. Otherwise, ask your host if there's a space where your dog can relax, that way, if things start to get overwhelming, you can have a plan B to keep things from getting out of control.
6. If It's Easier to Keep Them at Home, Keep Them at Home
Some dogs just don't do well in high-stress situations or around large groups of people. If you know your dog gets anxious or stressed, don't force them into a situation they're not prepared to handle. There are plenty of options for dogs who aren't able to attend Thanksgiving, from finding a pet sitter to boarding your dog for the day.
Having a dog at Thanksgiving can be fun for everyone, as long as you're prepared! You can learn more about planning for a great Thanksgiving for your dog here.