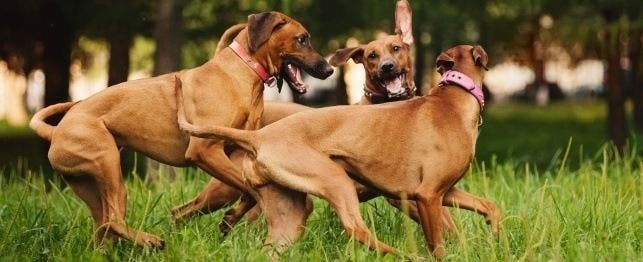 Dogs Play at the Park
Sarah loves playing tag with her pals. Charlie is happiest playing catch, while lazy old Beau prefers to stand on the sidelines.
This sounds like playground life anywhere, only these are dogs, not children, who romp in their local parks every day, and their numbers are growing from coast to coast. From Portland, Ore., to Portland, Maine, communities are carving out public space for unleashed dogs, and finding them as popular as the sites set aside for soccer and softball.
Dogs left alone all day are desperate for exercise when their owners get home from work. Running with other dogs off leash, wrestling with them and playing tug of war get these couch-potato pooches into shape, developing their muscle tone, agility and stamina. Better yet, after an hour of nonstop exercise, most dogs are too tired to chew the furniture or dig up the garden, so behavior improves as a result.
Canine Play Groups Good for Pets
For solitary city or suburban pets, regular contact with friendly, healthy dogs pays off in several ways. Dogs are pack animals, and they learn from one another. At any dog park, there's a hierarchy in place, made up of the old-timers and mature dogs and then the newcomers and young dogs. The older dogs teach the younger ones what is appropriate behavior and what's not. Furthermore, pups who grow up playing with other gentle dogs tend to be well socialized; that is, comfortable around other dogs rather than fearful or aggressive.
But there's another facet to a canine play group's appeal, and that's the human connection. Just like parents meeting over the sandbox, dog people who might otherwise never cross paths swap training tips, share toys and celebrate birthdays – cementing friendships in the process.
For the first few years after moving from New York City to suburban Connecticut, Jane Birnbaum knew no one beyond her immediate neighbors. When she adopted Rags, her cocker spaniel, and took him to doggie play dates at a local field, she discovered a real sense of community. Now, if she goes out of town unexpectedly or works late, her dog field friends help out with Rags. If a personal problem arises, it's her pals from the dog park who provide support.
"For people who work, a dog play group is particularly important," says Birnbaum. "Rags looks forward to his evenings at the dog field, but it's also my time to wind down from the work day. After a while, it becomes more about the people than the dogs."
Dog Park Etiquette
New to the dog park scene? Here are some guidelines:
Only friendly, well-trained dogs are welcome at public dog parks. If you can't control your dog off-leash, exercise him elsewhere.
Supervise your dog at all times in case play gets rough. Just like children, dogs sometimes get over-excited and that's when accidents and injuries occur.
Wait until your pup is fully immunized (usually by 4 months) before introducing her to a play group. Until she gets bigger, play dates are best with dogs of a similar size.
Take a young or timid dog to a play group when there are just a few easygoing dogs, not when it's a free for all. Peak hours on weekdays are usually just before and after work: 7-9 a.m. and 5-7 p.m.
If your dog behaves aggressively or starts a fight, remove him from the park at once.
Keep your dog leashed until you are within the park limits. Also check for leash laws within the park; some don't allow dogs to run free.
Spayed and neutered pets are less aggressive than non-neutered dogs. Leave dogs in heat at home.
Is water available? If not, BYOB, especially when it's hot.
Pick up after your dog. Many dog parks provide "poop bags." If yours doesn't, bring one from home.