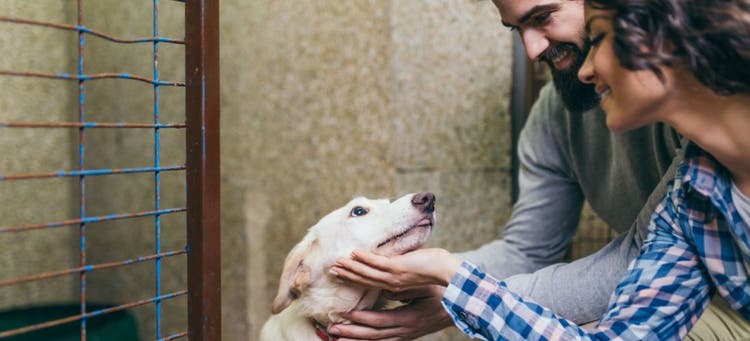 Featured Rescue Group: Old Friends Senior Dog Sanctuary
As National Adopt a Senior Pet Month comes to a close this November, we want to take a moment to highlight one of the rescue groups that specializes in finding forever homes for senior dogs, Old Friends Senior Dog Sanctuary (OFSDS).
Founded in 2010 by Zina and Michael Goodin, OFSDS was created as a response to the desperate need for a rescue devoted to helping older dogs of all breeds. The Goodins were so dedicated to the cause that they started the rescue in their own home before being granted official non-profit status in 2012.
Old Friends History
While still in their own home, the Goodins rescued many dogs that became known as the "Home Gang." But there was division among the ranks! The Home Gang was further separated into the Calm Gang, who resided on the first level, and the Wild Gang who resided on the second floor. To complicate matters more, they had a few members of the Calm Gang who would escape past the downstairs gate, climb the stairs, and see what was going on with the Wild Gang. This small group was affectionately deemed the Peanut Gallery.
It's charming storytelling like this, and the characters of the old dogs brought to life on social media, that helped OFSDS skyrocket in popularity.
Eventually, the Goodins outgrew their home and purchased a neighboring property, but it wasn't long before the neighbors complained, and the rescue was forced to find a new location. After much searching and fundraising, they were able to purchase an old nursery known as Grandpaw's Gardens. Growth continued in the Gardens, and soon the Goodins realized it was time to move again before they ran out of space.
Finally, in 2021, they found the perfect spot for their 70 senior dogs, the PAWvillions. "Life for our Old Friends at The PAWvillions is truly wonderful: everyone has more indoor space, more outdoor space, a real walking trail to enjoy, and – of course – a complete veterinary wing and on-site physical therapy! We offer tours and have a wonderful volunteer program, and are always looking for Geezer Guardians for our Old Friends!"
About the Dogs
As the name suggests, OFSDS works exclusively with senior dogs, so they can live out their golden years in style. They also work to place their dogs in "Forever Foster" homes, so if you'd like to bring an older dog into your home and live in or around Mt. Juliet, TN, click here.
Buddy the Shih-Tzu/Pekingese Mix
Dwight the Jack Russell Terrier
How Can You Help Old Friends Senior Dog Sanctuary?
Non-profit rescues are always in need of funds and exposure, so helping can be as easy as sharing their social media posts or making a charitable donation. Alternatively, if you fall in love with one of their dogs, but aren't in a position to become a forever foster, you can sponsor that dog and help them out.
OFSDS also has opportunities for volunteers to assist with everything from caring for the dogs to doing laundry. With so many dogs, there's a lot that needs to be done! You can also show your support wherever you go by rocking some OFSDS merch.
We love a good happy ending, and the people at Old Friends Senior Dog Sanctuary are working to create wonderful experiences for older dogs as they live out their retirement years in peace. As OFSDS's mission says, "We do not concern ourselves with the quantity of time that they have left, rather the quality of the life that we can provide them for that time."