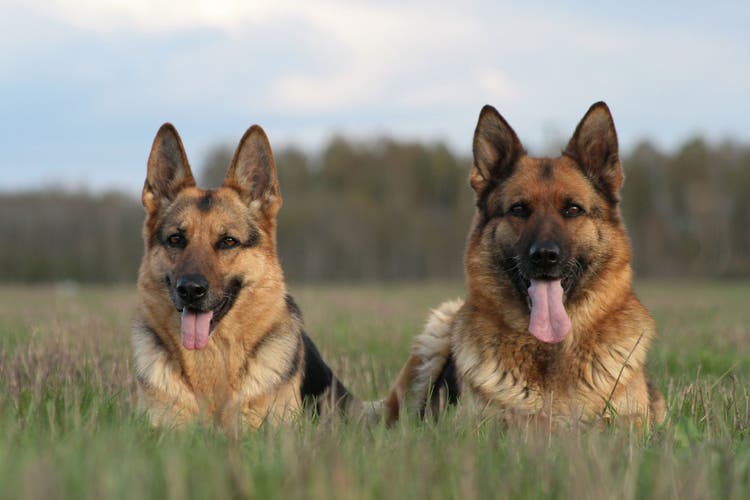 German Shepherd Dog Names: Cool Names for German Shepherd Breed Dogs
Are you looking for that perfect dog name that just fits your German Shepherd? Naming a dog can be difficult.
We have gotten several emails from wonderful and dedicated German Shepherd owners over the years asking for their own article on German Shepherd name suggestions! Here are some suggestions from them!
We hope this list of German Shepherd names gives you an idea on naming your pup. Do you have a good German Shepherd name suggestion? Email us your dog name ideas and we will try to add them to our German Shepherd name list!
German Shepherd Dog Name Ideas
      Abe
      Able
      Ace
      Adrian
      Ahilles
      Aiko
      Aiko
      Alex
      Alexia
      Anja
      Anja
      Anubis
      Apache
      Apollo
      Arek
      Arthus
      Astro
      Atra
      Audra
      Axel – means the Bringer of Peace
      Axle
      Ayla
      Barron
      Barron
      Blitz
      Bravo
      Bridgette
      Brisco
      Bruno
      Bruno (brown bear)
      Caesar
      Cash – after Johnny Cash
      Castro        
      Chase – "Go chase the ball, Chase!
      Cim
      Ciro
      Cisco
      CJ
      Cliff
      Clifford
      Cora
      Crok
      Crusoe
      Crystal
      Dagmar
      Dago
      Danke (German for Thank you)
      Dasty
      Diana – Diana for Diana the Huntress. Named for a GS that lies to "patrol" and "hunt" for whatever she considers a "pest" (like mice). Her name means "hunter"….
      Diesel
      Dieter
      Duke
      Eik
      Eiko
      Eko
      Falcon
      Falk
      Falko
      Fara
      Faro
      Faulker – which was a German warplane
      Fetzer
      Fina
      Fletch
      Fletcher
      Frank
      Frankie
      Freyja
      Fritz
      Frost (for a beautiful white one)
      Gabe
      Gabi
      Gelert
      Gina
      Go-Go
      Gretchen
      Gunnar
      Gus
      Gusto
      Hank-Hank
      Hans
      Hercules
      Hilda
      Ina
      Ingrid
      Isa
      Jauser
      King
      Lady
      Lady Dee
      Jax
      Jazmine (or Jazz)
      Jule
      Kaiser
      Kaiya – which is pronounced Ki (long "i" sound) – a (short "a" sound)
      Kane
      Karpa (in honor of a wonderful military dog that was killed in the line of duty – *thanks Mark*)
      Katina
      Kayla
      Kenna
      Keona – I was told it means "gift from God"
      Kilo
      Kim
      Kima (pronounced KEE-MAH). after a police dog that was killed in the line of duty
      Kimbo
      Kimm
      King
      Koa (It means strong and mighty in Hawaiian)
      Kojoe
      Kona
      Kuishti
      Kway
      Kyra
      Lance
      Loki
      Ludwig
      Luggar (like the gun)
      Mr Squad, cause he was part of our Squad
      Magnum
      Marley – after Bob Marley
      Marshall
      Matthias
      Mink
      Minka
      Monty
      Morse (morse code)
      Mufasa
      Mystery Night
      Mystique
      Nanuke – polar bear in Alaska (white dog too)
      Nick
      Niko
      Nitro
      Nixon
      Oliver – means peacemaker
      OLOF
      Olex
      Onex
      Opal
      Orka
      Ory
      Oscar
      Otis
      Otto
      Phantom of the Opera
      Phoenix
      Portia
      Racer
      Radar
      Rex
      Rikka
      Rintintin
      Rocky
      Romeo
      Rommel
      Roscoe (deer wood)
      Rupeni – Rupeni Caucaunibuca (fastest rugby player in the world)
      Schnitzel. I think its a fun name. I think a schnitzel is supposed to be some kind of sausage.
      Saxon
      Shiloh -means "peace" as in Shalom, there was a battle of Shiloh in the American Civil war
      Scout – cause my boy liked to explore and lead the way
      Sebastian
      Segun – It is pronounced like "Cajun," but with an "S" at the beginning
      Selena
      Sequoia
      Sheena
      Shep
      Sierra
      Simon – it means- he who hears well, and since his ears were so large we thought it fit.
      Spike
      Stoli
      Sunny Boy – because he is the Sunshine in my family's life
      Sylvie
      Tanner
      The Rock (like the actor)
      Thor (the god of thunder)
      Thunder
      Truman, Trumie as a nickname. We have a small, but mighty [German Shepherd](/dog-breeds/german-shepherd-dog.aspx "'Click here for more information. '") that we named after President Truman.
      Timmy
      Tikka
      Tobi
      Trevor
      Troll
      Tucker
      Tyson
      Udo
      Uly
      Ursula
      Ute
      Wolf
      Xando
      Xander
      Xandra
      Xenta
      Xena
      Yuna
      Zack
      Zelda
      Zena
      Zeta
      Zita

Is a German Shepherd right for you? Read our poll results from German Shepherd owners!