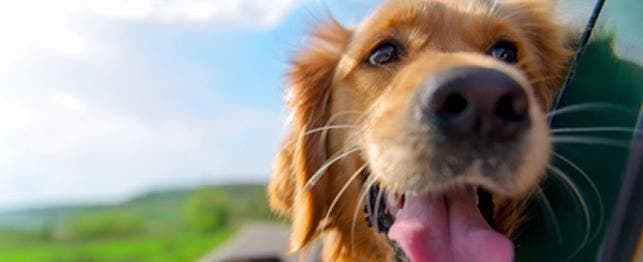 Going Cross Country: How To Bring Fido On Your Road Trip
It's vacation time! Traveling cross country in your family's van can be a fun-filled experience for the whole family. It's an affordable, flexible way for you to get away. Plus, trekking by car gives you a chance to bring your best friend along. No, we're not talking about your college roommate; we're referring to your dog.
Going on a road trip with dogs can be a fantastic bonding experience. It can also add a lot of stress to your road trip planning if you don't do it properly. Make sure that you understand how to keep your pet safe in the car, where you can stay with dogs, and how to make the most out of the ultimate road trip with your four-legged friend. At least your dog won't ask, "Are we there yet?"
Car Safety for Pets
When traveling by car, cats are safest in their crates. Is that the best way to travel with a dog, though? You're used to seeing canines sticking their heads out the windows of a moving car, pacing back and forth across the back seat, or even standing on their owner's laps while the person is driving. None of these scenarios is ideal for the dogs' safety. Loose dogs can distract drivers. They can even be ejected from the vehicle in an accident, putting them at a greater risk of injury or death.
The safest way to transport a dog by car is in a crate that's secured to the inside of the vehicle, according to Whole Dog Journal. That's a bummer if you had visions of jamming out to your favorite music with Fido in the front seat. If you don't want to keep the dog in a crate, your pet is safest in a doggy seat belt. A pet restraint designed for dogs includes a harness that attaches to the seat. Never keep your dog in the front seat. The air bag could harm your furry friend if it deploys in an accident. Maintain your dog's safety by properly restraining her in a moving vehicle.
Dogs can also interfere with your power windows. If the dog steps on the button, the window could roll down automatically, posing a danger for a frightened pup that might jump. Canines can also accidentally close car windows on themselves just by taking a wrong step. Restraining the animal is the best way to prevent this from happening. Locking the power windows can also help.
Dog care while traveling involves giving your dog plenty of water and opportunity for exercise during the trip. Keeping bottles of water in the car is important for any people driving with you. However, you should have extra bottles on hand for your dog. You never know what will happen, and you don't want to be stuck with a dehydrated pet on a long trip.
Finding A Place to Stay
Although you love your dog like a child, you can't bring a pet into most places where children are allowed. That means that you have to do some extra planning in regards to your overnight accommodations and meals along the route. You can't just drag your dog into every restaurant. It's also not safe to leave dogs in cars, even if you keep the windows open. This is an especially important consideration if you won't be bringing any other humans along with you.
Bring lots of food and snacks along with you so that you don't have to stop and leave your dog alone in the car. Make sure that you bring enough for your canine to eat too. You may not be able to get a hold of his regular food on the road, and switching brands can give some dogs tummy trouble.
When it comes to sleeping arrangements, you'll have to research pet-friendly accommodations. Many hotels, campgrounds, and rental homes allow pets, but you might have to pay an additional fee. Keep the room as clean as possible by feeding your dog on tiled surfaces. If you must leave Fido alone, he may feel safer in his crate. You'll also feel safer knowing that your pooch isn't chewing up the bedspread.
Does The Car Stress Your Dog Out?
A road trip might not be the best idea if your dog gets stressed out in the car. Some dogs show signs of anxiety in surprising ways. For example, a dog that gets sleepy in the car may be exhibiting signs of stress. A dog that drools excessively or won't stop panting may be feeling fear in the car. If you must bring your dog along, minimize sensory stimulation by covering his crate.
Taking a long trip can be a new experience even for a dog that loves the car. Make sure that you get your dog used to any new arrangements, such as seat belts or crates prior to hitting the road. You'll also have to ensure that your dog doesn't distract you while driving. To do this, practice positive reinforcement for a few months before the trip.
Have a friend sit in the back of the car with your dog as you drive around the neighborhood or a parking lot. Your friend can reward the dog for desired behavior using a clicker and treats. You can use this technique to train your dog to lie down while you drive or sit quietly in a pet restraint. Make sure to lengthen the time between rewards. Your goal should be to get to the point where you only treat the pup once the car stops. You won't be able to reward Fido if you're driving alone.
A Hassle-Free Journey
No matter how you choose to travel with Fido, make sure to take frequent breaks, and clean up after your pet no matter where you go. Dogs may do better if you stop every hour or two. Some dogs can go for three hours without requiring a pit stop. Bring your dog's vaccination records, leash, collar, and identification tags with you. You should also take a current photograph along. If your dog gets lost, you'll have a reference. Being prepared is the best way to make sure that your excursion is enjoyable for the both of you.