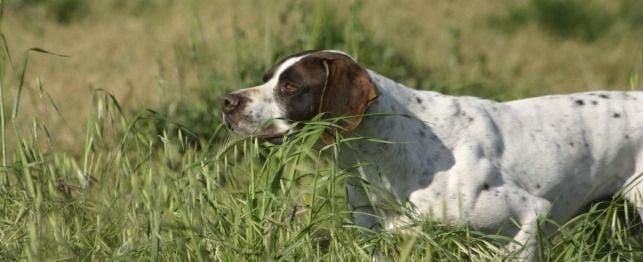 Great Name Ideas for Hunting Dogs
Great Name Ideas for Hunting Dogs
Are you looking for a name for your hunting dog? We have accumulated a list of great names for hunting dogs just for you!
For tips on how to choose the right name, read What's In a Name – Naming Your Dog. Want to choose one of the most popular names? Check out Top Names for Dogs.
Here are some more great name ideas:
Personality Traits
Names by Gender – Male and Female Dog Names
Do you want to know what the most common dog names mean? Learn about the "meaning" behind common Male dog names and Female dog names.
Names by the Dogs Haircolor
Best Names for Hunting Dogs
22
Abel
Abigail
Ace
Adam
Admiral
Alexander The Great
Annie
Apollo
Arrow
Bambi
Baskerville
Baxter
BB
Benelli
Big Red
Birdie
Birdy
Blast
Blaze
Blazer
Blossom
Blue
Bonehead
Bones
Bongo
Bootie
Boots
Bootstrap Bill
Boz
Brady
Braggs
Brook
Brooke
Brutus
Bubba
Buck
Buckeye
Buckles
Bucko
Bucky
Bud
Bullet
Bullwinkle
Caliber
Captain
Challenger
Chester
Chops
Colt
Cowboy
Cubby
Cujo
Dallas
Dawn
Decker
Deer
Dozer
Dude
Duke
Exit
Fetch
Flint
Fourty-five
Frankie
Frankie-Blueeyes
Freedom
Freeway
Gabby
Gabriella
Glory
Grits
Gunnar
Gunner
Gunther
Harrison
Hercules
Hitman
Homer
Hoover
Hope
Huckleberry
Hudson
Hunter
Jackpot
Jackson
Jesse
Jesse James
Jessie
Jethro
JR
Junior
Lacey
Laddie
Lady
Lady Bird
Lassie
Lead
Leo
Libby
Liberty
Lika
Lou
Louie
Macy
Maddie
Madeleine
Madison
Magic
Maverick
Max
Maximus
Maxine
Meat
Meatloaf
Mike Tyson
Mitch
Nibby
Nibby-Nose
Nitro
O'toole
Old Blue
Old Yeller
Oliver
Opie
Otis
Pebble
Percy
Pilot
Pistol
Piston
Plato
Please
Point
Porkchop
Prince
Ramses
Ranch
Random (don't know what he will bring back)
Ranger
Reggie
Remington
Riley
Rin Tin Tin
Ripley
Roadster
Rookie
Ruby
Ruchus
Rudy
Samson
Scooter
Shadow
Skipper
Skippy
Slug
Slugger
Snipper
Spook
Spookey
Sweet Lips (George Washingtons Favorite Hunting Dogs name)
Tangles
Tank
Target
Tess
Toby
Trapper
Tucker
Twenty Two
Ty
Walter
Weatherby
Whip
Whiskey
Willie
Winchester
Windchill
Winston
Woody
Yeller
Yellow