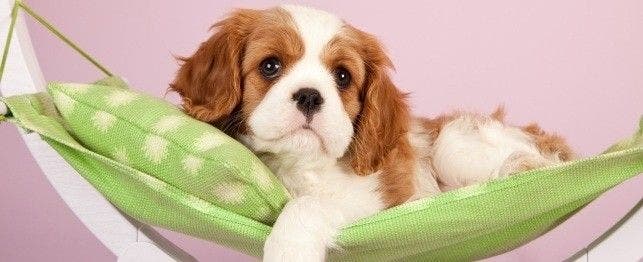 How the Other Half Barks: The Ultimate in Pet Pampering
If you're like most dog or cat owners, nothing is too good for your pet. Unfortunately, your wallet is another matter. Even if you squeeze each dollar until it screams, there will always be another, more expensive way you can pamper Scruffy or Whiskers.
While many businesses in the United States are suffering from the downturn, the pet industry isn't one of them. The U.S. market is a whopping $36 billion. For the well heeled among us, there's no limit to the pampering our pets can indulge in.
Americans spend almost $500 million a year just on the latest in pet fashions – real cashmere sweaters, fleece jackets, stylish hats, rain gear and the like. Brands such as Gucci are introducing their own brand of leashes and silver dog food bowls, for the discerning canine. (If Gucci is passé, maybe a Salvatore Ferragamo leash is more your pet's style – just $120.)
Your beat-up, spring-infested lounge chair can't compare with a $12,000 handmade Louis XVI-style bed from Harrod's in the United Kingdom. It can't even hold a candle to the more modest $500 doggie couches sold by Barker & Meowsky, the lawyerly sounding pet boutique in Chicago.
In Manhattan, the trendy Zitomer Z-Spot Three Dog Bakery offers a host of products and services that, well, could give you a heart attack, unless you happen to have seven or eight zeros in your annual income.
Is your dog coming of age? Maybe it's time for a Bark Mitzvah party
For your cat, maybe it's time for a coming out party – they offer to host Sweet Sixteen parties as well.
If your two dogs are ready for the next step in their relationship, make them legal by a Muttrimony.
No, we're not making these up. Catered parties start at $10,000, and include extravagances as wedding gowns for the canine bride – one dress cost roughly $1,500, while another tipped the register at $2,500. Should you suddenly come into more money than you know what to do with, here are other ways you can spruce up your pet's life:
In the movie Legally Blond, Reese Witherspoon's fashionably risqué Chihuahua, Bruiser, is sported around in a Pucci dog carrier (to match the Pucci dress, of course). Price tag? A mere $350.
Another movie-inspired fashion statement was made by Mr. Tinkles, the evil feline genius of Cats & Dogs. He was spied wearing the cloak of royalty – a Canadian Links authentic 100 percent wool coat. Price tag? $500.
Tired of kenneling your pet with the vulgar masses? If you happen to be staying in New York City, you and your pet can stay together at the Muse Hotel, a luxury hotel in Times Square. The Pooch Package includes doggie treats and complimentary walking. Grooming is done on site for an extra charge. The good news is that the Pooch Package is free – with the $265-a-night rooms, that is.
The 19th century Dragon Hook Cage is as much art for your home as a home for your bird. Sold through the art and antique store DimsonHomma, the Chinese birdcage is 18 inches high and 12.5 inches wide, perfect for a small, feathered friend. The price is somewhat larger: $1,800.
More to Come
The trend has only just started. According to the American Pet Product Manufacturing Association, 45 percent of all pet owners give gifts to their pets during holidays, birthdays, graduation from obedience school and other special occasions. Seventy percent of all dogs get such gifts. About 45 percent of cats get gifts and half of all birds receive gifts for special occasions.
Many "regular" pet shops now stock a few luxury items along with their bread-and-butter inventory. Even if the average pet owner doesn't buy a Louis Vuitton Monogram Dog Carrier for $965, it seems to add glamour to the otherwise mundane pet shopping experience. Or so goes the argument.
In the coming years, more accommodations will be made for our pets. Hotels and resorts will try to make it easier for you to take Fluffy on a much-needed family vacation; services will continue to grow and more stuff will be introduced to make us feel that our pets are getting first-class service all the way – even if the rest of us must subsist on Raman noodles and day-old bread.