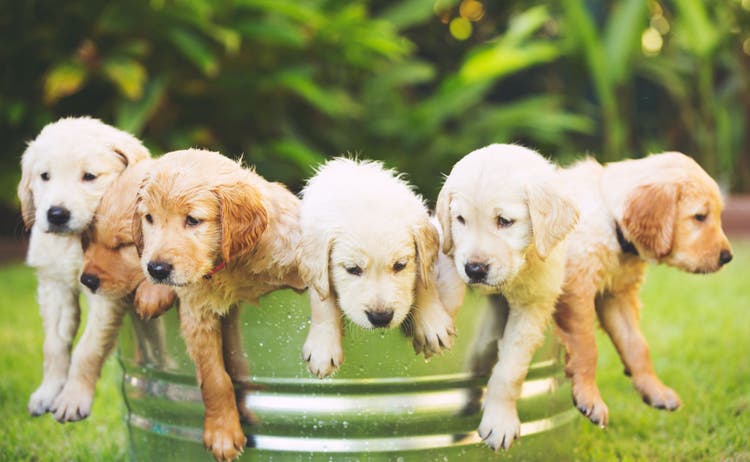 Naming Your Gold or Golden Colored Dogs: Name Ideas for Dogs with Gold Haircoats
Naming Your Gold or Golden Colored Dogs: Name Ideas for Dogs with Gold Haircoats
Are you looking for that perfect dog name that just fits your pooch? Does your dog have gold or golden hair?
Naming a dog can be difficult. One way many pet owners do it is to look for a name that goes with your dog's physical characteristic such as his coat color.
Here are some dog names that can be associated with those gold hair-coated dogs! I hope this helps you find the perfect name for your dog!
Do you have any suggestions for dog names? Email us your dog name ideas and we will try to add them to our dog name list!
Dog names for "gold or golden colored dogs")
Biscuit
Brandie – he color of oat bran
Buffy
Butter
Butterball
Buttercup
Butterscotch
Cadbury
Canoli
Carmel
Carob -because she wasn't the color of real "Chocolate"
Chamois
Cheesecake
Cookie
Corky
Corona
Crackers
Creamer
Custard
Dandelion
Dandy Lion
Dew (for mountain dew)
Donut
Dunkin (like donuts or dipping your coffee)
Dusty Copper
Flaxen
Giallo (gee-all-o) means yellow in italian. We call her gia or gigi for short.
Ginger
Gingersnap
Ginky
Godiva
Goldie
Gold
Gemstone
Gravy
Heath
Hershey
Highlighter
Karo
Kasha – which is Ukrainian for buckwheat.
Honey
Marzipan or Marzi
Mellow
Motts – the color of applesauce
Mousse/Moose
Mustard
Mylo – a hot chocolate drink from Australia
Nestle
Nilla (for Vanilla)
Noodle
Nutello" plus he was as sweet as Nutella's flavor is!
Nutmeg
Nuts
Oatmeal
Old Yellew
Penny (for the color but also because it is lucky)
Popcorn
Rocky Road
Rolo
Roux (pronounced Roo) my chocolate lab was the color of a roux. Making a roux is the first step in making a pot of Gumbo.You stir flour & oil over heat until it's a nice dark brown color…the color of a chocolate lab. – My dog was a Cajun.
Russet
Rusty
Sahra is named for the Sah(a)ra Desert
Sandy
Skippy Peanut Butter (brown and he also skips)
Sun
Sunflower
Sunny
Sunshine
Syrup
Taffy
Tapioca
Tawny
Taxi
Teak
Tequila
Tetley
Treasure, because treasure is gold
Timber, as in timber wood
Toast
Toffi
Truffle
Truffles
Twink
Twinkie
Vanilla
Waffle
Whiskey
Yeller
Yellow
Yellow Dog… After the movie Funny Farm with Chevy Chase.