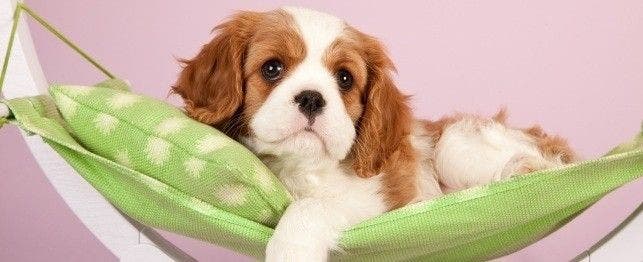 Pampered Pooch Dog Names
How Do you Name an Adorable Pampered Canine?A pampered, spoiled dog's name requires serious thought. Perhaps it caters to the lifestyle of the pup? Maybe it caters to the dog's personality?To go along with their lustrous, love, toy, and attention-filled life, a dog needs a name just as catered to.Here are a few names that could fit such an exquisite pet:
Human Pampered Dog Names
Some people prefer more human names for their pets. Perhaps it gives them even more of a running start in their superb pooch life. Maybe, it makes them more a member of the family than they already are. On the other hand, maybe it's just because it's the right fit for the dog and their lifestyle!
Beau or Bella – The names themselves stand for pretty and handsome. What is more fitting than calling a beautiful pup just that every day?
Beauregard – Respected and highly regarded – A name for a strong hound that stands out.
Dolce or Gabbana – Noticeably named after the great designers Stefano Gabbana or Domenico Dolce. That name lends a hand to the fabulous, possibly well-styled, frivolous, belly rub-filled canine life.
Louis – A name fit for a king. Or maybe with the last name Vuitton!
Maximus – The greatest!
Orly – Comes from a Hebrew origin meaning "light of mine," and it suits the pooch that lights up your life!
Prada – Mario Prada, the Italian designer
Rockefeller – Known for his furtun…ate amount of dog bones!
Stella – What shines more stunningly than your own little star?
Veruca – Like the spoiled girl from Charlie and The Chocolate Factory. Does she get everything she wants? It might be a fit!
Non-Human Pampered Dog Names
Some prefer non-human names for their dog. It gives the idea of mystery and sometimes asks the question, "Where did you get their name from?"
Angel
Babe – The connotation of pampered and loved.
Baby
Ben/Bene – Latin root meaning well, good, or very.
Bingo – Right on the money! But, seriously, what's a better fit for a perfect dog in a perfect home?
Coddle
Dexter – Fortunate
Duchess, Duke, Prince, or Princess – Everyone has read, heard, and seen fairytales! The presence of a royal figure in the home must be cause for bones and squeak-toys galore!
Fancy – Elaborate, exquisite, elegant, expensive and the perfect name for your fancy little hooch.
Fifi or Fluffy– A little more on the cliché side of things, but an ornamenting name for an adorable, cherished tail-wagger.
Indy – for Indulgence
Lexus
Love-bug
Lucky
Phil – Greek root for love or friendship.
Mimados – Spanish for pampered.
Treasure
Rex – Meaning king or mighty.
Rolex
Saks – (for the store!)
Viziati – Maybe Vizi for short? Italian for spoiled.
Every dog has their own personality and deserves a pampered name to go along with their indulged life. Whether they are spoiled with toys, doggy day care, food, special clothes, coordinating outfits, or just tons of belly rubs, a pet parent can be proud that their pup has everything he or she needs!
Not quite finding a fit for your pampered pooch? There's a list of the top 1200 pet names.
But, maybe you want a rarer name. There's a list for that too! Here is the Ultimate guide to Naming your dog.
Looking for more ways to pamper your dog? Check out Petplace.com's other articles like this one.
Feel free to share with us more pampered names by commenting and sharing your idea below. We'd love to add your pampered dog name to our list!