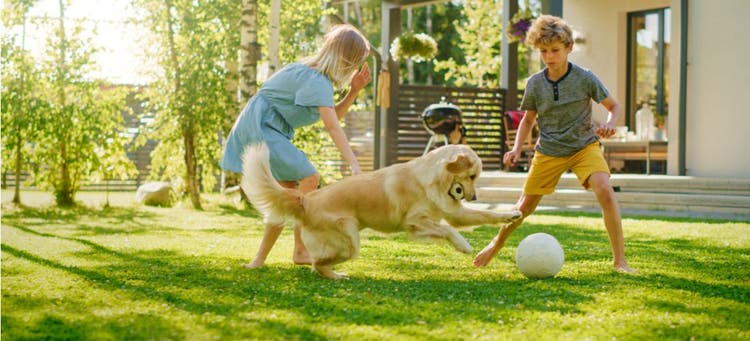 Smart Dog Collars: Freedom Without Fences
Content Sponsored by Wagz.
Freedom without Fences or Shocking? New smart dog collars are making it possible.
What if you didn't need expensive fences or wires (aka … shocking) to create safe boundaries for your pup? Imagine being able to make a virtual geofence anywhere in seconds. You could create "safe zones" anywhere for your dog to explore without risk, making the park and the playground as safe as the backyard. And picture being able to do it all in seconds—right on your phone. That's the magic of the right smart collar.
Smart dog collars are the latest in a growing inventory of "smart" products. Like smart locks and wearable activity monitors, they offer convenience and insight into your dog's health and happiness.
But how does a smart dog collar work? What can you expect?
Let's find out.
What Is a Smart Dog Collar?
Like other smart home devices, smart collars offer freedom and convenience. While pet security products like invisible fences are typically stationary, portable collars like the Wagz® Freedom Smart Dog CollarTM allow you to create designated boundaries on the go and anywhere you may roam.
For example, you can take it with you on day trips or longer vacations with your dog. Hiking in the woods? Put the collar on your pup and create GPS-enabled location tracking while you're there. Headed to the beach? Create different boundaries to know where your pup is within 10 feet.
GPS location tracking is a great complement to microchipping in case your pup gets lost. Microchipping is a great tool, but it's not always effective.
The problem with microchipping is two-fold. Your dog's chip needs to be registered in the right database AND your pup needs to wind up in a shelter or vet's office that scans for your specific chip. Also, that can take days!
With a smart dog collar, GPS coordinates help find your dog in minutes and offer peace of mind in the moment.
How Does a Smart Collar Work?
Here's how it works. With your smartphone, open the Wagz App, drop pins on the satellite image of your location, and boom, those pins create a virtual fence.
You can also create Keep Out Zones. Want to keep your pup from digging up your garden or away from the pool? Set a keep-out area to be sure your curious dog is safe and secure. Or, if you take your pup to visit family members, you can create temporary boundaries while you're visiting.
The ONLY No-Shock Wireless Fence & Wellness System
Unlike other smart collars and invisible fence technology, the Wagz Freedom Smart Dog Collar is no-shock. You don't need electricity to keep your dog close. Ouch! Instead, you can achieve your safety goal with vibrations, sounds, or a combination of both. You can even choose audible sounds or ultrasonic ones.
Experiment to see which one your pup responds to the best. That way, when your pup gets close to the boundaries you've created, they feel (or hear) the correction.
Just put the collar on your pup, choose your settings, and you're good to go. No painful electric shock needed! You can rest easy knowing your pup is safe and shock-free.
The no-shock correction trains your pup to stay within the GPS bounds you've created for a full containment system. This no-shock dog collar also gives you insight into your dog's health with an activity and wellness tracker. It's a complete containment and wellness system for only $249.99.
Get Insight into Your Pup's Health and Comfort
Some smart dog collars incorporate activity and wellness trackers. A little insight into your dog's activity and sleep cycles can help your pup stay healthy and happy.
According to the Association for Pet Obesity Prevention1, 56% of U.S. pups are overweight or even obese. Since overweight dogs are at greater risk of illnesses like heart problems and high blood pressure, it's best to monitor their daily activity. Wagz helps you stay on top of your pet's well-being with a "Health and Happiness Score" that considers everything from exercise to sleep schedule and breed.
With the Wagz Freedom Smart Dog Collar, you also get the benefit of temperature alerts. You'll know if it's too hot or cold for your dog to have extended outdoor time. There's no sense in risking your dog's health with heat stroke or frost bite!
Combine the activity/wellness tracker with the power of a full GPS containment system that doesn't shock your pup, and you have the amazing Wagz Freedom Collar.
Smart Collar Fees: What Can You Expect?
Like most smart devices, there's a fee for the hardware and monthly subscription costs.
The Wagz Freedom Collar is $249.99 with an annual subscription of $99.99 for the complete no-shock virtual pet containment and wellness system. It's a humane and comprehensive alternative that gives you and your dog the freedom to go anywhere.
Visit Wagz to learn more about smart dog collars and keep your dog happy and healthy!